You have /5 articles left.
Sign up for a free account or log in.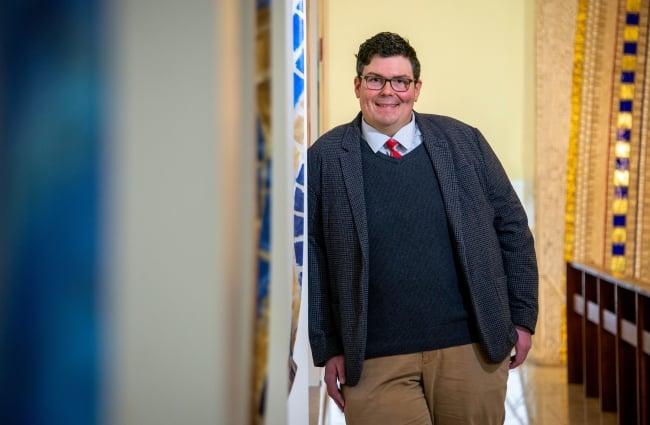 Sacred Heart University administrators have long encouraged students to understand the institution's mission and values by attending seminars and events designed to reflect and promote the "Pioneer Journey," the academic, spiritual and social-emotional learning path that encompasses the student experience at the university.
The Roman Catholic institution in Fairfield, Conn., recently launched a new initiative to expand and promote this effort campuswide and to ensure students not only understand the university's core values but also live them and put them into action.
Central to this plan is the promotion of Charles A. Gillespie, an assistant professor in the department of Catholic studies, to the new role of Pioneer Journey director, charged with "spearheading SHU's efforts to define and amplify its unique educational experience," according to a university press release, and promoting "the attributes of a SHU Pioneer throughout the campus and beyond."
There are five pillars associated with the Pioneer Journey, which include knowledge, faith, integrity, service and community. (The university's mascot is a pioneer.)
"When we talk about the Pioneer Journey, what we mean by that is how we educate our students, mind, body and spirit," Gillespie said. In his new role, he will help students better understand and navigate the university's academic requirements and how they enhance the student experience, he said.
"I think our students have a really great experience right now, but what they don't get a lot of right now is a framing narrative that goes around why are we doing all these different requirements," Gillespie said.
"There are some really special things taking place at our university, but we don't celebrate them enough," he said in the press release. "We're not loud and shouting from the rooftops about the incredible happenings at Sacred Heart."
Part of the university's new focus is to ensure that SHU's unique mission and culture are incorporated into each student's journey as a Pioneer. A description of the Pioneer Journey has been integrated into the freshman orientation program, and its language shared with freshman advisers and embedded in descriptions of some of SHU's core classes.
In addition to the new position, a committee will work with faculty and staff members to create resources about "the distinct characteristics and experiences involved in a SHU education," according to the university.
"Dr. Gillespie's role is to help us communicate our mission in a more systematic way and to foster and further nurture the university's culture," said Robin Cautin, SHU's provost.
The new role was inspired after the institution implemented a core curriculum requirement in 2015 that introduced two seminars about the Catholic intellectual tradition that all undergraduates must take, Cautin said.
The seminars are facilitated by faculty members to encourage discussions and civil discourse among students and to promote group reflection on the university's core mission and values.
"With Catholic intellectual tradition, which is our mission, we try to engage the students in the great thinkers of that tradition and see how that relates to them and to their world," said Michelle Loris, associate dean in the College of Arts and Sciences and chair of department of Catholic studies.
Loris wrote the proposal for the new role and initiated creation of the position.
"I'm really delighted that the university is embarking on this initiative, and I think I'm pretty honored to have been the one who initiated it, to kind of be the founding mother," she said.
Loris said she declined to take the new role because she believed Gillespie was best suited for the position.
"I think Charlie is a fabulous person to be the director to promote and integrate Pioneer Journey across the university and bring that unique educational experience to the whole student," she said.
The launch of the new role coincides with the institution's strategic planning process for the university. Gillespie and Maurice Nelson, Sacred Heart's chief diversity and inclusion officer, recently did an on-campus presentation about the university's commitment to diversity and inclusion as part of the mission to affirm its values and goals across the entire campus.
"It's important to explain why diversity, equity, inclusion and belonging so desperately matter for not only our students' Pioneer journey, but also for our journey together as folks working at a university setting," Gillespie said.
Francis Origanti, vice president of the Office of Mission Integration, said Gillespie's new role is meant to be the foundation of the student experience and more closely connect various university departments.
"Showing how the students can have an experience that is reflective of our mission and our values through this journey in four years is why we wanted to have a dedicated person for that role," he said.
Gillespie will work on all aspects of students' educational experience, whether it's learning in a classroom, experiences on and off campus, educational opportunities, internships, or studying abroad.
"All of those experiences listed are a part of a student's education, and Pioneer Journey is trying to uplift every single member of the university community, whether it's staff, students, alumni, administration, because we're all contributing to how our students are learning and how we are on this journey together," Gillespie said.
Gillespie plans to use his theater background to inform his work in the new role; he acts in and directs local productions and is a co-founder of Theatrum Sacrum, an experimental ensemble based in New York.
"A set of skills I'm hoping to bring on to this new role is putting together events and helping gather people together to devise something really special and wonderful that they value," he said.
Gillespie has a diverse academic background. He has a bachelor's degree in humanities from Villanova University, a master's from Yale Divinity School and a doctorate in religious studies from the University of Virginia. He said his educational background has shaped his scholarly interests.
His said his new position is unique on the campus because, in addition to being a faculty member, he will work with staff members across various university departments to promote the Pioneer Journey and improve the student experience.
"I'm going to be talking with folks in our athletic department, performing arts departments and also in student life, housing, and so on," Gillespie said. "It's all about connecting folks across the academic division and also everywhere that interacts with our student experience."
Cautin, the provost, said Gillespie, in his new role, will help university leaders monitor and assess the day-to-day impact of the institution on students.
"I wouldn't even say the new position is a small part—I think it's a critical part of affirming who we are as a Catholic institution and in higher education," Cautin said. "I think it's a critical part to affirm and crystallize what makes us special, our culture and our brand so that we can articulate it."