You have /5 articles left.
Sign up for a free account or log in.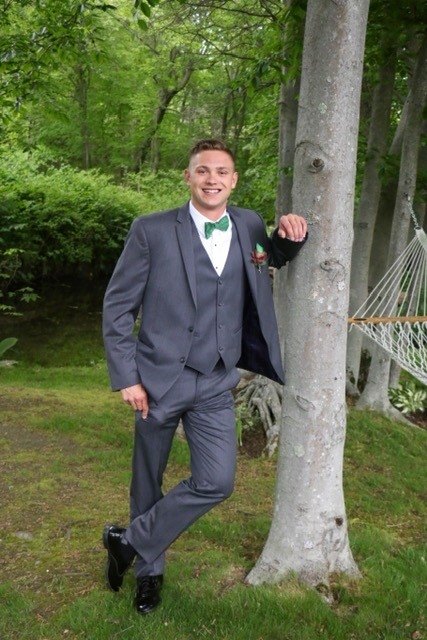 California State University Maritime Academy never ruled on whether Camren Bagnall was responsible for sexual misconduct.
But the first-year cadet experienced bullying from his classmates and "changed to a completely different person" after another student told campus authorities he sexually assaulted her, said Rick Bagnall, Camren's father.
The 19-year-old Bagnall died by suicide in his dorm room on Feb. 8, 2021, before the university had even scheduled a hearing to address the complaint against him, according to Joseph Lento, an attorney for Rick Bagnall.
A wrongful death lawsuit filed by Rick Bagnall against the university this month—two years after his son's death—alleges the sexual assault accusation was false and led "to the untimely death, by suicide, of a blameless young man." The lawsuit alleges "anti-male bias" and an "unfair and unjust" process under Title IX, the law prohibiting sex-based discrimination at educational institutions that receive federal funding.
The lawsuit also names as a defendant the cadet who is described in court documents as filing a Title IX complaint in September 2020 stating she had been assaulted in August by Bagnall. The institution's Title IX director at the time, Vineeta Dhillon, is also a named defendant.
Cal Maritime, as the university is commonly known, declined to discuss or confirm details about any Title IX investigation of Bagnall.
"Any loss of a member of the University is a sad event deeply mourned by the campus community," the university said in statement. "The University does not comment publicly on student conduct matters out of respect for our students' privacy rights as protected by federal law. Given the particular sensitivities of this matter, we are not able to comment on the specific allegations in this case at this time, other than to say that the University disagrees with the allegations made within the lawsuit."
The university hosted a waterfront candlelight vigil for Bagnall on the night he died, according to an email to the campus obtained by Inside Higher Ed.
"Tonight, the campus will honor our lost shipmate and share in collective and individual grief," the university's president, Thomas A. Cropper, said in the email.
Part of the lawsuit, however, asks where the university was when Cam, as Bagnall's son was known, faced repeated insults and taunts. Classmates had nicknamed him the "First Floor Rapist," the lawsuit states.
"He referenced quite a bit about the bullying throughout, from the very, very beginning," Rick Bagnall said of his son in a phone interview.
"He had a lot of pride," Bagnall said. "That accusation that was being made against him, I think he started to feel that everybody was questioning him, and he just snapped."
The lawsuit, which was filed in U.S. District Court in Connecticut, where Rick Bagnall lives and his son attended high school, claims the university failed to be impartial while investigating whether Cam Bagnall violated conduct policies against Sexual Assault–Rape and Sexual Assault–Fondling. The university's policy, as stated in court documents, requires that sexual activity between students be based on affirmative consent, defined as "an informed, affirmative, conscious, voluntary and mutual agreement to engage in sexual activity."
Attempts to reach the cadet named as a defendant in the lawsuit were unsuccessful. The lawsuit claims the woman who accused Bagnall of misconduct invited him to her dorm room in August 2020, where they had a consensual sexual encounter. Claims of negligence, defamation and intentional infliction of emotional distress are made against her in the lawsuit, as well as the wrongful death claim made against all the defendants.
The lawsuit comes amid a backdrop of numerous allegations of sexual misconduct at Cal Maritime. Media scrutiny of the institution has also increased after repeated accusations of sexual assaults, hate speech and emotional abuse directed at female, gay, transgender and nonbinary cadets, as well as Black cadets. Broad calls for change at the waterfront campus on the San Francisco/San Pablo Bay have come from students in recent years, including in 2021, when they held a protest calling out widespread student sexual misconduct and unchecked hostility toward members of the LGBTQIA+ community, according a lengthy Los Angeles Times investigation published in December.
Cal Maritime has the smallest enrollment among the 23 campuses in the CSU system; 880 undergraduates in fall 2021, about 80 percent of them male, according to federal data.
The lawsuit cites "contradictions" in how the cadet who accused Bagnall of sexual assault described what happened. Lento, Rick Bagnall's attorney, said this was "an obvious red flag" that was ignored. The lawsuit also includes a Feb. 5, 2021, document addressed to Dhillon requesting the dismissal of charges against Bagnall and stating that he was being bullied and belittled by classmates.
Colleges and universities "feel they have a certain obligation to the complainant at the expense of the respondent," Lento said.
Dhillon did not respond to an email and telephone message seeking comment. The university's website now lists her as director of new students and family programs.
Bagnall experienced "severe and pervasive bullying and harassment," and Dhillon received a third-party statement that "elaborated upon further instances of bullying and harassment that Camren had come to face from his peers," the lawsuit states. Lento said this statement, from a classmate, Anthony Dick, was provided in approximately October 2020. Attempts to reach Dick for comment were unsuccessful. The lawsuit states that while Dick and Bagnall were in a university dining hall, "a group of several student-cadets remarked about Camren, 'You should be behind bars.'" The lawsuit also describes how after Bagnall left his place in line at the dining hall, Dick heard an unnamed student say, "Thank God, the rapist has left!"
The lawsuit claims "Dhillon knew, and as her employer, Defendant Cal Maritime should have known as well, of bullying and harassment, that the Decedent faced throughout the Title IX process, yet neither Defendant attempted to stop it."
Other lawsuits have been filed against colleges and universities after students accused of misconduct died by suicide or even after an incident of self-harm. It's unclear how many of those suing have won their cases.
Lynn M. Daggett, a law professor at Gonzaga University in Washington State who has written about Title IX issues relating to sexual misconduct and privacy, said there have been "waves" of Title IX lawsuits alleging bias against either victims or accused persons.
When it comes to privacy, regulations "require schools to keep names of parties and witnesses confidential except as permitted by FERPA or required by law or Title IX procedures," Daggett said in an email, referring to the Family Educational Rights and Privacy Act.
"The [U.S.] Department of Ed actually takes the position that the investigation/hearing records are the FERPA records of both parties and so can be redisclosed by them," Daggett said, explaining that confidentiality requirements don't apply to students involved in such cases in the same way as they apply to educational institutions.
"This is a ban on schools and not a ban on the student parties (and their advisors, which can include classmates) themselves; the regs prohibit gag orders on the parties," Daggett said, adding that "while current law does somewhat limit school disclosures to protect student privacy, there is little regulation of student party disclosures to protect student privacy."
The Bagnall lawsuit says nothing about privacy violations, though Lento said in a phone interview that privacy "potentially" could be a component of future filings. The lawsuit, in addition to the named parties, includes unnamed "John Doe" defendants.
Within a small campus community, "words can and will spread, unfortunately, like wildfire," Lento said, adding that "people are, all too often, quick to judge."
Death investigation records obtained by Inside Higher Ed from the Solano County Sheriff's Office list depression and anxiety as part of Camren Bagnall's medical history. His blood alcohol concentration was 0.16, double the legal limit of 0.08 for driving in California. The coroner's report noted the presence of medications for depression and ADHD, and a toxicology report listed the presence of THC (the active ingredient in marijuana), amphetamine (which is a part of some therapeutic medications for hyperactivity, according to the toxicology report), the antidepressant citalopram, and caffeine.
The records show that authorities reached out to Bagnall's mother, Kristi Bagnall, to inform her of his death. Connecticut court records show that she and Rick Bagnall divorced in 2020 and that she is not a part of the lawsuit against Cal Maritime.
Kristi Bagnall told a Solano County Sheriff's Office investigator that her son had no history of attempted suicide, according to the coroner's report, which also mentions a handwritten note found at the scene. In the note, Bagnall "thanked his mother for standing up for him," states the report authored by Tenzin Dorji, a deputy sheriff and coroner's office investigator.
The report referred to information that Bagnall had recently been investigated as a criminal suspect in another state, but Lento said that was likely an error.
"The Bagnall family is not aware of any investigations of Cam aside from Cal Maritime's Title IX investigation. The family believes whoever told the coroner that Cam was under a criminal investigation was mistaken," Lento said in a written statement. The document Bagnall and Lento submitted on Feb. 5, 2021, to Dhillon stated that Cam Bagnall had no prior criminal history.
The lawsuit claims Dhillon, the university's former Title IX director, "injected her own personal pro-women bias" into the campus proceedings, "dismissing out of hand exculpatory evidence."
Filed with the lawsuit were 21 pages of posts made or shared by Dhillon on the social media website LinkedIn. The posts mostly had to do with women working in the maritime industry, but a few did reference sexual violence or sexual assault. Dhillon shared a post promoting an op-ed from an author writing for a maritime news site about needed safety improvements in response to the story of "Midshipman X," a U.S. Merchant Marine Academy cadet who, in a lawsuit against shipping conglomerate Maersk, alleged she had been raped while training at sea.
Dhillon did not comment on the op-ed, according to the documents, but she used the LinkedIn website's online tools to show "support" for the post she shared. Dhillon also shared a post from the nonprofit Women Offshore, a group supporting "a diverse workforce on the water," that called for change after the story of "Midshipman X."
The lawsuit says campus police interviewed Bagnall and "the report cleared his name, failing to substantiate" the claims made against him. The university uses a preponderance-of-evidence standard in its Title IX process, which differs from that used in criminal courts.
In December 2022, Cal Maritime's president, Cropper, and nine other campus officials issued a lengthy statement in response to the Los Angeles Times report, condemning harassment and assault "of any kind." The statement described the university as working with other maritime academies to address sexual assault and harassment.
"We are currently in a pivotal time of change in our campus culture as well as in the maritime industry, and this moment is a part of that pivot," Cropper and other Cal Maritime officials said.