You have /5 articles left.
Sign up for a free account or log in.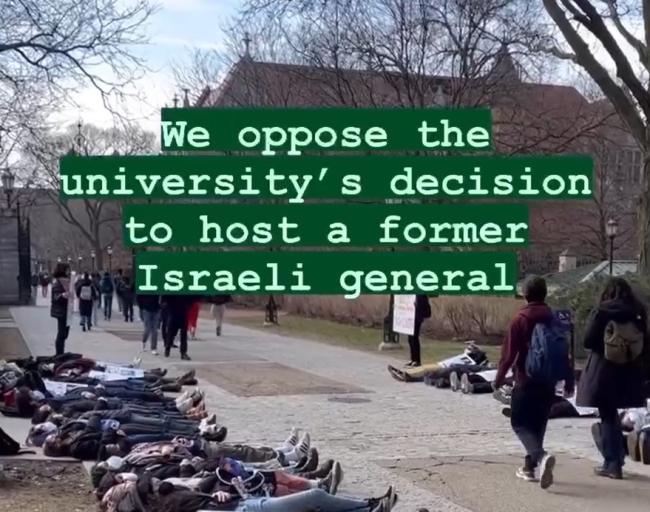 Provided by the Academic Engagement Network; previously posted by Students for Justice in Palestine at the University of Chicago
The Students for Justice in Palestine organization at the University of Chicago has been protesting teaching by a former deputy director of Israeli Military Intelligence whose "main academic interest," according to the Israel Institute, "is societal resilience in the context of protracted terrorism against Israel."
Meir Elran is a visiting professor at the university teaching the class Security, Counter-Terrorism and Resilience: The Israeli Case. He's also a retired Israeli brigadier general who directs the domestic research cluster of Tel Aviv University's Institute for National Security Studies. He has a doctorate from the University of Haifa.
A Students for Justice in Palestine statement condemning Elran and his course is signed by, among others, several Chicago faculty members and Noam Chomsky, the longtime critic of American foreign policy who is now a University of Arizona laureate professor.
The statement says Elran's course aims at "inculcating U.S. students with the mindset and worldview of the Israeli military."
"On Elran's telling of Israeli history, Israel appears not as an expansionist apartheid state predicated on the ethnic cleansing of Palestinian land, but as an embattled liberal democracy surrounded by 'large hostile Muslim populations' and mired in a 'Muslim-Jewish conflict' not of its own making," the statement says. "Having established this essentially Orientalist and propagandistic framing, Elran's course encourages students to put themselves in the shoes of Israeli military strategists, reflecting throughout the quarter on the various past and present means by which Israel has worked to 'secure' its colonial enterprise and crush indigenous Palestinian resistance to it."
"No principle of 'academic freedom' or 'intellectual diversity' justifies hosting classes taught by complicit Israeli military personnel—particularly not classes that misrepresent Palestinian history, treat Palestinian deaths as fodder for 'strategic' military theorizing and inundate students with the Orientalist worldview of Israeli colonists," the statement says.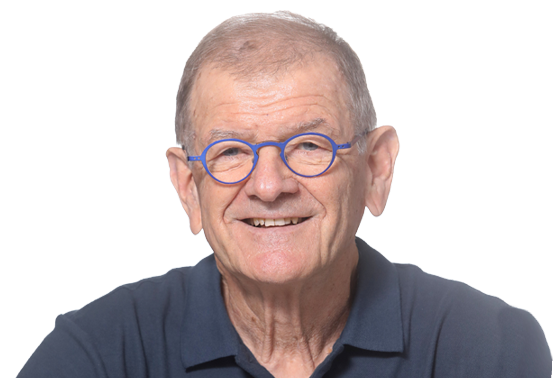 Elran wrote in an email Tuesday, "I am not really interested to be interviewed concerning the (unsuccessful) campaign calling for the boycott of my class. If you wish to quote me, you can say that I resent any call to boycott academic classes for political reasons and that I focus on the process of critical and open learning and teaching in the best spirit and practices of the University of Chicago."
Chicago didn't provide interviews Tuesday or Wednesday. A spokesman wrote in an email, "In addition to his ongoing Winter Quarter course, Meir Elran will teach a course during Spring Quarter as planned."
The University of Chicago is well-known for defending free speech—the university's Committee on Freedom of Expression developed the "Chicago Statement" or "Chicago Principles." The Foundation for Individual Rights and Expression praises that document and says 97 "institutions or faculty bodies have adopted or endorsed the Chicago Statement or a substantially similar statement" since 2015.
A Broader Campaign?
On Monday, the Israel-defending Academic Engagement Network released a letter asking Chicago to publicly condemn "the ongoing campaign to boycott Israeli visiting professors and Israel-themed courses and to do everything possible to prevent the physical disruption of these classes."
The corresponding press release said the letter was supported by "more than 120 scholars from all ranks and various disciplines at U.S. universities and colleges," but it doesn't include names. Miriam Elman, the Academic Engagement Network's executive director, said, "There are faculty that would face professional risks of being outed as being part of this organization."
The letter says, "Respectful debate and even criticism of a course and its content are welcome, but protests that are designed to demean an instructor and intimidate students are not acceptable. University leaders should uphold the right of students to protest and to express a wide range of viewpoints. But when protests disrupt teaching and learning they should be treated as violations of campus policy and antithetical to the core academic principle of open intellectual exchange."
"This is, in a way, the easy course to target," Elman said. "But they've been targeting all the Israeli-themed courses."
The Chicago Students for Justice in Palestine's Instagram includes multiple posts, back to January 2022, calling for boycotts of other Israel-related classes. A November post was titled "Boycott Sh*tty Zionist Classes!" (The word "shitty" is censored in original post.)
The November post mentioned Elran's course alongside Religion in Israeli-Palestinian Conflict and Peacemaking and The Political Theologies of Zionism. It called for "boycotting classes with Zionist narratives or those taught by Israel Institute fellows."
The Israel Institute's website says it provides "opportunities for Israeli scholars to engage in academic exchange in the United States and around the world and for American scholars to deepen their knowledge and develop new courses on Israel." Its website features Elran and says that, at least in prior years, he was part of its visiting faculty program that "provides financial support to Israeli academics who want to teach about modern Israel at top universities in the United States."
Neither the Israel Institute nor Chicago explained Tuesday or Wednesday who currently pays Elran to teach.
In January 2022, another Instagram post said, "Don't Take Sh*tty Zionist Classes" and called specifically to boycott Gender Relations in Israel, Narrating Israel and Palestine Through Literature and Film and Multiculturalism in Israel.
Elman also pointed to a report in The Chicago Maroon, the student newspaper, on a Feb. 2, 2023, protest where University of Chicago Police Department officers were present.
"This, to us, is a failure, you know, to have to have security personnel come to a classroom," Elman said. "The administration has failed here. It should never get to a point where the situation has gotten so toxic that security personnel would feel the need—that we need to intervene now. So, where was all the work since last February to help, you know, students engage in a more healthy debate and discussion? Where is the intervention by the university?"
Elman also noted the demonstrators' "die-in," where students lie down, still, on the ground.
"Students going to the class had to step over them," she said.
But a video of the Feb. 14 die-in that she provided showed students lying down along the sides of a path, providing enough space for students to walk.
And, regarding what happened on Feb. 2, a Chicago spokesman and a Students for Justice in Palestine member who didn't wish to be named over safety concerns both said that protest didn't disrupt the class period. Neither of them mentioned actual security concerns.
Chicago spokesman Jeremy Manier wrote in an email that the protest was "approximately 15 minutes in a hallway outside of the classroom."
"The protest did not obstruct access to classrooms, and classes proceeded as scheduled," he wrote. "Protestors also protested for approximately 15 minutes outside of the building."
"Deans-on-Call are often present at and monitor protests, demonstrations and other events on or adjacent to university property," he wrote. "The Department of Safety and Security was aware of the planned protest and officers were present as is common for protests on campus. Because the protest took place inside an academic building where classes were being held, it required steps to ensure that students could express themselves without disrupting classes."
The Students for Justice in Palestine member said that, unlike two previous in-person protests, his organization posted on social media about the Feb. 2 one beforehand, and someone told the university about it. He said the inside protest took place in the 10-minute interval between classes.
"The Allied Security attempted to deny us entry into the building without any justification, even though we're students entering a student building without breaking any rules," he said.
"Upon allowing us entry, UCPD created an alternative exit out of the building for Elran and his students," the student said, so they couldn't see the demonstration.
On Instagram, the organization wrote, "Far from being an exception or an isolated incident, this latest escalation fits into a larger pattern of the university's antagonism toward pro-Palestinian voices and refusal to take disciplinary [sic] against Zionist students and organizations. SJP will not be intimidated by these repressive tactics and refuses to be silenced by the university's escalating attempts to shield students from the truth about Palestine and the violence represented by General Elran's course."
Regarding the past calls to boycott other classes, the group member who didn't wish to be named said it's important "to look at the extensive reasons we've given" particular to the content of those other courses.
"People can look at those arguments for themselves," he said.
Manier wrote in an email that the university "is deeply committed to the values of academic freedom and the free expression of ideas, and these values have been consistent throughout our history. While differences of opinion over course material may arise, the university defends the freedom of instructors to teach any course that has been developed through our faculty-led curricular processes, and the ability of students to enroll in courses of their choice."