You have /5 articles left.
Sign up for a free account or log in.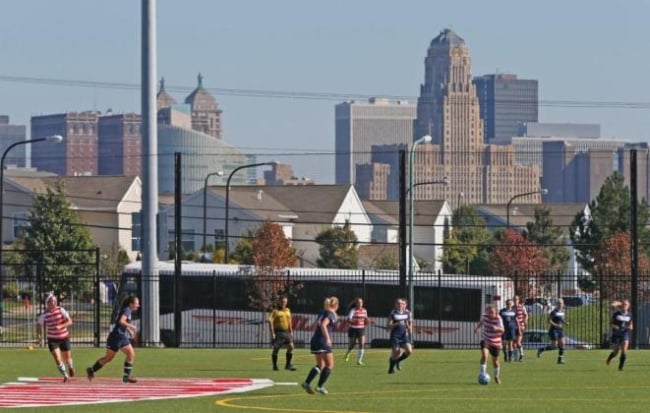 The cancellation of two days of classes at D'Youville University almost a month ago turned out to be only the start of computer network problems that have led to frustrations across campus, faculty members say.
"I would characterize this as highly unusual," said Bonnie Fox Garrity, president of the university's Faculty Senate and a faculty member for 24 years.
Faculty members said they resumed teaching after the private university in Buffalo, N.Y., canceled classes from Feb. 9 to 10. But lingering problems included a lack of Wi-Fi access in academic buildings and unreliable online portals, such as the university's Self-Service web application used by students to pay bills and register for classes.
University administrators have not said what caused the outage.
"We're not being offered much explanation, or, I would even say, particularly, guidance as to how we're to handle the various things that are unfolding," said Brandon Absher, a philosophy professor and faculty union president.
The university's president, Lorrie Clemo, declined an interview request.
On Monday—four days after a WIVB television news report about the effects of the outage on the campus aired—the university issued a campuswide statement about network availability.
"We have been actively investigating the cause of the outage and working to restore functionality of all of our systems with the help of our IT team and external systems specialists," the statement said in part. "We understand most connectivity issues associated with the temporary internet system have been resolved, and Canvas and Self-Service are now both fully operational."
A statement from the university in response to questions from Inside Higher Ed said, in part, that the institution has "been in regular contact with our staff, faculty and students since the outage" and that in addition to investigating the outage's cause, the university is working to "further improve our systems and reduce the likelihood of future issues."
Chris Patridge, an associate professor of chemistry at the university for about 10 years, said he expects to continue to use his personal cellphone's hotspot capability to teach his classes this week rather than attempt to log on to a "guest" Wi-Fi network that the university has made available.
"I have security on my phone," Patridge said, adding that he has concerns about whether malware or a virus contributed to the university's lengthy technical problems. "It is starting to trickle back to sort of normal functionality, but I don't think we've ever had outages like this."
The university declined to say whether the outage was the result of a malware or virus attack.
"We're not able to share more details on the investigation at this time but will be updating students, faculty and staff directly as pertinent information becomes available," the university said in a statement. "We are confident that the secondary Wi-Fi network is safe to use and we are not aware of any reliability issues since our systems have been restored."
Some faculty members said the problems for a time affected the university's learning management system, which hosts classroom syllabi and textbooks and is typically the main way for students and faculty members to track classroom assignments.
"You can understand why everyday classroom experience becomes very frustrating, because they cannot keep up with their work as they would like to and they know they're falling behind," Absher said of students.
He estimated that it "probably took a week" for students and faculty to reliably access the university's LMS, though he said it wasn't clear to him if all students and faculty experienced the same amount of difficulty.
"Students have expressed frustration with their lack of access to some systems on campus, but they, I think, have appreciated the adjustments, and they've been working with us," Fox Garrity said.
Students vented last week when network systems weren't available.
"We graduate in May and can't apply now," Carleta Fukua told WIVB.
Graduate student Alex Patkalitsky said "only some people can get on" the university's networks.
Fox Garrity said faculty members worked on low-tech, "chalk-and-talk" solutions. Videos, rather than being viewed in class, were assigned in advance.
The low-tech approach hasn't been all bad, Fox Garrity said, though it was something new for a generation of students who'd grown accustomed to using online technologies during the COVID-19 pandemic.
"There have been moments where we've been working on a paper worksheet and the students have commented positively, that, 'this is different, this is working,'" Fox Garrity said.
Challenges came even with that approach, however, she said.
"We didn't always have enough whiteboard space to do what we'd like to in a chalk-and-talk environment," Fox Garrity said of the available classrooms.
When it came to testing, "we have split larger groups of students who were going to use testing that required technology into multiple smaller groups to increase the chances that all of the students could access the network at the same time," Fox Garrity said. Patridge said he struggled to print out tests before the university provided an alternate printer.
Faculty members "have been as flexible as we could be with testing dates and due dates to try to assist students," Fox Garrity said.
She added that both students and faculty used personal cellphone hotspots to try to log on to university networks reliably.
Absher said he's been frustrated with the lack of communication from the university's administration about the problems.
"We're routinely offered timelines or explanations that, 'This will be available on this day,' and it is not available on that day," Absher said Friday.
Entering last week, "we were basically assured that internet access would be available in every building, you know, going forward," Absher said. That was not the case last Friday, he said, adding that university administrators should provide more direct communication about the problems rather than inaccurate or vague statements.
Patridge, vice president of the union's executive committee, said negotiations for a new faculty contract began in February 2021, and faculty members have been working without a contract for 551 days as of Monday.
"Faculty morale has definitely been affected, because you're already trying to do your job in less than an ideal situation," Absher said.
Fox Garrity said she, too, thought the administration could have done more to communicate about the network troubles.
"I think that it would be helpful if more information were shared," Fox Garrity said. "It would assist faculty in planning for how to adapt their courses to have a better understanding of potential timelines as we work through this."
She added, "I don't know if knowing the exact cause is important, but I think if we could assist people in not needing to speculate or have concerns about what it might have been, I think that would help faculty to adapt more quickly. I think it would reduce the stress levels of both faculty and students on campus."
More from Tech & Innovation