You have /5 articles left.
Sign up for a free account or log in.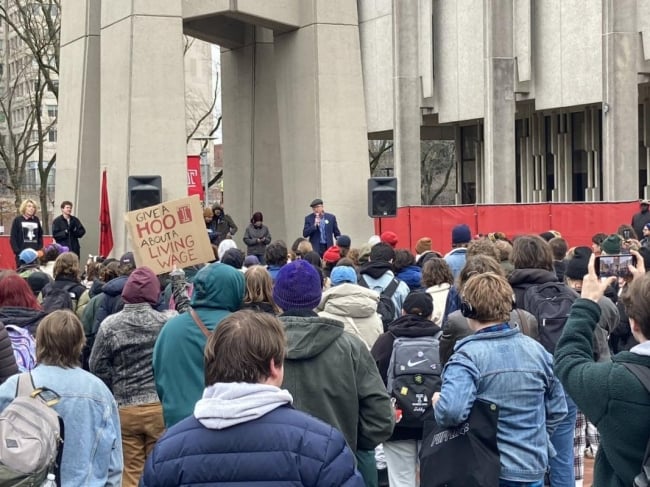 Temple University's graduate student workers have approved a new union contract that includes thousands of dollars in raises, ending a walkout that began Jan. 31 and had included the university temporarily axing strikers' health coverage and tuition remission.
Members of the Temple University Graduate Students' Association (TUGSA) voted 344 to 8 over the weekend to approve the university's latest offer, TUGSA said. Last month, union members overwhelmingly rejected the university's proposal. The union represents roughly 700 graduate student workers.
"We refused to be discouraged or intimidated, and we committed to staying on strike until we got a fair contract," TUGSA tweeted Monday evening.
"Despite unprecedented retaliation and intimidation, not to mention the cowardice and cruelty of Temple University admin, we won transformative changes to our CBA [collective bargaining agreement] that allow us to keep building and organizing in the years ahead," the union tweeted.
In an emailed statement, university president Jason Wingard said he's pleased the union and university "reached an agreement acknowledging the union's priorities and reflecting the university's respect for our graduate students and their impactful work."
"Over the past six weeks, Temple demonstrated remarkable resilience," he said. "Perseverance conquers, and today's agreement is evidence of our collective willingness to unite and advance."
The university says graduate student workers currently have an average annual salary of $20,700. The union has said it's actually $19,500.
Whatever the case, the new contract will raise minimum pay for graduate student workers to $24,000 effective immediately, and to $27,000 by 2026.
Last month's rejected agreement would have raised pay to less than $24,000 total. While the accepted deal exceeds that, TUGSA had sought $32,800.
University of California graduate student workers earned various advances through their strike last year—achieving minimums like $36,500 for teaching assistants on the Berkeley, San Francisco and Los Angeles campuses. But that strike also didn't achieve its earlier goal of stipends closer to $54,000.
Graduate student workers will also get a $500 one-time payment. Last month's rejected agreement would have provided $1,000.
The university will also start paying 25 percent of health insurance premiums for graduate student workers' dependents. The university already pays the full premiums for the workers themselves but nothing for dependents.
Last month's rejected agreement didn't include any subsidy for these workers' children—even though more affordable health care for dependents was one of the immediate core demands in the strike, alongside higher pay and increased parental leave.
Graduate student workers will also receive, among other things, 21 paid days of parental leave, up from five in the current contract, according to TUGSA.
The university is also restoring the tuition remission it yanked from strikers after last week restoring their individual health-care coverage.