You have /5 articles left.
Sign up for a free account or log in.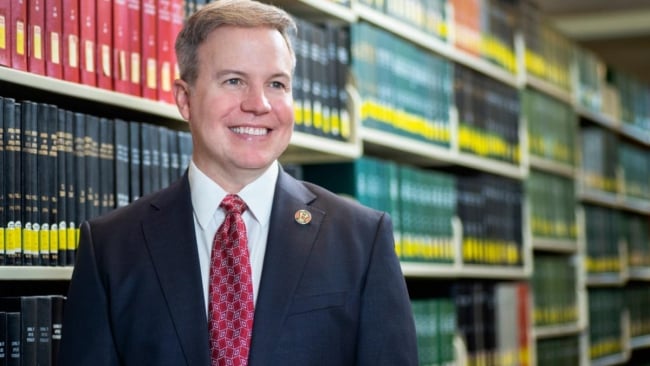 Facing a budget deficit of $5 million, Southern Oregon University is considering a realignment plan that will include deep cuts, which its president says are necessary to right the ship financially.
Altogether, 82 jobs—about 13 percent of the workforce—are proposed for elimination, though many are current vacancies that simply will not be filled. Administrators have said only 23 current faculty and staff members will lose their jobs.
Faculty are questioning the cuts, which some fear will harm the university's celebrated theater program.
But officials say that without the ambitious realignment plan, the university's financial deficit could grow to $14.6 million by the 2026–27 academic year, according to current forecasts. They emphasize that job cuts are only one part of the plan; they also seek to realign SOU by leveraging external revenue opportunities that will make it a model for other regional institutions that face similar financial hardships in a perilous higher education landscape.
SOU's Board of Trustees will consider the reductions next month.
Moving the University Forward
When Rick Bailey assumed the presidency of Southern Oregon University in January 2022, his most urgent order of business was fixing the institution's bleak financial situation. Like many colleges and universities across the U.S., SOU has been squeezed by declining enrollment, stagnant state funding and increasing pension and health-care costs.
Bailey has called the university's current path financially unsustainable. Now he plans to push the university toward financial viability with a plan known as SOU Forward that looks to cut costs, attract additional funds from external organizations and philanthropic support, and diversify SOU's revenue stream "by pursuing entrepreneurial opportunities."

Bailey argues his plan is about more than cost management; he sees it as a realignment that will set the university on a sustainable path. The vision includes developing solar power on campus, establishing a living complex for senior citizens, creating a university business district and opening a training center for Workday, an expansive software platform for human resources and other business needs. (SOU is currently transitioning to Workday, and other public universities in the state are expected to follow in the coming years.)
The new president first learned about the depth of SOU's budget woes during his third day on the job. The crisis had been partly obscured, he said, by COVID-19 relief funds that had flowed from the federal government during the coronavirus pandemic—money that the university couldn't count on for long.
"Federal money was really masking the fact that we were already underwater," Bailey said. "Knowing that federal faucet was going to turn off soon, it was very clear to me that we had to think and act in a completely different way to help the institution thrive well into the future."
Despite the proposed workforce reductions, Bailey noted that "you can't cut your way to prosperity," which meant pulling in other ideas to diversify revenues. And that's an area Bailey has experience in from his last stop, at Northern New Mexico College, where he is credited with pulling the institution out of financial hardship in part by increasing enrollment and improving student outcomes. Bailey also struck a deal at NNMC to bring solar power to campus, which he hopes to replicate at SOU as a way to cut costs and generate new revenue.
But before SOU can start installing solar arrays or cutting ribbons on new developments, the Board of Trustees must decide on the future of the university's workforce. Though no trustees responded to a request for comment, recent news coverage has suggested the board has concerns about potential workload increases for employees, as well as the future of the theater department.
Three jobs are targeted for elimination in the theater program. And while other areas will see deeper cuts, arguably none is as uniquely tied to Ashland, the small town where SOU is located, which serves as the home of the Oregon Shakespeare Festival. Founded by an SOU professor in 1935, the Oregon Shakespeare Festival—though not owned by SOU—annually draws hundreds of thousands of attendees and is indelibly intertwined with the university's theater program.
Tensions Linger Over Cuts
Program advocates worry job cuts will harm the department and the university. And some believe a lack of communication from the top has left employees and students grasping for answers. At a recent SOU community forum, Helen Eckard, an administrative assistant in the theater department, described her sadness and disappointment with the proposed cuts.
"With all the chaos in our program, there's not one day where I have wanted to come to work since this all came down," Eckard, who appeared to be holding back tears, told Bailey at the March 9 town hall. "The communication within our collaborative—supposedly collaborative—department has been appallingly bad. And I think every day about just giving my notice and leaving now."
Bailey insisted that the theater department will be fine and that SOU is not abandoning the program, which he said must "reimagine itself in exciting and fiscally healthy ways for the future."
Two employees reportedly facing cuts in the theater department did not respond to Inside Higher Ed's requests for comment; neither did the department chair.
Only one program has been targeted for elimination at SOU: a master's degree in environmental education. SOU officials have said students currently in the program will be able to finish their degrees. But some are pushing officials to keep the program, noting the importance of environmental studies at a time when climate change is increasingly considered an existential threat to humankind.
"There's nothing more important than helping students reimagine and understand their human relationship to the natural environment and their responsibility in it," Margaret Perrow, chair of the English Department, said at the March 9 town hall in a plea to keep the program intact.
Some faculty members have applauded Bailey for quickly crafting a plan to plug SOU's budget but believe that a workforce reduction is the wrong approach.
"Anytime there is discussion of losing faculty positions as a means of cost management, the union takes it seriously. While we don't agree with our administration on everything, we do understand that with the trends in Oregon state funding over the last two decades[;] skyrocketing tuition cannot be the solution," Sara Adams, president of the Associated Professors of Southern Oregon University, told Inside Higher Ed by email. "The union is encouraged by the desire of our new president to build a bridge with the faculty and work together to solve our financial crisis, but also, we firmly believe that faculty cuts are not the solution. Faculty reductions lead to fewer course offerings which leads to declining enrollment and the cycle continuing."
Adams added that trustees should "look at our heavy overhead costs before faculty cuts."
Measuring Success
Like many institutions across the U.S., Southern Oregon University has become more reliant on student tuition dollars even as enrollment has declined. At SOU, Bailey puts that decline at about 20 percent over the course of the last decade, though he notes it's slowly rebounding. But boosting enrollment can't fix SOU's finances without a sharp tuition increase.
Unwilling to spike tuition, Bailey said the money has to come from elsewhere, namely cutting expenses and attracting new revenue sources. The workforce reductions are expected to reduce costs; then university leaders believe they can fill the remaining gaps by focusing on renewable energy, attracting more state and federal grants, increasing philanthropy, and developing specialized new facilities such as the senior living complex and training center. And if they do, Bailey hopes SOU can serve as a model for other institutions.
"The challenge for us is to make sure that we are taking calculated risks moving forward and understanding that if one of those ventures gets to the finish line, it will have a significant effect on our fiscal model," Bailey said. "If we get more than one, or all four, it will be transformational."
Now Bailey, and 23 employees who may soon lose their jobs, await the board's next move when it meets in April.