You have /5 articles left.
Sign up for a free account or log in.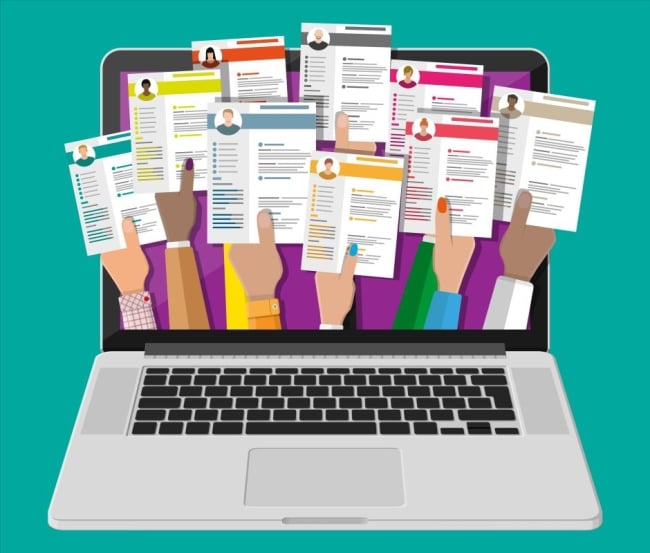 Microcredentials—quality, verifiable, bite-size, low-priced, nondegree online offerings targeted to specific industries—have boomed in recent years in response to demand from employers and would-be workers alike for additional options that can better prepare learners for the workforce. But it turns out that employers' own hiring platforms and third-party intermediaries often act as barriers to matching the right talent to the right positions, according to a recent Northeastern University report.
Most employers today require job candidates to apply online. Some applicants enter information about their skills, professional experience and educational achievements into an organization's hiring platform, including information about traditional college degrees and alternative nondegree credentials. Others who are active on professional networking sites like LinkedIn or job boards like Indeed apply with one click that sends information from the intermediary's website to the prospective employer.
In a perfect world, technology would streamline the communication process. But some hiring platforms favor information about traditional credentials over microcredentials. Also, when the software that powers hiring platforms extracts and shares data, some of the information about alternative credentials can be "lost in translation," according to the report.
"There's valuable educational and skill information hiding in plain sight with regard to some of these candidates," said Sean Gallagher, executive professor of educational policy at Northeastern University and a co-author of the study. "Why do these systems not call for more detailed information? Why don't they capture the richness that's possible?"
Employers and Students Value Microcredentials
Many learners pursue microcredentials—a catchall term that includes badges, licenses, alternative credentials, nondegree credentials and digital credentials—to learn and to boost their marketability for prospective jobs. On Open Badges alone—a leading format for verifiable, portable digital badges—learners can choose from more than 500,000 verifiable, sharable digital credentials, according to a 1EdTech and Credential Engine report. In 2021, providers on this platform issued more than 74 million badges, which marked a noticeable increase (73 percent) from the 2020 report.
Most college students and recent graduates (90 percent) believe that earning an entry-level professional certificate will help them stand out to employers and secure jobs when they graduate, according to a February 2023 Coursera report. Also, most (86 percent) believe that a microcredential will help them secure a job. (The report surveyed nearly 5,000 students and employers in 11 countries.)
Employers appear similarly enthusiastic. Most of the employer respondents (72 percent) reported that they are more likely to hire a job applicant who has earned a microcredential, according to the Coursera report. Even more (88 percent) believe that a professional certificate strengthens a candidate's application.
Some Hiring Tech Favors Traditional Credentials
On a résumé, a job candidate may include information about, for example, an earned associate degree at a community college and an earned information technology certificate from the learning platform edX. Some employers' talent acquisition systems, however, may not capture the richness of that candidate's profile. For example, some systems have no field in which to enter information about certificates.
"The system is mirroring … the business process on the hiring side," Gallagher said of the missed opportunity for additional information. Some of "these systems haven't been told to look for or process some added details beyond the basics like school, years of experience."
Approximately half of employers' talent acquisitions systems have fields in which candidates may identify skills, according to the Northeastern report. Of those that do, none afford recruiters the opportunity to verify the skills. This is the case even though one of the value propositions of nondegree, digital credentials is that employers can verify the achievements.
"People work too damn hard at getting that college degree, at getting that credential for it to be left to chance that someone can make a copy of it or claim that they have a degree or certificate from someplace they don't," said Jim Chilton, chief technical officer at Cengage Group.
Most systems allow for attachments, according to the Northeastern report, though that requires a recruiter to view and evaluate the document manually.
"We know that recruiters only look at résumés for an average of seven seconds," said Rya Conrad-Bradshaw, vice president of corporate markets at Cengage Group. "What can you use to change that kind of behavior meaningfully and offer a different way to hire? … The technology is simply not there yet."
Most human resource technology companies indicate that their customers have not prioritized digital credential support, according to the Northeastern report. Employers that want their job candidates to have an ability to highlight these achievements would first need to invest in customizing the platform.
'Lost in Translation'
Long ago, job applicants mailed hard copies of their résumés to prospective employers. Later, they faxed the documents. Then they emailed résumés. But whether these résumés were paper, faxes or PDFs, none were easily read by machines, which meant that a human viewed the submitted documents.
Then came hiring platforms, in which candidates could upload digital résumés. Also, third-party websites—think LinkedIn or Indeed—now allow candidates to apply with one click based on information in their profile. Both applicants and recruiters see value in the rise of intermediaries that streamline the hiring process, according to the Northeastern report. Once the hiring platform software extracts and shares the data, it can filter and categorize them.
"LinkedIn, Indeed, ZipRecruiter and similar services are playing a larger role in the recruiting market," Gallagher said. "If you're a Fortune 500 company, chances are your system will need to talk to those systems because you want people to one-click apply," Gallagher said.
That process, however, can lead to inconsistencies. Part of the problem is that résumé formats vary. Also, applicants use varied language or methods to indicate dates on résumés and networking sites. During the data transfer, some information about digital credentials and skills can be "lost in translation," according to the Northeastern report. As a result, recruiters may overlook talented candidates.
But the News Isn't All Bad
Some see signs of progress that talent acquisition platform vendors, employers, digital credential providers and colleges are beginning to work together in the tech-enhanced hiring ecosystem.
Chilton reports that some large employers—think Walmart—are driving a trend in which businesses are working with software partners to upgrade the technology. These large employers are also encouraging educational providers to comply with open standards for digital credentials.
"If everybody has their own variant of a credential, then the whole thing almost immediately falls apart," Chilton said.
Also, companies that provide talent acquisition systems—such as Workday and Salesforce—have been developing competencies in this area because doing so is in their interest, Chilton said.
"It provides them a vehicle to sell more of their software," Chilton said.
Others see synergistic opportunities. That is, in the past, some in higher ed have viewed third-party, industry-recognized, nondegree credentials as competition. But most students (76 percent) are more likely to enroll in a degree program that offers industry microcredentials, according to the Coursera study.
"It's not an or, it's an and," Marni Baker Stein, chief content officer at Coursera, said. "This allows them to study what they love and get critical skills for hiring. They can study French literature and start working on that project management certificate."
Since 2017, employers have increasingly adopted skills-based hiring practices, according to a Harvard Business Review study. In this practice, candidates are evaluated based on their skills, often in place of traditional measures such as college degrees. But before employers can evaluate candidates, they need comprehensive information about their skills.
"We've identified some gaps to close, but almost every single talent acquisition technology company we spoke with is aware and working on [the problem]," Gallagher said. "It's just going to take a few years."