You have /5 articles left.
Sign up for a free account or log in.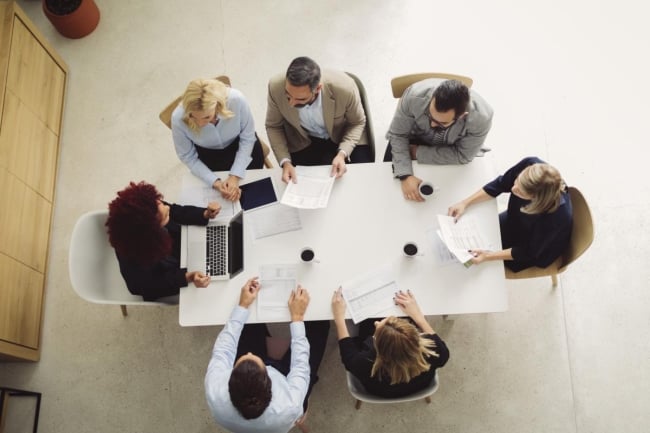 About a dozen students gathered at the Culver Family Welcome Center on the University of Wisconsin at Oshkosh's campus in February to participate in the first of a new discussion series designed to promote open and civil discourse on the First Amendment. Called It's Just Coffee, the idea was lifted from a student-led initiative of the same name. The upgrade to an official system initiative comes with one change: Wisconsin system president Jay O. Rothman will now participate in each conversation.
Rothman considers advancing free expression on the system's campuses a key part of his job; the principle of free expression and civic engagement was even named as one of four key objectives in the latest strategic plan.
"We want our universities to be marketplaces of ideas where issues that are difficult can be discussed rigorously, passionately, but in a civil manner," he told Inside Higher Ed. "If we don't model this at our universities, I'm not sure where it's going to get modeled."
He's not the only higher ed leader in the U.S. who sees the vital importance of such modeling to help combat rising alarm about the lack of civil discourse on college campuses. Student protests, especially of conservative speakers, continue to make the news. Just this month, Stanford students shouted down a federal judge with a conservative track record. Last year students at both Yale Law School and the University of California Hastings College of the Law similarly tried to silence conservative speakers hosted by the Federalist Society. (This paragraph has been updated.)
A handful of recent surveys show not only that many students find it acceptable to deny a platform to speakers they find objectionable; they are also unwilling to share their viewpoints due to fear of backlash from their peers. In surveys conducted recently by the UW system, Heterodox Academy and the University of North Carolina, conservative students expressed more fear than liberal ones about their classmates' reaction to their opinions. Conservative students also reported more self-censorship.
Timothy Shiell, the UW Stout professor who conceptualized the UW system's survey, said that the difference between conservative and liberal students' willingness to speak up was stark. The survey itself initially received pushback from some faculty members who objected to its sponsor, UW Stout's Menard Center for Public Policy and Service, which was named for Republican donor John Menard and funded through a Charles Koch Foundation donation, according to The Wisconsin Examiner.
"I'm hesitant to say there's a [free speech] crisis," Shiell said. "I think there's reasons to be concerned."
David Primo, a professor of political science and business administration at the University of Rochester who teaches about civil discourse, said it's easy to understand why students might be more reticent to share their opinions now than in the past.
First, he noted, universities now have processes for reporting other students' speech; Stanford's anonymous bias incident report system, for one, has been criticized for impeding free expression.
In addition, the ease with which students can use smartphones to spread their peers' offending remarks or gestures via social media has a chilling effect on young adults trying to figure out who they are and what they think.
"The mistakes you make in college are now public forever. One mistake will now be searchable forever," Primo said. "And that changes the willingness to speak."
Addressing the Issue
But finding ways to promote speech tolerance on campus has proven difficult. How can institutional leaders convince students to hear out opinions they believe are harmful or voice views that they've seen draw public condemnation from other students? In a polarized nation, what role can higher education play in getting students to engage in the sort of productive, civilized debate that consistently evades fully-fledged adults in the public sphere?
A number of institutions are trying to figure it out.
The It's Just Coffee series is one of a range of initiatives the University of Wisconsin system is implementing to promote civil discourse. The system also recently launched the Wisconsin Institute for Citizenship and Civil Dialogue, which aims to bring together stakeholders to discuss solutions to free speech issues and to assist the 13 UW campuses in addressing free speech conflicts that arise. Another initiative, The Discussion Project at UW Madison, is a training program that helps faculty learn how to "to design and implement equitable, inclusive, and engaging classroom discussion," according to the program's website.
On a smaller scale, Rothman said, he knows of one professor who requires each student in his class to write an argumentative essay on a position they disagree with.
At Rochester, Primo teaches a class, first launched in 2020, that invites students to read about and discuss controversial topics, including social justice on college campuses and free speech in the workplace. The conversations are guided by class rules that students establish early in the course, and Primo himself usually facilitates—though he has experimented with letting students do it.
Although the original purpose of the course was to give students practice in discussing contentious issues, Primo found that they were also interested in explicitly learning techniques for arguing effectively. In addition to imparting basic skills such as how to listen to and understand another person's perspective, he also teaches about more complex scenarios, like what to do if the other person is not arguing in good faith.
"I don't think I could be prouder of the way the students have handled themselves in this particular course," Primo said. "I think it highlights, for me, that many of the problems we face on college campuses are due to loud voices that are not necessarily representing how most students think."
Outside of universities, some organizations and researchers have also begun looking into potential solutions to campus speech intolerance.
"Transforming Conflict on College Campuses," a report published by the Aspen Institute's Citizenship and Identity Program and the Constructive Dialogue Institute, identified strategies institutions can use to decrease campus free speech conflict—between students as well as those involving administrators, staff and surrounding community members. Among them: setting up low-stakes opportunities for members of the community to practice open dialogue and debate, such as in classrooms or staff meetings, where pressure to say the right thing isn't as high as it might be at a formal event. The report also suggests that to best resolve campus conflicts, institutions should include as many stakeholders as possible in the decision-making process.
PEN America, a literary nonprofit that does work in campus free expression, aims to bring free speech solutions to campuses across the U.S. through Free Expression Student Summits that teach attendees skills to promote free expression. Organizers aim to connect with students by tying free expression back to things they might care about, such as art, book bans, media literacy and protest rights. The organization also offers Campus for All trainings that teach administrators, faculty and staff how to deal with "difficult dialogue" on campus.
Michelle Deutchman, director of the University of California's National Center for Free Speech and Civic Engagement, said that while she sees the value in each of these solutions, one-off lessons or sessions are probably not enough to change students' mind-set around dialogue.
"It's a huge commitment to do all of it, but it's probably what we need. Universities are going to have to make larger commitments in time and energy and resources when we're talking about dialogue and talking across difference … if we're going to be able to fulfill the mission of higher education," she said.
Preaching to the Choir
The It's Just Coffee series and Primo's course share a common limitation: they reach only a small share of their campuses' student bodies—and usually the students who are already enthusiastic about participating in civil discourse.
For Rothman, It's Just Coffee and the system's other free speech initiatives are designed not only to impact the students who participate but also to demonstrate UW's free speech values to the wider campus community, in the hopes of showing other students that it's safe to speak their minds.
"The fact that we're doing this on a systemwide basis raises its profile," he said.
Primo acknowledges the limitations of his course, which enrolls about 20 students each semester. He believes his curriculum could have wider impact if the university included lessons on how to disagree in the first-year writing seminar that all students are required to take.
Civil discourse "can be tied in with things like writing," he said. "It spans disciplines."
The University of North Carolina's campus free speech survey proposed small discussion groups as part of a larger effort to build rapport and relationships on campus. The researchers suggested that the better students know each other, the more likely they are to try to understand each other rather than jump to conclusions or judgments.
"Campuses could consider investing in low-stakes activities designed to build trust and deepen understanding. For instance, many students might find it far more appealing to participate in a monthly discussion group wherein five differently-minded students and a faculty (or graduate student) mentor have an extended conversation about a political topic," the report says. "(They might find the activity all the more appealing if it included a free meal as an enticement.)"
UNC did not respond to a request for comment for this story.
Deutchman noted that such opportunities to practice difficult dialogue are useful—but they can be meaningless if a student doesn't come into the situation already equipped with a baseline understanding of how to have those conversations. Practice makes perfect, as the saying goes, but infrequent or perfunctory practice can lead to someone picking up the wrong habits, she said.
"You don't just wake up and come to college and know how to have a discussion," she said. "Those are skills that have to be learned and practiced, just like any skill we teach students. Sometimes we skip over that piece of, how are they learning what it means to engage in a conversation of this kind before we can come to the table?"
Many leaders have sought to make their positions known by issuing official policies or principles that articulate their institution's commitment to free speech. The best known example is the University of Chicago, which adopted the so-called Chicago Statement back in 2015. It lays out the university's devotion to campus free speech and vows to encourage, rather than interfere with, the debate of diverse ideas. Since then, according to the Foundation for Individual Rights and Expression, 98 institutions have adopted the Chicago Statement or something similar.
But some experts believe that while elucidating such intentions is important, the statements themselves don't have much bite.
"These statements tend to be sort of ignored when things get really messy. It's great to have these lofty academic statements honoring free speech and free expression and academic freedom, but time and time again, we just see a hot-button issue or an offensive issue or a rogue comment here or there and these lofty principles go out the window," said Roy Gutterman, the director of the Tully Center for Free Speech at Syracuse University. "Everybody's for free speech until they're offended by something somebody else said."