You have /5 articles left.
Sign up for a free account or log in.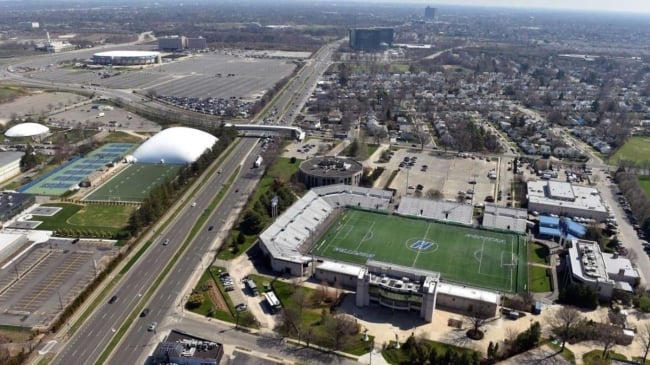 A push by the deep-pocketed Las Vegas Sands Corporation to build a casino and entertainment complex in Long Island, N.Y., has riled leaders of a nearby college who say the development would harm their students and the region.
But the outspoken stance taken by Hofstra University's president and trustees against the proposed multibillion-dollar project is not shared by leaders of neighboring Nassau Community College and Long Island University, who have "agreed in principle" with casino project representatives to expand academic programs in hospitality and culinary arts. The community college also is partnering with the developers to serve as a workforce training hub.
Las Vegas Sands Corporation announced plans in January to bring restaurants, hotel rooms, a live performance venue, gambling and other amenities to some 80 acres via a lease takeover of the site occupied by the Nassau Veterans Memorial Coliseum, an aging sports arena whose previous major tenant, the New York Islanders of the National Hockey League, left for a different venue. The area is referred to as the Nassau Hub.
The coliseum sits just north of the Hempstead Turnpike, a major thoroughfare that also bisects the Hofstra University campus. The private university enrolls about 6,000 undergraduates, and about 41 percent of them live in university-operated housing, according to self-reported information. (The university also enrolls about 4,000 graduate students.) Many other students live in housing near the campus, a spokeswoman said.
"It is not the kind of thing we want across the street from our university," Susan Poser, the university's president, said in a phone interview, adding that her description of the site's location "is not an exaggeration at all."
Poser said the university is "very pro development," and she added that "I don't really have a position about gambling," so opposition is not about "my personal view."
But a casino can lead to "too many negatives that are particularly bad for students of that age to be sort of tempted by," she said.
For example, students may be susceptible to gambling away their financial aid funds, she said.
Several other big-budget development ideas will compete for three gaming licenses to be awarded by state regulators. Representatives of what's known as the Sands New York project did not respond to multiple voice messages and requests for comment, nor did they directly respond to criticisms made at a reported 50-person rally against the project last week, according to Newsday.
A statement forwarded to Newsday described Sands New York as "grateful for the community support we have received" for "our proposal for a world-class resort and entertainment center at the Nassau Hub—and we are proud that the coalition of Long Island supporters continues to grow through our meetings with civic leaders, small business owners, and youth empowerment programs."
While the explosion in online sports wagering means many students already have been exposed to gambling, a casino next door brings about other concerns, Poser said.
"Some of these casino operators say, 'Well, they're already betting in their dorm rooms.' But it's a very different thing. Nobody's going to get hit by a car or robbed if they're sitting in a dorm room," Poser said.
Hofstra's Board of Trustees wrote an open letter earlier this month denouncing the proposed site as an "entirely inappropriate location for a casino" and citing concerns about traffic and crime. They also noted the "nearly 40,000 students, ranging from preschoolers to graduate students, who attend school either contiguous or in proximity to the Nassau Hub."
Officials at the institutions that support the project have talked up the potential opportunities it would create for students to pursue careers in hospitality services, which has been a common theme in casino-college partnerships announced in other parts of the country, including one involving what was once a Sands Corporation property in Bethlehem, Pa.
Left largely unspoken is the possibility of a financial investment from the casino giant to help pay for academic programs.
"The Sands came to us and proposed to us to become the training center for the Sands operation, the hotel and resort, and it was something that was very appealing," said Jerry Kornbluth, a Nassau Community College vice president who oversees governmental relations.
No deal has been reached involving the Sands giving the college money to support academic or training programs related to hospitality industry jobs, Kornbluth said.
"We haven't had any of those discussions yet," Kornbluth said.
Kornbluth said the college "saw this as a great opportunity for our community, where students come here to get an education—not necessarily transfer to a four-year college—but come here to learn a skill and enter the job force."
Nassau Community College enrolls about 12,500 students, according to federal data. Data provided by Kornbluth showed that the college had 46 students majoring in culinary arts, 36 studying hospitality and 50 enrolled in food and nutrition studies last fall.
"We have a strong culinary program, a hospitality management program as well as other programs that would fit right into what the Sands would be looking for," Kornbluth said, adding that other programs, such as cybersecurity, also could train workers for the casino and entertainment project.
Maria Conzatti, acting president of Nassau Community College, and Kimberly R. Cline, president of Long Island University, joined with a Sands representative for an announcement event earlier this month touting the new partnership.
"We are extraordinarily proud to be working with Long Island University and Nassau Community College to build a world-class hospitality program, creating new pathways to success for Long Islanders," Ron Reese, senior vice president of global communications and corporate affairs for Las Vegas Sands, said in a statement.
Reese did not return an email and multiple voice messages seeking further comment. There also was no response to a request for an interview submitted through a website for the New York project.
Long Island University, which has a campus located about eight miles from the proposed casino site, would seek approval to expand degree offerings in fields related to hospitality management and culinary arts, according to the announcement. The university has two major campuses, and its Long Island site is known as LIU Post.
"The creation of new studies specializing in hospitality management and culinary arts will offer unparalleled experiential learning and access to professional opportunities that will launch students to successful careers," Cline said in a statement. Officials with Long Island University did not respond to an email and voice message.
The joint agreement announcement noted that Sands previously partnered with Northampton Community College when it began a casino operation in Pennsylvania.
The Pennsylvania property reportedly sold for $1.3 billion. Prior to the sale, the Sands property served as a longtime sponsor for college fundraisers.
"The Sands Casino & Resort in Bethlehem was a lead sponsor for nearly 10 years with the college's annual Food & Wine Festival that they hosted at the resort. The event has raised more than $2.2 million to fund scholarships," Mia Rossi-Marino, a spokeswoman for Northampton, said in an email.
Parents of Hofstra University students are among those opposing the casino project, however.
"My son did not go to college in the city because I was not comfortable with him being in New York City. We decided that Long Island was going to be a good place for him," said Nicole Serralta, a volunteer board member of the Hofstra Parent and Family Council. "The hope was it would be a little bit safer, a little bit quieter, away from the hustle and bustle of the city."
She said Hofstra parents are now advocating for elected officials to try to stop the casino, but she said she's unsure if the efforts will be successful.
A casino next door could potentially affect future students' decisions about attending Hofstra, she said.
"I would think that when you're looking at different colleges, you always have to weigh the pros and the cons," Serralta said, adding that having a casino so close to campus would be "definitely a negative."