You have /5 articles left.
Sign up for a free account or log in.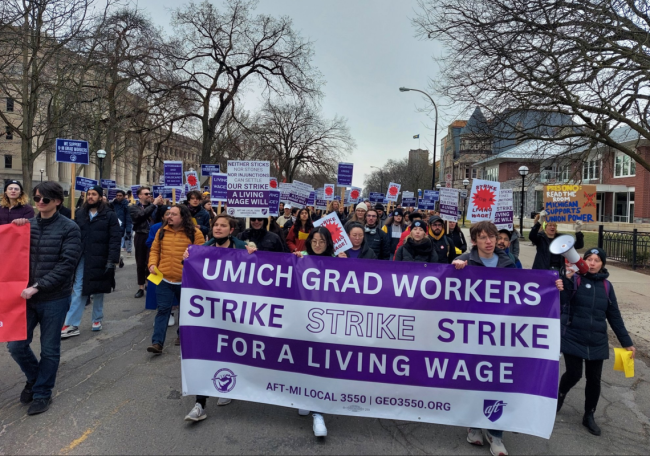 University of Michigan graduate student instructors and staff assistants began striking Wednesday, seeking to raise their minimum annual salaries from $24,000 to about $38,500 and win easier access to health care for transgender members, an emergency fund for international students and other benefits.
The Graduate Employees' Organization (GEO) acknowledges that its strike in Ann Arbor is illegal under its own collective bargaining agreement with the university. On Thursday, the university said it had filed a lawsuit alleging breach of contract and requested an injunction that would order strikers back to work.
The university also cut strikers' pay and stopped paycheck deductions to pay union dues.
"We're striking because our members cannot afford basic necessities," said Amir Fleischmann, a Ph.D. candidate and a graduate student instructor who chairs GEO's contract committee. He said the university, despite inflation and rising rent, has only offered a 5 percent raise next academic year, followed by a 3.5 percent raise in the next and a 3 percent raise after.
Fleischmann said the union has a little over 1,300 regular dues-paying members out of the university's roughly 2,400 graduate student instructors and staff assistants, though he declined to say Thursday how many are striking.
"We would prefer to keep it under wraps for strategic purposes," he said.
GEO said the vote last week to authorize the strike was 95 percent in favor. Fleischmann also didn't reveal the number of members who voted, but he said the union believes it was among its largest turnouts.
On its website, the union says striking equals "a breach of contract, and the university could legally discipline or fire us. The question is whether the university would retaliate against workers and the union rather than pay us a living wage. UM is highly unlikely to fire all of its [graduate student instructors and staff assistants] because we are essential to the day-to-day operations of the university. They need us!"
The university said in an email Thursday that "Beyond any legal considerations is an ethical one: If collective bargaining is to retain its value, all parties must honor the terms of the contract they signed. We urge GEO to reconsider its breach of the agreement we reached through good faith collective bargaining."
"Our focus remains on continuing instruction for our students and achieving an agreement with GEO through the negotiation process," the university said. "The next bargaining session is scheduled for Friday and the university remains ready to meet at any time."
The university's endowment was valued at $17.3 billion as of June 30, according to its website.
In a message ahead of the strike, Laurie K. McCauley, Michigan's provost and executive vice president for academic affairs, wrote that the "university will continue to hold classes as scheduled."
"School, college and department leaders are planning for substitute instructors, alternative assignments and other means for delivering instruction as required," McCauley wrote. "The university is committed to ensuring all students receive accurate grades for their coursework and ensuring all graduating seniors can participate in commencement."
"We strongly believe that a strike is simply not the best way for GEO to achieve its objectives," she wrote. "There are many weeks left to negotiate before the May 1 contract expiration, and our intention is to continue to bargain with GEO regardless of a strike."
"While negotiators have made progress on some issues, the union has failed to move on most of its key demands, including for a 60 percent salary increase, even as it continues to attempt to negotiate other issues that are outside the scope of this contract, such as police reform," she wrote.
Fleischmann said that, alongside the salary increase, the union is also seeking an unarmed police alternative on campus, sexual harassment protections, expanded childcare subsidies, 12 weeks of paid parental leave and caps on copays for chronic conditions and mental health.
And, regarding health care for transgender members, Fleischmann said, "There are some barriers that prevent our transgender members from being able to access the care they're entitled to. Some of these are really onerous requirements for letters from doctors or letters from insurance that wouldn't be required for any other kind of health care but are being required for gender-affirming care."
He said these include things like requiring a psychologist's letter to get facial surgery and caps on speech-language pathology sessions for transgender members.
He said the union and university have been in negotiations since November, yet, a couple of weeks ago, the university circumvented the union and said it planned to start paying Ph.D. students on a 12-month basis—effectively increasing their annual salary from the minimum $24,000 for two semesters with no summer pay to $36,000, close to the union's goal.
But that move, he said, excluded other members from the raise. He said he thinks that led to the strike.
"All of a sudden, out of nowhere, they came up with this rushed plan saying that we did have the money all along and actually you do deserve a living wage and our graduate programs won't be competitive if we don't have one," he said.
"If they are serious about this proposal, they should put it in the contract where it belongs," he said.
Fleischmann also said finals are coming before the end of April. When asked whether striking close to that was strategic, he said, "We'll let your readers draw their own conclusion."
He said bargaining resumes at 9 a.m. today.