You have /5 articles left.
Sign up for a free account or log in.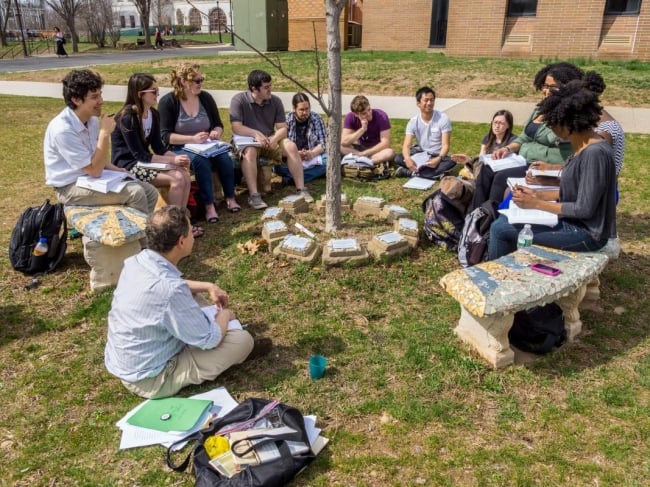 Mike Peters/Montclair State University
For students in Sarah Blackwood's How to Read Moby-Dick class at Pace University, learning about Herman Melville's work isn't confined to lectures, essays or classroom discussions. Blackwood's syllabus includes a tour of Lower Manhattan locations featured in the author's novels and stories: the Wall Street law offices where Bartleby, the titular scrivener of one of Melville's best-known stories, worked, as well as the streets that Ishmael walked in the opening chapter of Moby-Dick.
The 90-minute class period prevents students from following Ishmael's exact trajectory "from Corlears Hook to Coenties Slip, and from thence, by Whitehall northward." Instead, they pass by Coenties Slip and continue to the Battery, where they gaze from the park out over New York Harbor as they read the chapter aloud together.
If Blackwood's course sounds like a divergence from the humdrum small-group discussions that college English courses bring to mind, well, you probably haven't taken a college English class recently. With the discipline facing a surge of scrutiny in the wake of a viral New Yorker article published in late February called "The End of the English Major," English faculty are employing a range of efforts to give their field new relevancy and pizzazz.
"We're not just marching through the archives," said Blackwood, who chairs the English department at Pace. "I'm not sure if any program is doing that, but it's definitely not what we're doing."
The New Yorker article centered on the claim that the number of humanities majors in the U.S. has declined significantly; between 2012 and 2020, institutions such as Tufts University and Ohio State University lost nearly half their humanities students. The number of bachelor's degrees awarded in the humanities over all fell 14.1 percent from 2012 to 2018, according to the American Academy of Arts and Sciences' Humanities Indicators. And English majors comprise a big chunk of humanities degrees: in 2018, English language and literature made up 19.4 percent of all bachelor's degrees in humanities; only communications and general humanities degrees were more popular.
The main reasons for the decline in English majors, according to the New Yorker piece, are a lack of student interest in the traditional literary canon and the belief that an English degree doesn't lead as easily and directly to a good job as, say, an engineering degree does.
But not all English faculty members are hopeless about the future of the discipline. Some point out that while the number of English majors may be down at some institutions, that's partly because tracks that traditionally fell under English—such as media studies or film—have been split off into different programs, but they continue to attract students. At other colleges and universities, fewer students may be seeking bachelor's degrees in the subject, but every English class remains full—perhaps with those fulfilling general education requirements or pursuing an English or writing minor.
Even so, English departments are constantly testing new approaches to win devotees, including by adding courses that students find particularly appealing, such as creative writing.
"This is sort of what every department, and I would say every college of liberal arts and humanities and social sciences—this is what we talk about in our administrative meetings," said Jonathan Greenberg, English department chair at Montclair State University. "After COVID, this has been the central concern."
Donors are making major investments in this mission, too; the Modern Language Association, a professional association for humanities scholars, recently received a $1.5 million Andrew W. Mellon Foundation grant for the recruitment and retention of students—especially students of color, first-generation students and Pell Grant recipients—into college humanities programs. Those students are often especially trepidatious about studying a subject they're not certain will pay off financially.
The MLA plans to spend the grant funds on creating programs to help colleges and universities recruit more such students to the humanities, including by creating a "toolbox" outlining strategies that have already proven successful and providing small grants to individual departments and institutions.
Thinking Creatively
The English department at Montclair State University, a large research institution in New Jersey, has added new concentrations in creative writing and film—two fields that Greenberg said remain popular nationwide. (Enrollment in the university's English department has dropped by about 38.5 percent since 2010, from a peak of 650 students to about 400, he said.) (This paragraph has been edited to correct information about the concentrations.)
The goal of these tracks is to signal to potential students that if they're interested in a creative career, English could be the major for them.
"This is a place to come to be a content creator; that's the new term … whether you go on to be a Ken Burns or a Tyler Perry or whoever is generating the cultural products," he said. "The culture industry is alive and well. English is the place to train to be a content creator or a cultural worker."
Building a connection between the creative and analytical sides of English seems to be a priority for many institutions.
The University of Notre Dame, which recently restructured its English major requirements, plans to better integrate traditional literary studies with creative writing courses beginning next fall. While English students were always able to take creative writing courses as electives, now some of those classes will count toward English degree requirements.
Though the details haven't yet been fully mapped out, Laura Knoppers, chair of the university's English department, gave the example of a creative writing professor teaching a course in Caribbean literature that could count as a creative writing course or a literature course, fulfilling the degree's requirement for a class on cultural literature. (Knoppers noted that the new course requirements were put in place mostly to address current student concerns about flexibility and diversity in the program, rather than to specifically attract new students, though that could be an added benefit of the changes.)
The creative skills gleaned in English courses increasingly go beyond writing. Paula Krebs, executive director of the MLA, said it's the fault of humanities professors that some students associate those majors strictly with essay writing rather than with newer modalities of sharing information, such as podcasting and building websites. She said English professors could expand the practical skills their students gain simply by asking them to present their work in other forms, which would simultaneously serve to debunk the claim that English imparts no concrete skills and to make the assignments more exciting to students.
"If your English major or your philosophy major is 12 courses in which students write … research papers, that's what their skill will be," she said. "But if instead you give them options to demonstrate what they've learned … they're gathering a bunch of other skills at the same time they're learning your course content. Why wouldn't you do that?"
Getting a Job
Pace is one of the few institutions where the number of English majors has grown, jumping from 115 students before the pandemic to 150 this year. (The university's overall enrollment remained basically steady from fall 2019 to fall 2022.)
Blackwood said she isn't entirely sure why that's so; unlike Montclair, the department's last curricular update was back in 2016.
There are elements of the institution itself that could influence English's popularity, she said; the university is well connected to the literary industry in New York City, for one, making it easy to show parents and students how to have a successful career directly related to the major. She also hypothesized that the COVID-19 pandemic—and, more specifically, years of online schooling—may have led students to pursue a college experience focused on doing what they love, rather than simply seeking a high-paying career.
"I think the pandemic was significant in reorienting people slightly away from … this idea of college as a vocational education," she said. Instead, students seem more willing to study what they're passionate about. (With students showing increased interest in studying English, Blackwood's greatest concern about her department is actually the declining number of full-time professors—as she outlined in her response to "The End of the English Major," published Sunday in The New York Review of Books.)
But colleges can't rely on students being willing to follow their passions if they want to entice students—especially those from the populations the MLA's Mellon grant is targeting—to study English in larger numbers, Krebs said. They need to address the most pressing concern of many parents: employability.
"We have to be able to speak to the students who need permission to follow their hearts into our fields," she said. "We know that five years out, language and literature majors are underemployed at a number that is half the number of some of the biological sciences. We know the majors are using what they learned and their unemployment rates are low. But the general public doesn't know."
She cited LaGuardia Community College, part of the City University of New York system, as one institution that is helping its students grasp the versatility of English. In multiple courses along the trajectory of the English associate degree program—including in a first-year seminar that introduces students to the institution and the major—students learn about different fields and professions in which they could use an English degree, such as event planning, book publishing and public relations. As a result, a high percentage of English majors transfer to a bachelor's program within one to three years of graduating.
The first-year seminar utilizes different strategies to encourage students to explore the various career paths accessible to an English major, according to Gordon Tapper, a professor and former chair of the English department at LaGuardia. One assignment requires students to research different jobs and then write a speculative autobiography that outlines their education and career from the point of view of their 60-year-old selves.
"I think for some reason, and this is a cultural shift, English professors traditionally have not thought that part of their job is to promote the value of the English major. It spoke for itself," Tapper said. "If every professor devoted even 20 minutes in one class session to talking about this—who knows, maybe it wouldn't increase the number of English majors at all, but I think it would have an effect."
Another strategy involves bringing successful alumni to campus to help dispel myths about English students' employability. Greenberg, the chair at Montclair, said he introduces alumni with exciting and varied careers, who help students see that English majors can do anything—from studying medicine to working in politics or journalism.
But the question remains: How to relay that message to a larger audience—that is, to students not already sitting in an English classroom?
After all, "If it were as easy as putting information on a website saying, 'English majors earn more than business majors,'" Greenberg said, then the problem would be solved.