You have /5 articles left.
Sign up for a free account or log in.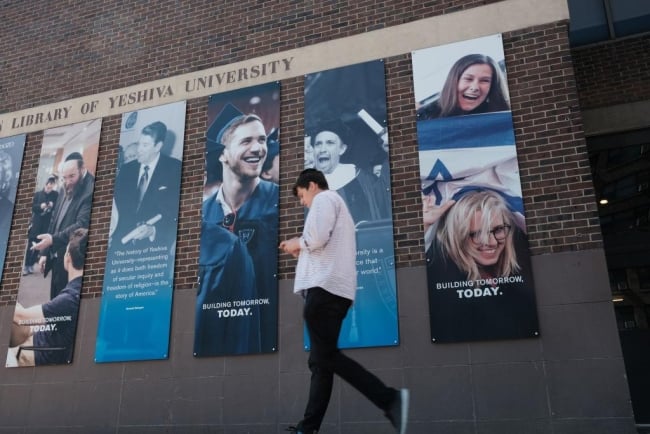 Spencer Platt/Staff/Getty Images North America
Yeshiva University, a Modern Orthodox Jewish institution, is launching a new program intended for Christian students. The effort is a partnership with the Philos Project, an organization that advocates for Christians in the Middle East and encourages Christians to connect with their "Hebraic tradition."
Graduates of the one-year program, which is scheduled to start this fall, will earn a master's degree in Jewish studies from Yeshiva University and a certificate in Hebraic studies from the Philos Project. Students have the option of completing the program online or on Yeshiva's campus in New York City.
The goal of the program is to "promote deeper understanding for Christians of Jews and Judaism … without compromising on the particularity of our respective faiths," according to the project's website. The program is starting small, with plans to enroll an initial cohort of 10 students and potentially grow in the future.
Yeshiva University has always enrolled students of all faiths, or no faith, at its graduate and professional schools. But the university's Bernard Revel Graduate School of Jewish Studies hasn't previously offered Bible-related coursework designed for students without a command of Hebrew and marketed to Christians. Some religious studies scholars say the partnership—and other joint academic offerings and collaborations between Christian and Jewish institutions—reflect a growing desire for more educational cross-pollination between their faith traditions after a long, somewhat bitter history.
Rabbi Ari Berman, president of Yeshiva, said he's seen "significant interest from Jewish and non-Jewish students to study the Jewish tradition and heritage through the most authentic and erudite sources."
The new program "fits well with our mission to provide access to the Jewish wisdom of the past with our top-tier professors and rabbis," he said in a statement. "The Philos Project as a community of Christian leaders is a primary example of a natural partnership, newly formed. We strengthen our institution by increasing our student base, which creates networks for all of our students that are mutually beneficial now and long into the future."
He highlighted that Yeshiva University has a track record of interfaith engagement, including a recent trip to Morocco where Jewish students met with Muslim students from Moroccan universities.
Robert Nicholson, president and executive director of the Philos Project, said there's a hunger among young Christians to explore the roots of their faith, but Christian universities and seminaries are unable to fully meet that demand. He believes these institutions don't offer the same level of academic rigor as Yeshiva when it comes to biblical Hebrew and Old Testament coursework.
He's currently recruiting applicants from alumni of past Philos Project programs, with hopes that the Yeshiva program could help those interested in careers as Christian ministers and academics or in Jewish-Christian relations or policy related to Israel. Support for Israel is a point of political common ground for some Jews and evangelical Christians.
He described Yeshiva University as "the perfect address for traditional Christians looking to deepen their understanding of Jewish history, texts and ideas."
"Although traditional Jews and Christians are miles apart on theology, there is something they both share in terms of worldview—one could say, biblical worldview—that provides a promising basis for mutual enrichment," he wrote to Inside Higher Ed.
This attitude among Christians toward Jewish educational offerings is a relatively new historical development, said Philip Cunningham, a theology and religious studies professor at Saint Joseph's University in Philadelphia specializing in Jewish-Christian relations.
Historically, "it's been not a particularly friendly relationship," said Cunningham, who is also director of the Institute for Jewish-Catholic Relations at Saint Joseph's. "In both communities, there are stereotypes and caricatures of each other that have built up and taken hold. On the Christian side, I think for a long time, until really the 20th century, there was an attitude that we have nothing to learn from Jews, because after all, they haven't accepted Christ, so what do they have to teach us?"
He said that perception has "changed radically" since World War II, particularly after Vatican II, the ecumenical council of the Catholic Church in the 1960s, in which church leaders condemned the persecution of Jews and encouraged engagement with Jewish communities. The new program at Yeshiva University seems like a part of that "larger wave of joint study and learning," he said.
Yeshiva University won't be the first Jewish institution to attract Christian students through Bible-focused programs and coursework. Hebrew Union College–Jewish Institute of Religion in Cincinnati, a graduate and professional school focused on Jewish communal leadership, prominently displays the stories of Christian students and alumni of its graduate programs on its website. Jewish Theological Seminary, a rabbinical school for the Conservative movement, and Union Theological Seminary, both located in New York City, have a partnership that allows their students to take classes at either institution. Hebrew University in Jerusalem, which has a predominantly Jewish student body, also draws Christian international students, in part because of their cultural and religious interest in the region and Jewish history, The Jerusalem Post reported.
Nonetheless, the initiative at Yeshiva seems "distinctive" as a program intended for Christians at an Orthodox Jewish institution that teaches rabbinic interpretations of biblical texts, Cunningham said.
Faydra Shapiro, a senior fellow at the Philos Project and founder and executive director of the Israel Center for Jewish-Christian Relations, added that "too often Christians study Jews from a distance, without any interaction with living members of the Jewish community, and then they too often unknowingly adopt all kinds of nonsensical and even offensive ideas about who we are and what Judaism is all about."
"While there are indeed a number of universities with centers devoted to Jewish-Christian relations, these kinds of academic partnerships, where we enter one another's space, so to speak, are still rare," Shapiro said in an email. "It takes a brave religious institution to open itself up to religious difference in this way. And it takes courageous and secure people of faith to be willing to enter into the space of the religious Other. Neither of these are especially common."
Daniel Rynhold, dean of the Bernard Revel Graduate School of Jewish Studies at Yeshiva, said the program doesn't substantially diverge academically from an ordinary master's in Jewish studies at the graduate school. The main difference is the program includes a beginners' biblical Hebrew course, a new class on Jewish approaches to biblical interpretation and a capstone course. Students might also take some parallel Bible classes that can accommodate different levels of proficiency in Hebrew. But otherwise, they'll be studying alongside Jewish peers, he said.
"There's no reason to limit the very best of academic Jewish studies to students who know Hebrew," he wrote to Inside Higher Ed. The graduate school has always been "open to all" as a part of its mission, but "we are now extending that mission to constituencies for whom we have always catered in theory, but not necessarily in practice."
Rynhold believes the intermingling of Christian and Jewish students in the master's program will be educationally advantageous for both groups. He said Christians will be studying in an academic environment "hospitable and respectful of students who are religious," and along with their Jewish classmates, they will benefit from the richness of interfaith learning and the breaking down of barriers.
He noted that Rabbi Jonathan Sacks, a Modern Orthodox thought leader, espoused the idea that "the Hebrew Bible's greatest contribution to ethics was the idea that God creates difference, so it is in one-who-is-different that we meet God."
"Personally, I don't think that's something that can be taught," Rynhold added. "But it is something that emerges naturally from sharing space and time, as we will in this program."