You have /5 articles left.
Sign up for a free account or log in.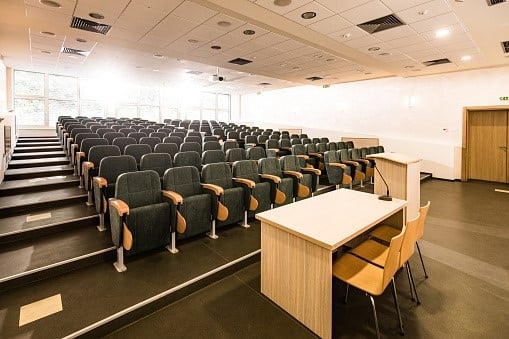 One in five high school students who say they won't enroll in college cite their doubts about the value of college, up from 8 percent in 2019.
This is a finding in a new report from EAB. The report summarizes the results of a new survey of more than 20,000 high school students—those whose college-going behaviors have been influenced by the pandemic.
More than one in five (22 percent) have decided to opt out because they are not mentally ready, a sharp increase from pre-pandemic levels (14 percent in 2019). This view is particularly prevalent among first-generation and lower-income students. "I'm not mentally ready for college" was a concern expressed by 28 percent of first-generation students versus 20 percent of continuing-generation students.
Twenty-six percent of students surveyed by EAB selected "whether I'll be successful in college" as a top concern, behind only concerns related to affordability and value. The report notes that diminished access to in-person instruction during the pandemic created gaps in academic achievement and decreased opportunities for social development through classroom interactions with peers and teachers. The resulting impacts on mental health, socio-emotional development and academic preparation may have made students feel less confident that they will succeed in college or find a sense of belonging on campus, creating increased retention risks.
"It's no secret that the pandemic has taken a toll on student mental health and academic preparedness," said Hope Krutz, president of EAB's Enroll360 division. "This new data shows us that it is having a profound impact on whether high school graduates decide to attend college at all."
"So many negative effects of the pandemic make it harder for today's students to see college as a viable option," Krutz continued.
The report adds to other recent studies of why students aren't enrolling. These studies shock those in admissions at the most competitive colleges, which have continued to do quite well in admissions. But the reports are consistent with the experiences being reported by colleges that serve low-income students.
The Findings
The EAB report is organized around six areas in which the pandemic changed student attitudes and behavior.
Mental health. "One major and worrisome trend that was exacerbated by the pandemic is the prevalence of mental health concerns, including anxiety and depression, among others," the report says. "While rates of anxiety and depression had been steadily ticking up among teenagers across the decade preceding the pandemic, they worsened in 2020 and 2021, when teenagers were largely cut off from seeing friends, attending school, and participating in extracurricular activities in person, with social media and other screen time often filling the void."
The report adds that mental health worries are discouraging some students from college. "Mental health plays a growing role in a student's decision not to pursue college immediately after high school. Of those who are not planning to attend college, 'I'm not mentally ready' has consistently been a top reason for opting out, behind affordability and value. However, the percentage of students saying 'I'm not mentally ready' sharply increased in 2023, potentially reflecting the high mental health toll from the pandemic."
Insufficient academic preparation. Seventy-three percent of high school counselors "report the pandemic has at least moderately weakened their students' academic preparation." Problems with students' academics are worse for low-income, Black and Latino students.
In-person recruitment is back. The EAB report said that students have returned to in-person events. For instance, 46 percent of students this year participated in campus visits, down only one percentage point from the 2019 study, but up from 37 percent in 2021. College fairs have rebounded but not by the same amount: 34 percent participated in 2019, 20 percent in 2021 and 28 percent this year.
At the same time, the report said, "While virtual-only events were less popular, it's important to note that about one in five students picked a hybrid option as one of their top two event types. Furthermore, lower-income students, for whom travel to campus likely presents a greater financial strain, were more likely to favor hybrid events than their higher-income counterparts."
Digital experiences still matter. The report said some students (too large a number to ignore) continue to value digital experiences. In 2021, 25 percent of students said virtual tours were a "top source" of information about colleges. In 2023, even with the increases in students visiting campuses, the figure was 24 percent.
Colleges' websites are important, the report says, to students and parents. This year, 89 percent of students said a "well-designed website will improve my opinion of a college," as did 86 percent of parents.
And on another statement, "I make a point of visiting websites of all the schools I am/my child is considering," parents exceeded students in answering yes, 93 percent to 89 percent.
Students are questioning the value of college. The report notes that "despite the recent enrollment increases, five-year trends paint a less encouraging picture: enrollment has declined by 2.9 percent over all across public four-year schools and 1.8 percent over all at private four-year schools since 2017." The percentage of students who say college "isn't worth it" has grown from 8 percent in 2019 (pre-pandemic) to 17 percent in 2021 and 20 percent in 2023. And 35 percent of high school counselors say that fewer students are now considering college than before the pandemic.
Students are starting to search later. The report says that "67 percent of participants in our 2019 survey had started researching colleges by the end of their sophomore year. In 2023, only 40 percent of students had started researching by that point." Colleges also see a change, the report says. "Schools have also reported an increasing number of students delaying visits from the traditional spring of junior year or fall senior year timing to spring of senior year, after students have been admitted."
What should colleges do about these statistics? Krutz said that colleges should respond to the concerns about college's value in part by being unafraid of ROI questions, and she said those questions are about short-term ROI, not 10 or 15 years after graduation.
As for mental health, she stressed "normalizing" the services a college provides, talking about them as common for students.