You have /5 articles left.
Sign up for a free account or log in.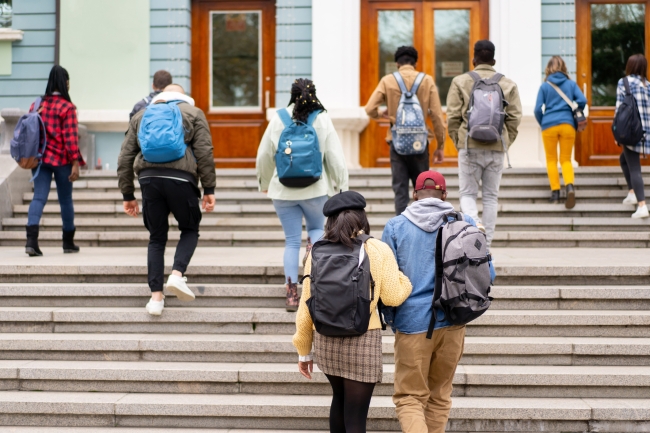 May 1, today, is the traditional deadline for admitted applicants to respond to their offers of admission. But for all but the most competitive colleges and universities, May 1 doesn't mean that much anymore.
Community colleges and most public and private four-year colleges are still admitting students. Many will be doing so right up to when colleges welcome students for the fall. Still, May 1 is a customary day to take stock of admissions.
And one group is declaring success: the colleges and companies pushing direct admissions. While there have been experiments previously, this was the first big year for direct admissions, in which students don't apply to colleges; instead, students create a portfolio of their grades, standardized test scores (if they have them), what they want to study and where they want to study (it may be a state or region, or a type of environment, like urban or rural). Colleges then offer students a spot.
Direct admissions appeals primarily to the students you don't hear about this time of year. These are the students who don't have 4.0 grade point averages or killer SAT scores. In other words, it appeals to the students who enroll at most colleges.
Most colleges using direct admissions are not done with the admissions cycle for enrolling students for the fall of 2023. And most colleges using direct admissions are admitting only a small number of their students that way, at least for now.
Success at Augsburg
All year, Inside Higher Ed has been watching Augsburg University, which is one of the few colleges to admit all its students this year through direct admissions. Augsburg is a liberal arts college with professional programs in Minneapolis.
At Augsburg, Robert J. Gould, vice president for strategic enrollment management, said the experience has been a success by just about any measure.
Deposits for enrolling in the fall are up 14 percent from where they were last year in a standard admissions system. The total is 528, and Gould expects to beat Augsburg's record class (from 2019, pre-pandemic) of 636. He expects the total number of students who will commit to the university to hit nearly 700 and then to drop a bit due to summer melt.
Gould is particularly pleased with the characteristics of the incoming class.
The average GPA of students who have made deposits is 3.38, a little above last year's.
Students of color make up 73 percent of the deposits, up from 62 percent last year.
Pell Grant recipients are 61 percent of deposits, up from 48 percent at this point last year.
Male students make up 46 percent of the deposits, up from 39 percent last year and several more years in which men were only in the 30s.
Gould said his message for others in admissions is very simple: "copy and adapt" what Augsburg has done.
Companies Project Growth
Several companies have started working with colleges on direct admissions. They generally do not have numbers that go as far as Augsburg's, but the numbers they have suggest significant growth.
EAB purchased Concourse, a company that started out focused on direct admissions, in September.
Since then, EAB has had 193 institutions make direct admissions offers to students. Those institutions have made 39,165 admission offers this year, according to John Michaels, a spokesman, who stressed that most of the colleges are still making offers.
That compares to 12,631 admission offers made through Concourse last year (2021–22, with fewer colleges participating), and 4,323 the previous year (2020–21).
EAB colleges have made $2.1 billion in scholarship offers to prospective students this cycle as compared to $536 million in offers during the previous cycle.
EAB, like the other companies mentioned in this article, also has a large business with colleges doing traditional admissions.
Another company, Niche, just got into direct admissions this year, but it is sensing a large demand for it, said Luke Skurman, the CEO. Niche's original goal was to have 10 colleges in the program, but it ended up with 25, due to demand, and expects to expand to 100 colleges for the next admissions cycle.
Feedback has been "resoundingly positive," Skurman said.
For this year, Niche client colleges already are averaging 22 deposits each through direct admissions, and "several" have seen over 60.
Carli Swartz, director of college relations at Sage Scholars, another admissions business that has entered direct admissions, stressed that for "most of our schools reporting deposits in late April would be almost meaningless. The process of admitting students, and students making decisions, is midstream."
So far this year, 619 students have been offered admission at 68 colleges. She expects the numbers to go up considerably. The 68 colleges total is twice the number expected, she said.
An Expert Opinion
One of the higher education experts who has been tracking direct admissions is Jennifer Delaney, a professor of higher education at the University of Illinois at Urbana-Champaign.
Delaney recently talked about her findings in an interview at her university.
"It is not clear that the 'traditional' college admissions process is needed today," she said. "The idea that we ask each student to search for colleges, then to fill out individual, customized applications seems outdated at a time where there are state longitudinal data systems that already collect most of the information that is asked for on college applications."
But she also said direct admissions has more appeal to certain students.
"We also know that there are inequities in the current college admissions process such that those students who have more social and cultural capital are more likely to engage in the process and to attend college," Delaney said. "The administrative and bureaucratic barriers present in traditional college admissions systems are unnecessary barriers. They deflect students from attending college, even when they would benefit from pursuing a college degree. Removing these barriers is likely to be most impactful for vulnerable student populations such as those who are low income, first generation, rural, foster youth and from minoritized backgrounds. Removing these barriers should produce additional equity and equality of opportunity."
More from Traditional-Age