You have /5 articles left.
Sign up for a free account or log in.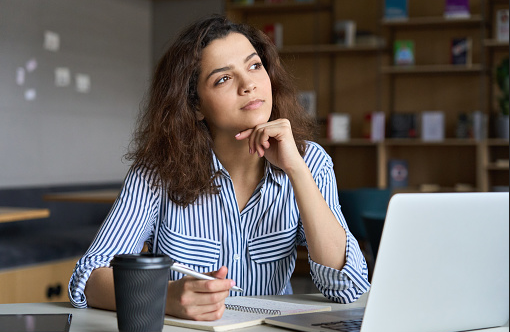 iStock / Getty Images Plus
One of the essay prompts on the Common Application is:
"Some students have a background, identity, interest, or talent that is so meaningful they believe their application would be incomplete without it. If this sounds like you, then please share your story."
The question was on the Common App last year, and the organization is not changing any of its essay prompts this year. Is the question a perfect boost to minority students to get into competitive colleges?
That question for colleges, more than 1,000 of which are members of the Common App, is how to use the answers students write. To date, the experts are advising caution, both to colleges and students.
The Supreme Court decision eliminating affirmative action in college admissions, by Chief Justice John G. Roberts Jr., said: "[A]s all parties agree, nothing in this opinion should be construed as prohibiting universities from considering an applicant's discussion of how race affected his or her life, be it through discrimination, inspiration, or otherwise."
However, Roberts quickly added, "But despite the dissent's assertion to the contrary, universities may not simply establish through application essays or other means the regime we hold unlawful today."
It's true that answering the question on the Common App or similar questions elsewhere may be an obvious way for minority students to identify their race or ethnicity. But for students and colleges, Roberts' warning looms large.
"The court has certainly given us some mixed signals on this," said Melanie Gottlieb, executive director of the American Association of Collegiate Registrars and Admissions Officers. She welcomed the decision for "some recognition that one cannot simply ignore the context of an applicant's lived experiences and how that has shaped their character, ambitions and achievements."
"That said," she added, "he offered a warning in the next breath. What is clear is that this will be carefully watched and likely further litigated."
Gottlieb said, "It's really too soon to offer much advice beyond institutions' being quite clear about their missions, and working with their admission readers to ensure that they are well trained to read essays and make holistic assessments."
David Hawkins, chief education and policy officer of the National Association for College Admission Counseling, said, "so long as the methods and assessments are race-neutral, colleges should feel free to continue their efforts to derive contextual information from essays and interviews as part of the college application process."
But he added that the Supreme Court "made a point of noting that any consideration of a student's race may take place only inasmuch as it reflects a personal attribute—such as character—that is attractive to the college." He said, "From this language, all colleges, including those requiring essays and interviews, will benefit from tracing a strong connection between their institution's mission, the types of students the college seeks to attract to fulfill that mission, the requirements for admission including essays and interviews, and the way in which information transmitted about students through such requirements are evaluated."
Hawkins added that a report NACAC issued last year "pointed out that requiring components outside of the body of a student's K-12 work in the application process can work against equity in some cases." For colleges not requiring essays or interviews, he said the report "noted that among the promising practices already underway was the consideration of performance assessments, which can provide admission offices with artifacts from student learning in K-12 and can provide a more nuanced insight into a student's strengths, passions, background and potential."
Caution is also advised by Edward Blum, the founder and president of Students for Fair Admissions, the group that sued Harvard University and the University of North Carolina at Chapel Hill, setting up the Supreme Court decision.
He declined to discuss the question of application essays, but said his views were clear in a part of the statement he issued the day of the Supreme Court ruling. He said, "[A]dministrators of higher education must note: The law will not tolerate direct proxies for racial classifications. For those in leadership positions at public and private universities, you have a legal obligation to follow the letter and the spirit of the law."
His view is largely shared as well by those who are advising colleges on what to do next, even among those who disagree with his views on affirmative action.
"Using essays as a proxy for race is a slippery slope," said Robert J. Massa, principal and co-founder of Enrollment Intelligence Now.
He said that colleges should "keep careful records of the impact that an essay has on an admission decision. If colleges create a point system for essay evaluation that is consistent across all readers, with training to go along with that, this could lessen the chance of racial bias. Colleges must be able to demonstrate that they are coding essays in a way that is clearly independent from race."
Another issue is that "students who write about adversity in their lives, and how they overcame it, would have to be treated similarly in the process whether that student is black or white, low income or high income. That could be one way to demonstrate the impact of the essay on an admissions decision without racial bias. But the bottom line for me is: proceed with caution."
What About Students?
And there is also the question about what students would write.
Matteo Wong wrote in The Atlantic that the Supreme Court has "killed the college admission essay."
Wong's explanation: "The end of affirmative action will pressure high schoolers to write about their race through formulaic and belittling narrative tropes."
Robert Schwartz of Your Best College Essay, a company that advises students on their essays, said he didn't expect essays to change dramatically. "I had two kids last year write about their dads cheating on their moms. One kid was Chinese, the other Indian," and their ethnicities were clear in the essays.
"Were they writing those essays this year, shoehorning their race into the essays would come off as gratuitous. Admissions officers would know why they did it, and it would take away from the essay completely," Schwartz said. "Besides, the last names of those two kids is a dead giveaway of their race and ethnicity."
Schwartz said he has heard of others in his field who "tell me they'll have their kids insert race into the essay. I won't go near that."
The only students with whom he would consider mentioning race (somewhere in the application) are African Americans whose "race is not evident from their name, so ensuring that the admissions officer know they're Black will have to be done in other parts of the app, if not in the essay."
Since the ruling came down, he's been asking all students he works with about whether the decision will have a negative impact on them. "All of the Asian, Indian, and White kids said it would not … The African-American kids I am working with all said, 'Yes, the ruling makes it harder for me and others like me.'"