You have /5 articles left.
Sign up for a free account or log in.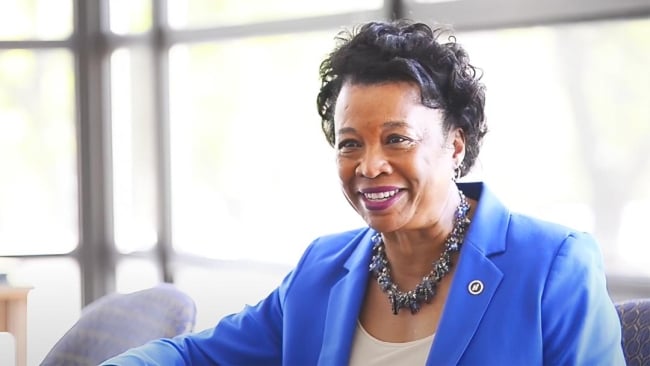 Northeastern Illinois University
Raising enrollment numbers was Gloria Gibson's top priority when she became president of Northeastern Illinois University five years ago.
"I have to be very clear in saying that our enrollment numbers are not good," Gibson said in her first State of the University address. "They do not meet my expectations, especially as we look at our enrollments for first-year students."
While the number of first-year students zoomed upwards last fall, Gibson failed to deliver a turnaround. In fall 2022 the institution in Chicago ranked last in year-over-year undergraduate enrollment among all Illinois public universities. Over the last four years, it's lost 34 percent of its undergraduate enrollment. The number of undergraduates has fallen by 54 percent in the last 10 years.
Continued declines did not meet the expectations of university trustees; they announced in November that Gibson's contract would not be renewed when it expires on June 30.
Faculty members in interviews described missteps by Gibson and previous leaders that hurt enrollment, including ill-conceived and ineffective moves to bring in students not traditionally drawn to an urban campus that opened its first dorm in 2016.
Gibson said in a recent interview that a major scholarship initiative under her leadership is partly an answer to the question of "how can we meet the needs of students here in Chicagoland, especially our Black and brown students." She pointed to NEIU's leading position among state universities in percentage growth of new freshmen this past fall as proof that enrollment efforts are starting to pay off.
But the enrollment declines have hit the university's finances. An audited financial statement showed total operating revenues fell to $55.5 million in fiscal year 2022, down 13 percent from a year earlier.
Budget woes and enrollment losses emerged last fall as the "worst they had ever been in our university's history," Nancy Wrinkle, chair of the Faculty Senate, said during a Board of Trustees meeting last month.
Several faculty members say university leaders must do more to reinforce the institution's traditional strengths, including serving transfer students and having effective student retention programs. Better leadership is key, they say.
"What is at stake? The very lives of the working poor communities across Chicago that NEIU serves," Erica Meiners, a professor in the university's College of Education, said during the trustees' meeting.
While many public universities have seen recent enrollment declines, the fall 2022 data show the university struggling more than other Illinois institutions.
The 4,207 students enrolled last fall represented an 8.7 percent decrease compared to a year earlier. The university, designated a Hispanic-serving institution by the U.S. Department of Education, lost undergraduate enrollment last fall even as Latino undergraduate enrollment at public universities stayed flat statewide and undergraduate enrollment at public universities dipped by only 1.3 percent.
Federal data list the university's undergraduates as about 42 percent Latino, 23 percent white, 11 percent Black, 9 percent Asian and 12 percent unknown.
The university's board recently approved using reserve funds to pay for a scholarship program called NEIU for You, referred to as a "a major (and costly) initiative" in a recent negative performance review of Gibson by the university's Board of Trustees.
The income-limited awards, which began in 2021, were revised last year to exclude out-of-state students and give eligible first-year students four-year scholarships that pay tuition costs not covered by other financial aid.
Projecting ahead, Manish Kumar, the university's vice president for finance and administration, said enrollment will continue to fall for the next two years, but university leaders are "very hopeful" there will be "large enough first-year classes that will override those smaller classes that we would have had in past."
The NEIU for You scholarship supports qualifying transfer students by providing one free three-credit-hour course.
"It's better than nothing, you know," Kumar said of the transfer award, adding, "We also have to see what our financials will allow us" to do.
Lesa Davis, a faculty member for more than 20 years and chair of a combined department that includes global studies and philosophy, among other areas, said that as the university has chased first-year students, "in the meantime, our transfers have declined."
Self-reported data by the university show 584 new transfer students this past fall, down from 848 two years earlier, though state data show a less steep fall for full-time students.
Historically, "that is our strongest base," Davis said.
Olivia Perlow, department chair for sociology and African and African American, Latino/a/x and Latin American and women's, gender and sexuality studies, also believes it was a mistake to take the focus off transfer students.
"Our school has always served a majority transfer population, and we've gotten away from that mission," she said.
Perlow and some other faculty members were critical of the way campus leaders poured resources into pursuing first-year students, including students from the suburbs or outside Illinois.
The institution's last president, Sharon Hahs, said in 2014 that the university was at a "competitive disadvantage" by not providing student housing. By doing so, the university would "leverage our Chicago location and our transformative educational experience to attract students from across the region and around the globe," Hahs said in 2014.
That did not happen; prior to last fall, first-year enrollment had been in decline.
Recent federal data show that about 98 percent of the university's undergraduate students are from Illinois, compared to 91 percent at the University of Illinois at Chicago, also a Hispanic-serving institution, and approximately 80 percent at Chicago State University.
The university "serves mostly first-generation, working-class students from underrepresented communities, basically communities of color, a lot of immigrants—some of whom are undocumented—and a lot of older students," said Nancy Matthews, a professor of justice studies and women's, gender and sexuality studies for more than 25 years who also serves as the union's chapter president.
Matthews and other faculty members described more missteps under Gibson. As a result, the Faculty Assembly voted no confidence in both Gibson and the board last fall.
Wrinkle said the trustees failed to show leadership after announcing that Gibson would be leaving. The board is itself going through a period of turnover; Governor J. B. Pritzker named a total of five new board members last week.
"It gave no reassurances to students, staff, alumni, donors. It gave no indication that there was any transition planning being done to stabilize the situation," Wrinkle told board members at the March trustees' meeting. She also urged them "to act decisively to provide immediate leadership."
The faculty no-confidence resolution stated that Gibson failed as a communicator and also "failed to respond effectively and with urgency to the enrollment crisis."
Charles Steinwedel, chair of the university's history department, said appointments in key areas, including enrollment management, were filled "with interim people who it turned out really weren't doing a very good job, and so we saw our enrollment plunge." A permanent hire for vice president of enrollment management left at the end of February after 14 months on the job.
A November letter to trustees provided to Inside Higher Ed said Gibson ignored advice in 2020 "from an organized group of 50 senior faculty" aimed at improving the university's acceptance letter to prospective students. The letter also noted that an acceptance email purportedly sent from the university last November was riddled with typos, starting with, "We the best university in the Midwest at graduation students with low debt."
Denise Cloonan Cortez, chair of the university's world languages and cultures department, said, "I don't get a sense that we have a clear plan for recruitment, or that we have a target base."
The enrollment struggles also come at a time when some three-fourths of faculty members are in a union and working without a contract. Matthews is the chapter president of the University Professionals of Illinois union, which has about 420 members.
Several of the 10 faculty who spoke at a January trustees' subcommittee meeting were harshly critical of Gibson and a proposed academic reorganization plan presented to trustees by the university's interim provost, Andrea Evans. During the meeting, Evans said the idea to reorganize emerged after Gibson asked leaders last November in the university's Division of Academic Affairs to come up with ideas in case of a potential budget shortfall.
"Our students need a lot of intensive support," Matthews said, describing concerns about academic and advising support programs being left to "just wither on the vine," an assertion disputed by a university spokesman.
She said two long-running programs, Project Success and Proyecto Pa'Lante, designed to retain Black and Latino students and help them navigate obstacles, are understaffed.
Spokesman Chris Childers in a statement said that the university was fully committed to the success of both programs and that plans are underway to hire more staff.
"Project Success has an interim director," Childers said. "There will be a search for a permanent director and an additional advisor." He said Proyecto Pa'Lante has a director and two advisers.
The website for Project Success says it was established in 1968 to "recruit and retain African American students" (it's now open to all students), but Matthews said the program, unlike in the past, has no recruiting staff.
Childers said the university's "recruitment team," which recruits for all of university programs, is the "primary recruiter" for Project Success.
Laura Perna, an education professor at the University of Pennsylvania who does research on college access, said, "There's not an easy answer" for universities facing declining revenues. (This paragraph was revised to correct the name of the university where Perna is a professor.)
"I think the institution has to take a good look at trying to understand what is working to enroll and support students to complete" their degrees, Perna said.
Financially, it's the number of credit hours that are vital, said Kumar.
"For us as a university, head count is important, but more important, from a financial perspective, is the credit hours they enroll. Right? And those credit hours is what generates revenue for the school," Kumar said.
Gibson said she's "hopeful" the NEIU for You program will continue after she's gone.
On her way out, Gibson has reportedly written to the state governor's office alleging racial discrimination against her as a Black woman and also alleging that two board members used their clout to try to secure scholarships for students who may have been ineligible for the awards, allegations the two now former board members denied, according to a report by Chicago public radio station WBEZ.
A spokesman for Pritzker said any report of misconduct by a university board member has to be dealt with through the university.
"This is an ongoing situation, so I really don't have any statement about that," Gibson said.
Gibson also reportedly claimed that she faced retaliation for standing up to the board members, according to the WBEZ report, but late last month faculty members accused her of retaliating against a student journalist by filing an open records request seeking his emails and texts.
Wrinkle, the Faculty Senate chair, said in an email that the Faculty Senate in a March 28 resolution called for trustees to immediately remove Gibson for trying to intimidate student journalist Dan Maurer. The resolution called the records request "an act of retaliation for his long-standing critique of the President and her Administration" in the student newspaper, the NEIU Independent.
Gibson apparently was seeking communication records between Maurer and Charles Serrano, a former board member whom, according to reporting by WBEZ, Gibson had accused of improperly trying to influence scholarship approvals, Wrinkle said.
Gibson apologized to Maurer during the Faculty Senate meeting, Wrinkle said, but Maurer did not attend. The resolution called for her to apologize directly to Maurer and to all students.
Looking ahead, faculty members said they were looking for a better communicator to be the university's next president.
"We need someone to embrace our urban mission, our nontraditional student population," Steinwedel said, adding, "we have our niche, and, I think, you know, we serve them well, when we can."