You have /5 articles left.
Sign up for a free account or log in.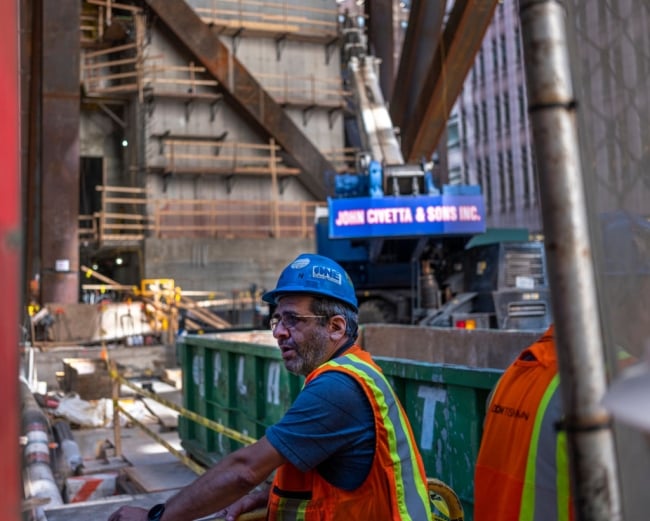 Robert Nickelsberg/Getty Images
Last year inflation soared to near-historic highs, prompting colleges to raise tuition or make cuts as they dealt with rising operational costs. Now inflation has leveled off, but the higher education sector is still being squeezed by the lingering effects of elevated costs and ongoing supply chain issues.
As a result, some institutions are seeing campus construction projects run over budget and behind schedule. Developments planned years ago, when the economy was less volatile, suddenly cost more in this environment. The tight labor market has also led to delays as construction firms struggle to retain talent.
Cost Increases in Hawai'i
The University of Hawai'i has been in the crosshairs of a powerful state lawmaker who contends that a development project is millions of dollars over budget.
In 2019, Hawaii's Legislature approved $41 million in funding to convert a former library built in 1956 to a new Student Success Center, set to open in 2024. Construction finally began in June, and now the project is expected to cost $57 million with a planned fall 2025 opening.
The project has at least one powerful critic.
"With funding from the Legislature, the UH is converting Sinclair Library into a student center, but that project is now over-budget and overdue and its necessity is being questioned by students," State Senator Donna Mercado Kim wrote in an opinion piece for Honolulu Civil Beat last month.
Kim, who chairs the State Senate's education committee, raised numerous criticisms about other campus building projects and university initiatives, questioning the "fiscal discipline" of UH leadership.
University officials see the changing price tag differently.
UH spokesperson Dan Meisenzahl told Inside Higher Ed that the $41 million figure was based on estimates made in 2018, which the university then took to the Legislature for approval in 2019. The key word, Meisenzahl argues, is "estimates"; he denies that the project is over budget. He also noted that the project timeline was pushed back due to delays caused by the coronavirus pandemic.
In an email, Meisenzahl pointed to various challenges the university has faced that have driven the cost over initial estimates and caused delays. He cited supply chain issues with heating and cooling equipment, driven by labor shortages among manufacturers. He also blamed "limited competition for design and construction firms," which has long been true in Hawai'i, where mainland construction companies are typically enticed only by projects over $1 billion.
Kim, a Democrat who has a long and contentious history with the University of Hawai'i and has driven legislative efforts to undercut tenure, told Inside Higher Ed by email that "UH has a history of providing inaccurate estimates."
Meisenzahl, however, pushed back on that contention.
"The university never stated the $41 million provided for the project back in 2019 would be sufficient to complete the project," he said by email. "UH is managing the project within the resources provided by the state budget."
Whether the project is over budget or not, as Meisenzahl told The Honolulu Star-Advertiser in June: "$41 million does not go as far as it did when it was first appropriated."
Sectorwide Challenges
Given the limited competition for business on Hawaii's islands, UH is perhaps an extreme example of the pressures higher ed institutions face on construction projects. But back on the mainland, where options are plentiful, college leaders also worry about keeping projects on time and on budget.
This year, cost overruns have popped up all over the U.S. At the University of Wisconsin at Madison, multiple projects have soared over budget, leading the UW Board of Regents to approve an extra $60 million for overages driven by inflation and supply chain issues. But in the case of two projects at UW Madison, state officials are mulling a possible lawsuit against contractors to recoup the overages.
And in South Dakota, multiple universities in the state system saw projects come in millions of dollars over budget, according to a report given to the Legislature earlier this year that cited runaway inflation and supply chain issues.
Concerns about campus construction costs were on display last month at the annual conference of the National Association of College and University Business Officers in Orlando, Fla.
A live poll of audience members attending a panel on operating in an inflationary environment found that of 151 respondents, 64 percent said their institution had delayed or canceled projects as a result of added cost pressures. Only 15 percent indicated "no major changes" to capital planning.
Price volatility has caused issues with construction planning, Jim Costello, managing director and head of the higher education/nonprofit group at JPMorgan, said at the conference. Costello pointed to the soaring cost of construction materials such as lumber, which shot up during the pandemic and continues to increase procurement expenses and pose challenges for colleges.
But as institutions feel the construction cost squeeze, some are finding ways to save money.
At NACUBO, Eric Bymaster, associate vice chancellor for finance and treasurer at Vanderbilt University, noted his institution is deep into multiple construction projects across campus. At times, Vanderbilt has had to rethink planning and design on certain projects, he said, but he noted that there are trade-offs in delaying construction, because colleges may face higher costs due to inflation in the future.
"A couple of things that we're doing is trying to lock in our contracts early with our construction companies," Bymaster said, adding that Vanderbilt is setting the expectation that those firms will procure necessary materials—particularly items facing production delays—ahead of time.
Vanderbilt is also experimenting with payment terms, trying out a quick pay option. While the university typically pays within 45 days, it is trying to slash that time to "turn around those payments almost immediately," Bymaster said, which will entice more firms to bid on projects. That strategy, Bymaster said, has already attracted more bids on construction projects.
(Vanderbilt did not respond to a request seeking more details on campus construction projects.)
A recent report from the Associated General Contractors of America highlighted cost increases for various construction materials from June 2022 to June 2023, particularly cement and concrete. The construction cost for new school buildings went up by 10.8 percent during that period, while rates for new office building construction climbed by 13.2 percent. The report showed construction costs climbing even as the consumer price index has fallen since last year.
Experts at NACUBO told Inside Higher Ed that inflation, ongoing supply chain issues and staffing challenges—exacerbated in some states by new immigration laws—will continue throughout 2023 into 2024. For colleges, that means more delays and cost overruns ahead.