You have /5 articles left.
Sign up for a free account or log in.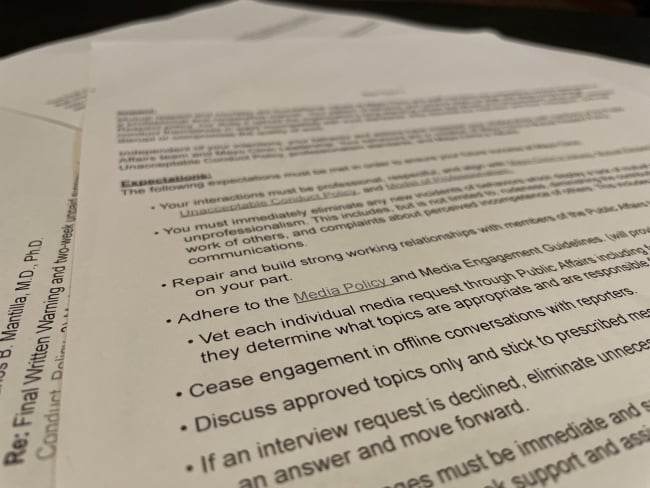 David Ho/Inside Higher Ed
A Mayo Clinic medical school department chair, in a letter a free speech group shared online, threatened to fire a professor after a CNN interview in which he criticized the National Institutes of Health for not backing a COVID-19 treatment and after a New York Times interview where he suggested testosterone improves athletic performance.
In his roughly two-page letter to Dr. Michael J. Joyner, an anesthesiology professor, Dr. Carlos B. Mantilla thrice brought up Joyner's use of "idiomatic" language.
"This letter is in follow-up to concerns raised by the public affairs team regarding a recent interview that ran in CNN on January 12, 2023, in which you were quoted as saying 'he's "frustrated" with the NIH's "bureaucratic rope-a-dope," calling the agency's guidelines a "wet blanket" that discourages doctors from trying convalescent plasma on these people,'" wrote Dr. Mantilla, chair of the Department of Anesthesiology and Perioperative Medicine at the Mayo Clinic College of Medicine and Science.
The CNN article centered on research by Dr. Joyner and others, published by the American Medical Association's JAMA Network Open, supporting using blood plasma from people who had recovered from COVID to treat immunocompromised COVID patients.
Dr. Mantilla doesn't mention it, but NIH is a significant funder of universities' research. NIH said Monday that its COVID-19 Treatment Guidelines Panel is mostly composed of members "from medical centers and universities, not NIH."
"Your use of idiomatic language has been problematic and reflects poorly on Mayo Clinic's brand and reputation," Dr. Mantilla wrote to Dr. Joyner. "Prior to the most recent incident this issue was discussed with you when your June 2022 comments in a NY Times article were problematic in the media and the LGBTQI+ community at Mayo Clinic … The fact that your selection of idiomatic expressions continues has caused the institution to question whether you are able to appropriately represent Mayo Clinic in media interactions."
That appears to be a reference to an article on Lia Thomas, a transgender woman formerly on the swim team at the University of Pennsylvania. Regarding puberty's impact on competitive swimming, Dr. Joyner told the Times, "You see the divergence immediately as the testosterone surges into the boys. There are dramatic differences in performances."
"There are social aspects to sport, but physiology and biology underpin it," Dr. Joyner told the Times. "Testosterone is the 800-pound gorilla."
A local television station serving Rochester, Minn., where Dr. Joyner and one of Mayo's campuses are based, quoted an LGBTQ advocate saying Dr. Joyner's "language was at best, insensitive. At worst, transphobic."
The U.K.'s Daily Mail ran a story with the headline "Doctors confirm trans swimmer Lia Thomas DOES have an unfair advantage even after taking testosterone suppressants," and the Christian Broadcasting Network published one titled, "Doctors Verify the 'Scientific Evidence' Proves Trans Swimmer Lia Thomas' Unfair Advantage Over Females." Both articles led with Dr. Joyner's statements.
"Cease engagement in offline conversations with reporters," Dr. Mantilla wrote in a bulleted list of orders to Dr. Joyner. "Discuss approved topics only and stick to prescribed messaging; eliminate use of idiomatic language. If an interview request is declined, eliminate unnecessary push back or combative communications. Accept 'no' for an answer and move forward."
"Failure to fully comply with the expectations outlined above or any additional validated complaints from any staff, including, but not limited to, the issues noted above, or any form of retaliation will result in termination of employment," Dr. Mantilla wrote. He didn't respond to a request for comment Monday from Inside Higher Ed.
The Foundation for Individual Rights and Expression posted online this March 5 letter, in which Dr. Mantilla says, "This final written warning corrective action will impact your future salary adjustment, resulting in a denial of any increase at that time." The letter also says, "you will be placed on a one-week unpaid suspension."
Dr. Joyner's attorney, Kellie Miller, told Inside Higher Ed Monday that Dr. Joyner did, in fact, end up losing "his annual pay raise and was suspended for a week without pay."
But a Mayo spokeswoman, Andrea Kalmanovitz, denied this in an email.
"The Mayo Clinic College of Medicine and Science did not take any action against Dr. Joyner," Kalmanovitz wrote in an email. "Mayo Clinic remains fully committed to academic freedom and expression, as demonstrated by hundreds of media interviews provided by our physicians and scientists each year. This is a personnel issue between Dr. Joyner and Mayo as his private employer, and we will not comment further at this time."
However, FIRE also posted online a second letter, dated at the start of this month, in which a Mayo lawyer, Joseph C. Copa, says disciplinary action is being or has been taken against Dr. Joyner.
"Mayo Clinic leadership is apprised of the relevant facts and is supportive of the disciplinary action taken against Dr. Joyner," Copa wrote. "Mayo Clinic respects academic freedom and also recognizes that it is not absolute and must be balanced against other interests and Mayo Clinic policies."
Copa added that "the disciplinary action was not based solely on comments Dr. Joyner made to a reporter. It was based on his violation of multiple Mayo Clinic policies and decided in the context of other aspects of his employment history including prior disciplinary action. Dr. Joyner is receiving due process at Mayo and he is currently appealing his most recent disciplinary action. We intend to allow that process to play out and accept the decision of the appeals committee."
In a follow-up, Kalmanovitz wrote, "Dr. Joyner is employed by Mayo Clinic. He also has an academic appointment as a faculty member with the Mayo Clinic College of Medicine. However, as the redacted disciplinary document disclosed by FIRE reflects, the personnel issue does not relate to his activities within an academic setting."
FIRE's Zach Greenberg said, "If Mayo Clinic claims that the clinic, and not the college, is doing the punishment, then that assertion is contradicted by the college's disciplinary letter, which is authored by a faculty department chair, and [the] college's website, which lists Dr. Joyner as a faculty member. The letter also cites policies binding on the college's faculty and students.
"To the extent the college is punishing him as a staff member, that is not apparent from the disciplinary letter. In fact, the letter makes clear that Dr. Joyner may not speak to journalists in any capacity, regardless of his role. Considering that the Mayo Clinic oversees the college, the Mayo Clinic's assertion that it 'did not take any action against Dr. Joyner' is wrong and belied by its own documents."
Miller said Dr. Joyner has a research appointment and the Mayo Foundation for Medical Education and Research pays 100 percent of his salary.
She said Dr. Joyner has had academic rank at Mayo since the early '90s, but his college has no formal tenure.
A paragraph in Dr. Mantilla's letter to Dr. Joyner is redacted, but neither Mayo, FIRE nor Miller provided an unredacted copy Monday.
"The prior disciplinary action referenced in the letter to FIRE was the result of Dr. Joyner requesting additional compensation for increased responsibilities," Miller told Inside Higher Ed. "Such action provides no justification or excuse for Mayo's current and ongoing violation of Dr. Joyner's faculty rights. Mayo's policies and actions have had a chilling effect on Dr. Joyner and many other faculty and call into question Mayo's mission to disseminate knowledge and their dedication to public health."
Dr. Mantilla's letter, after complaining about Dr. Joyner's interview comments, mentions alleged "bullying" of colleagues. It appears it's referencing complaints from public affairs employees.
"Over the years you have failed to consistently work within Mayo Clinic guidelines related to media interactions and failed to communicate in accordance with prescribed messaging," Dr. Mantilla wrote. "Currently concerns remain with disrespectful communications with colleagues who describe your tone as unpleasant and having a 'bullying' quality to it. One individual has asked to not work with you anymore because of your behavior. It is unacceptable that you fail to consistently act in a professional manner with your Communications colleagues, abide by their direction, and accept the expertise they bring to the practice."
According to Miller, Dr. Joyner's "personnel file is free of any documentation of this accusation and his annual reviews consistently highlight his collegiality and overall excellence. Mayo has failed to respond to multiple requests for documentation or specifics regarding this allegation."
Greenberg continued to criticize Mayo Monday for its "gag order" on Dr. Joyner.
"Faculty have a free speech right to speak on public issues in their personal capacities, which is exactly what Dr. Joyner did by sharing his medical expertise with journalists," said Greenberg, a senior program officer in FIRE's Campus Rights Advocacy Department. "When private colleges, like Mayo Clinic, violate the clear free speech promises they make to their faculty in their official written policies, they must be held accountable. We urge Mayo Clinic to follow its free speech promises by letting Dr. Joyner speak."