You have /5 articles left.
Sign up for a free account or log in.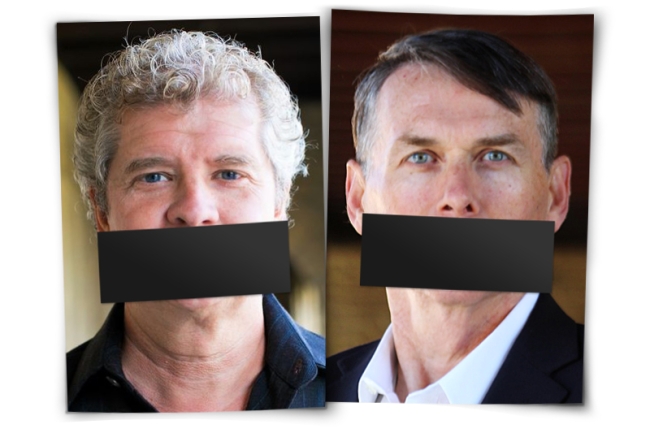 Photo illustration by Justin Morrison | Photos courtesy of Stanford University
State governments often pick willing researchers to testify in lawsuits, buttressing their arguments. Outside of litigation, governments also often share data with professors, helping the scholars conduct research and the governments solve problems.
But what happens when researchers who work with a government, outside the courtroom, also testify in a case against that government? In California, the state Department of Education tried to stop one's testimony and prevent another's.
Thomas Dee, the Barnett Family Professor at Stanford University's Graduate School of Education, submitted an expert report last month in a years-long case that demands California do more to ameliorate K-12 students' pandemic learning loss.
"Data on enrollment stability and chronic absenteeism indicate that large numbers of students enrolled in California's public schools are failing to re‐engage in their schooling in the wake of the pandemic," Dee wrote.
In response to his involvement in the lawsuit, the California Department of Education threatened to fine him $50,000 and cut off his department-connected research.
"You agreed that you would not 'testify, advise or consult' for any party other than the CDE [California Department of Education] or the State Board of Education," a department official wrote to him last week. She cited an "Authorized Representative and Data Protection Agreement" and a "Confidentiality, Conflict of Interest and Security Agreement" he had signed.
EdSource previously reported on the situation.
Dee said he signed the agreements in his role as faculty director for the John W. Gardner Center for Youth and Their Communities, according to a legal declaration from Dee provided by public interest law firm Public Counsel, which is representing the California children.
But Dee declared that he hasn't actually seen the data, the information is unrelated to what he wrote and he's not involved in the study the data are for. He said the study is on how the department's accountability measures affect alternative schools for students with motivation and behavioral issues and those at risk of dropping out.
Dee, who didn't comment for this article, isn't among those suing the state, the department, the state superintendent and the state school board. Representatives of California children are doing that.
Mark Rosenbaum, the Public Counsel lead lawyer representing those kids, said his side sought out the expertise of both Dee and Sean Reardon, another Stanford K-12 researcher whose work often appears in national media. Reardon received a similar letter from the California Department of Education.
"Should you attempt to testify, advise or consult for the plaintiffs in Cayla J. [the lawsuit], the CDE reserves the right to enforce the agreement and exhibit D to the full extent of the law," wrote the same department official, Cindy Kazanis.
"This includes, but is not limited to, seeking an injunction prohibiting such testimony, terminating the agreement and the underlying research that is the subject of the agreement, denying any pending data requests in which you are involved and seeking the $50,000 in liquidated damages in paragraph 7 of exhibit D against you personally," Kazanis wrote. "Also be aware that it would adversely impact our working relationship."
National research and academic freedom groups contacted this week either said they hadn't heard of similar contract provisions elsewhere, or they didn't respond to requests for comment.
Matt Owens, president of COGR, an association of research institutions, wrote in an email, "We are not familiar with this situation, and to your question, we are unaware of such requirements."
Felice J. Levine, executive director of the American Educational Research Association, wrote in an email that she only recently learned about the California department's "restrictions on two of our highly accomplished education researchers."
"We will be looking into this situation that may be present or not in other states," she said. Though she said she doesn't want to prejudge without more information, "seeing this surface in California seems inconsistent with science serving to advance sound public policies based on evidence that needs to be bedrock in an open, democratic society."
A Foundation for Individual Rights and Expression lawyer said the closest parallel was in 2021 at the University of Florida. Before backing down, the university tried to use its own conflict-of-interest policy to block professors from serving as expert witnesses in challenges to state laws on voting rights.
The American Civil Liberties Union Northern and Southern California branches have gotten involved in the California suit, asking the judge there to allow Dee to testify without retaliation. They argue the contract is unconstitutional viewpoint discrimination because it limits testifying against, but not on behalf of, the government.
"What they're essentially doing is muzzling any education researchers who have signed these contracts in exchange for state data from weighing in on behalf of litigants," said Alyssa Morones, First Amendment and Democracy Fellow at the ACLU of Southern California.
"It's distorting what can and cannot come into court, which is important because these cases talk about important education issues," Morones said. "They also inform people's discussion of education issues and possible solutions, so it's harmful when you aren't getting the full story on behalf of both sides, you're hindering one side."
Rosenbaum, the lawyer for the California children, said, "It's frankly a cut-and-dried First Amendment question. You can't impose conditions on an individual that request that individual to sacrifice constitutional rights."
In Dee's expert report, he wrote that K-12 enrollment declines will likely cause serious financial and instructional issues and, while "the state of California is in a unique position to provide leadership" in academic recovery, "to date, the state has not clearly demonstrated such leadership."
On July 24, Kazanis, director of the California Department of Education's Analysis, Measurement and Accountability Reporting Division, wrote to Dee, noting the plaintiffs had listed him as an expert witness in the case and that he had signed a declaration.
"The CDE reserves all its rights, including the right to enforce the agreement and exhibit D to the full extent of the law," Kazanis wrote. "This includes, but is not limited to, seeking an injunction prohibiting any further declarations or any testimony, terminating the agreement and the underlying research that is the subject of the agreement, denying any pending data requests in which you are involved and seeking the $50,000 in liquidated damages."
A department spokesman confirmed the authenticity of that letter but otherwise told Inside Higher Ed the department "cannot comment on pending litigation."
Public Counsel, the firm representing the children alongside international firm Morrison Foerster, provided Inside Higher Ed with a filing from Elizabeth N. Lake, a California deputy attorney general representing the department and the other state defendants.
In it, Lake objected to using a proposed "informal" process to decide whether the California Department of Education can enforce the testimony bans. She wrote that the department contracts with researchers, including those at Stanford, "to conduct audits and evaluations and perform research studies on CDE's behalf."
"The incentive to conduct audits, evaluations and research to discover deficiencies in CDE's educational programs would be significantly 'chilled' if CDE's authorized representatives were free to profit by testifying as an expert witness in litigation rather than work cooperatively with CDE through publishing papers, engaging in public dialogue and developing further research questions," Lake wrote.
A judge in the Superior Court of California, Alameda County, didn't rule on the issue during a hearing Wednesday. He asked for a full legal briefing on it. Another hearing is set for Aug. 22, and the full trial starts Sept. 3.