You have /5 articles left.
Sign up for a free account or log in.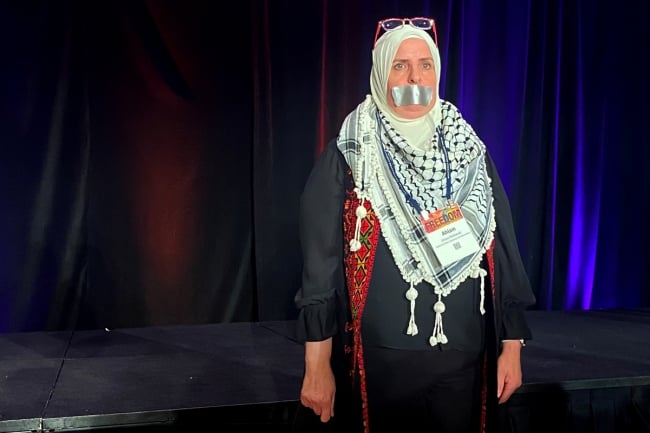 A Palestinian professor was slated to speak this past Saturday about the ongoing death in Gaza as part of an address by the National Communication Association's first Palestinian president. She said the president had asked several speakers to write and deliver parts of the address.
But the professor, Ahlam Muhtaseb, said that about 30 minutes before the presidential address and awards ceremony at the NCA's 109th Annual Convention were to start, the organization's president, Walid Afifi, told her and the other speakers who were supposed to take part that the NCA's executive branch had issues with Muhtaseb's planned use of the word "genocide" to describe what's happening in Gaza, along with her plan to say "free Palestine."
The conference's theme, in all caps on the first page of the conference agenda, was "freedom." But Muhtaseb, a professor of communication studies at California State University, San Bernardino, said Afifi told her the NCA would cancel the whole awards ceremony if she gave her speech, which was to be delivered in Arabic.
"I was in disbelief," Muhtaseb said Monday.
Muhtaseb and another planned speaker in the presidential address, Robert Gutierrez-Perez, said that all the speakers were unified in refusing to speak about their topics—including racism, class, disability, sexuality and other issues—without Muhtaseb. They instead protested, with Muhtaseb putting duct tape over her mouth during the awards ceremony and the speakers giving their planned speeches after the ceremony, outside the ballroom but still inside the conference hotel in National Harbor, Maryland.
Gutierrez-Perez's own speech was going to be a eulogy based on one for his cousin, who grew up in his household, and whom he considered a brother. He died on Gutierrez-Perez's birthday. The speech would've dealt with class, sexuality, racism and the need for more support for members, especially students, he said. But Gutierrez-Perez decided not to go ahead with giving it.
"To have him taken away again, without any warning, it broke me to my core," said Gutierrez-Perez, assistant professor of critical/cultural studies in communication at CSU, San Marcos.
"I told his mother, I told his wife, and now that's not going to be happening," he said.
He and the speakers didn't want the awards ceremony canceled for others, so there was no presidential address. Instead, Muhtaseb said she declined the award she was supposed to receive at the ceremony.
"I had duct tape on my mouth, stood in front of the stage for a few seconds and then stormed out," she said. She said there was a banner with the planned speakers' names and pictures on it.
Both professors said about 100 people followed the speakers out the door after the ceremony ended, something multiple social media accounts confirmed. They said the speakers then used a bullhorn to start giving their planned speeches inside the conference hotel.
"We gathered in the atrium and most of them had duct tape on their faces and their mouths," she said.
The NCA didn't provide requested interviews late Monday afternoon. In an email, Shari E. Miles-Cohen, the executive director, said just that the "NCA Executive Committee is conducting a review of events related to the convention." Her email signoff included "Be kind to yourself and others."
Muhtaseb provided an English-language copy of her planned speech to Inside Higher Ed. It called on people to take a side against "genocide."
"To not take a side against genocide, is indeed to take a side," her speech said. She planned to end it by saying "Look at me here performing today in a way to be 'accepted' by you all and to get my word across, but in fact, all I want to do is to scream 'Stop the genocide in Gaza now and free Palestine.'"
The professors said Monday it was unclear who within NCA actually called for Muhtaseb's speech to be canceled; the professors were given the impression that it wasn't Afifi's call.
Afifi—who is a professor in the department of communication and associate dean and director of community engaged initiatives at the University of California, Santa Barbara—didn't answer requests for comment, and it's unclear how anyone on the executive staff might have overruled his personal wishes.
"We [members] are supposedly the governors of this organization, but maybe not so much," Gutierrez-Perez said. He questioned "how is one person who's not elected, who's a staff member, telling its organization what to do and [what] it can't do—with teeth?" He said he didn't know that person's name.
"He won that election on this platform," Gutierrez-Perez said of Afifi, "and so it's just very hurtful that, again, our first Palestinian president was silenced in such a way."
Muhtaseb said she had sent Afifi drafts of the speech ahead of time. She defended her use of the term genocide, but also said the issue is more about academic freedom. "We can't be silent with genocide is happening," she said.
On Tuesday, Nov. 21, after this story was published, the NCA issued a public message stating in part: "The events leading up to the censoring and dismissal of the President's Address at the 2023 Annual Convention occurred among a few individuals without the advanced knowledge or consent of the National Communication Association Executive Committee. The Executive Committee unanimously extends its deepest apologies to the seven performers who invested time, energy, and effort in preparing to share their visions of the future of NCA and the communication discipline, especially to Dr. Ahlam Muhtaseb."