You have /5 articles left.
Sign up for a free account or log in.
a professor at the University of California, Berkeley, admitted last week that she is white, contrary to her prior claims throughout her life that she was Native American.
Elizabeth M. Hoover, an associate professor of environmental science, policy and management, published a long personal essay on her website.
"I have brought hurt, harm and broken trust to the Native community at large, and to specific Native communities I have worked with and lived alongside, and for that, I am deeply sorry. I am a white person who has incorrectly identified as Native my whole life, based on incomplete information," Hoover said in the essay.
She continued, "In uncritically living an identity based on family stories without seeking out a documented connection to these communities, I caused harm. I hurt Native people who have been my friends, colleagues, students, and family, both directly through fractured trust and through activating historical harms. This hurt has also interrupted student and faculty life and careers. I acknowledge that I could have prevented all of this hurt by investigating and confirming my family stories sooner. For this, I am deeply sorry."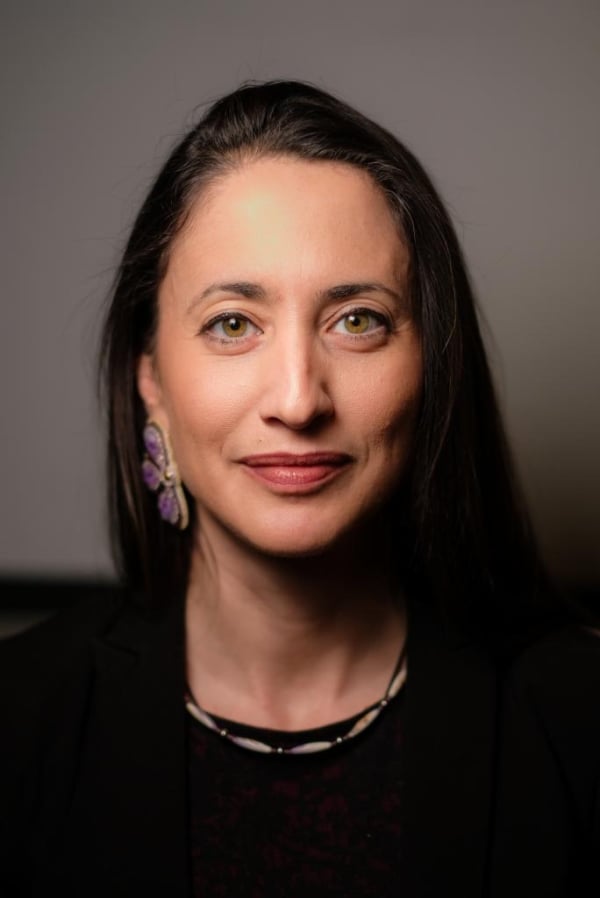 Hoover said she was shocked when research revealed her family's stories were apparently not true. She studied her own background and couldn't come up with Native Americans in her background, only white people.
Hoover added, "Having my family claim Native identity does not mean Native nations claimed us. By claiming an identity as a woman of Mohawk and Mi'kmaq descent without confirming it with communities of origin, and by not confirming kinship ties back to politically and culturally affiliated Indigenous peoples, I betrayed and hurt my students, collaborators, and friends. I have negatively impacted people emotionally and culturally. For this hurt I have caused, I am deeply sorry."
Via email, Hoover said she did not have time to discuss her essay with Inside Higher Ed.
In the piece, she wrote that "growing up I did not question who I was told I was." But "as an adult, as an academic, I should have done my due diligence to confirm that my ancestors were who I was told they were."
Hoover also acknowledged that her view of herself as a Native American also was helpful to her career.
"Identifying as a Native person gave me access to spaces and resources that I would not have otherwise, resources that were intended for students of color," she said. "Before taking part in programs or funding opportunities that were identity-related or geared towards under-represented people I should have ensured that I was claimed in return by the communities I was claiming. By avoiding this inquiry, I have received academic fellowships, opportunities and material benefits that I may not have received had I not been perceived as a Native scholar."
She also said, "My current position was an open call for scholars that focus on environmental justice or food justice and was not part of the Native American Studies cluster hire, which was launched subsequently and is ongoing. Though my current position is separate from the Native American Studies cluster, I recognize that I harmed those who advocated for me and trusted me as an advisor, educator, and community member."
Her research is based on Native Americans. She is the author of the 2017 book The River Is in Us: Fighting Toxics in a Mohawk Community (University of Minnesota Press). The book is described this way: "Elizabeth Hoover takes us deep into Akwesasne—an indigenous community in upstate New York—the remarkable community that partnered with scientists and developed grassroots programs to fight the contamination of its lands and reclaim its health and culture. This moving book is essential reading for anyone interested in Native Americans, social justice, and the pollutants contaminating our food, water, and bodies."
She added, "This apology has taken longer than expected, which may have caused more harm: it is based on deep self-reflection and input from others. This apology, insufficient as I imagine it is, in light of all that has happened, is an initial step in my attempts to take accountability for the harms that I've caused, in an effort to begin to acknowledge the hurt that people have felt as a result of my life and my actions."
Hoover made a series of pledges in light of her apology:
"I will continue to funnel the proceeds from my talks and book sales into Native farm, food sovereignty, and educational programs."
"I have put away my dance regalia, ribbon skirts, moccasins, and Native jewelry. I've begun to give away some of these things to people who will wear them better."
"I have committed to engaging in the restorative justice process taking place on campus and will continue to do so …"
"I will work with campus partners to provide support to students who have been directly impacted by my inaccurate self-identification as an Indigenous scholar."
"Based on ongoing personal reflection, conversations with colleagues, and especially keeping in mind the communities I have worked with and for, I will gear future research towards supporting people and communities with whom I have an authentic relationship and will accept spaces where communities ask me to step back. I will be transparent about my identity journey and the new role I'm occupying. In addition to having my research serve the communities I work with, my desire is to continue to contribute to student learning and academia more broadly, and I am committed to approaching this with thoughtfulness towards what has happened."
This is not the first time the issue has come up.
In October she said, "As a result of recent questions about my identity, I, along with others, conducted genealogical research to verify the tribal descent that my family raised me with, digging through online databases, archival records, and census data. While it is clear that racial identifications in census records are complicated and sometimes unclear (especially since the only race-identifying options for a long time were white, black, and mulatto), we have to date found no records of tribal citizenship for any of my family members in the tribal databases that were accessed. Essentially what I am currently left with is that I do not have any official documentation to verify the way my family has identified."
She added in October that "without any official documentation verifying the identity I was raised with, I do not think it is right for me to continue to claim to be a scholar of Mohawk/Mi'kmaq descent, even though my mother is insistent that she inherited this history for a reason. As such, I have been approaching my friends, collaborators, students, colleagues, and members of the general public, to share this information about my identity and to re-form these relationships as needed."
Mixed Reactions
The reactions to Hoover's announcement have been mixed, with some noting that Hoover came forward and shared her story.
Others, however, have called for her to resign or even to be fired.
Desi Small-Rodriguez, an assistant professor of sociology at the University of California, Los Angeles, and a Native American, said on Twitter, "Actually the opportunity to resign is not appropriate. Elizabeth Hoover has admitted to professional misconduct, research ethics violations, harming Native students & colleagues, & violating tribal research sovereignty! @UCBerkeley must fire Elizabeth Hoover immediately."
Meredith Alberta Palmer, a postdoctoral fellow at Cornell University, said on Twitter, "All of her data was gathered under false pretenses for her entire career, and this is a blatant and basic research ethics violation. It makes no sense that a research institution like UC Berkeley would be comfortable keeping her employed."
Berkeley released this statement: "The campus cannot address personnel matters and/or violate privacy rights, both of which are protected by law. However, we are aware of and support ongoing efforts to achieve restorative justice in a way that acknowledges and addresses the extent to which this matter has caused harm and upset among members of our community."
Other Scholars and Their Races
Hoover is not the first scholar for whom the issue of race was an issue.
Andrea Smith, associate professor of media and cultural studies at the University of California, Riverside, has been accused for many years of faking a Cherokee heritage that many say she lacks. Smith's books are considered significant in Native American studies, and her writing and public appearances have routinely included references to her having Cherokee roots.
In July 2015, she acknowledged that she is not "enrolled" on the official list of Cherokee Nation members, but she insisted that she has been correct in calling herself Cherokee. In a blog post, she wrote, "I have always been, and will always be Cherokee. I have consistently identified myself based on what I knew to be true. My enrollment status does not impact my Cherokee identity or my continued commitment to organizing for justice for native communities."
In January, Kay LeClaire, a Wisconsin artist and activist accused of faking various Native American identities, resigned as the University of Wisconsin at Madison's first-ever community leader in residence at the School of Human Ecology and the Center for Design and Material Culture.
LeClaire apologized in a statement to Madison365, saying, "What I can do now is offer change. Moving forward, my efforts will be towards reducing harm by following the directions provided by Native community members and community-specified proxies. Currently, this means that I am not using the Ojibwe name given to me and am removing myself from all community spaces, positions, projects, and grants and will not seek new ones. Any culturally related items I hold are being redistributed back in community, either to the original makers and gift-givers when possible or elsewhere as determined by community members."
Other cases involve scholars pretending to be Black.
Jessica Krug in 2020 admitted to being white and faking being Black for her entire career and resigned from her associate professorship at George Washington University.
In 2015, Rachel Dolezal, the head of the Spokane, Wash., NAACP and an adjunct instructor of Africana studies at Eastern Washington University, was exposed by her own parents, for being white, not Black as she claimed.