You have /5 articles left.
Sign up for a free account or log in.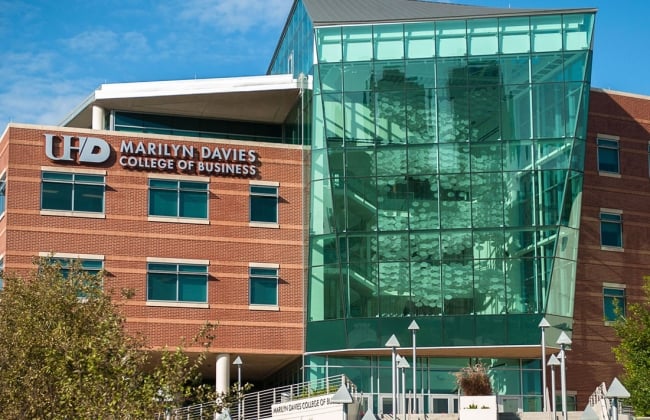 University of Houston–Downtown
Two University of Houston–Downtown preliminary investigation reports "substantiated" that a now former dean "said on multiple occasions that it would make him look good that he hired a Black, gay man," according to documents provided anonymously to Inside Higher Ed.
A Black, gay man is now suing the university and the University of Houston system, alleging the dean, Charles Gengler of the Marilyn Davies College of Business, discriminated against him based on his race and sexual orientation.
"Shortly after Dr. [Carlos] Gooden was hired, in or around October of 2021, he informed Dean Gengler that he had the opportunity to meet UHD's president, Loren Blanchard, a male African American, and Dean Gengler responded, 'Nice, it will probably make me look good that I hire Blacks!'" says the federal lawsuit. "Around the same time, it is also documented that Dean Gengler told other employees regarding Dr. Gooden's hiring, 'Now they can't say I'm racist.'"
Gooden, the college's graduate business programs executive director, filed the lawsuit May 30.
The university's preliminary investigation reports, produced by Littler Mendelson P.C. lawyers in November and February, include a witness backing up Gooden's lawsuit allegation that Gengler said, "Now they can't say I'm racist." Another witness, according to the reports, said Gengler "made comments that suggested he hired people because of race to make himself look good and/or used the race of his hires to deflect accusations of discrimination."
The reports discuss multiple other comments, and conclude that "Based on the totality of this conduct, we find the allegation that respondent engaged in race-based and sex-based harassment of complainant #1, creating a hostile work environment, to be substantiated."
Gengler is that respondent, and Gooden is Complainant No. …1. Gooden filed a complaint with the university in late April of 2022, and he said the events of April 19, 2022, were "the straw that broke the camel's back," the university investigation reports say.
The university issued a security alert saying, "on or about April 19, 2022, regarding an alleged assault at One Main, and the alert stated that the suspect was a tall Black man wearing all black clothing," the reports say.
"We find the factual allegation that respondent jokingly implied that complainant #1 was the tall Black male who had committed an on-campus assault to be substantiated, based on the many reports from witnesses that respondent was laughing about the issue (Issue #1)," the reports say. "In addition, respondent admitted that he was inquiring about complainant #1's whereabouts and did so in a light-hearted way. Even if he was concerned about alibiing his staff (which he did not mention to anyone at the time), it appears he did so in a way that suggested complainant #1 could have been the person referenced in the security alert."
Gengler said that "when he received the security alert, he decided he had to ensure his staff was not falsely accused" and said "he texted complainant #1 and went to see witness #5, who (according to respondent) are both tall Black men who matched the description provided in the security alert. Respondent also said complainant #1 had spoken about going to One Main that morning, and respondent wanted to make sure he was okay."
The University of Houston–Downtown's provost emailed employees March 23 that Gengler would be leaving the university, effective May 31, though he was "stepping down" from the dean position "effective immediately to allow the transition to new leadership of the college to begin."
"I would like to recognize Dean Gengler for his service to the Marilyn Davies College of Business and to UHD and for the college's achievements during his tenure as dean," wrote the provost, Deborah E. Bordelon, before listing several accomplishments.
"None of what's stated in that lawsuit is true," Gengler's lawyer, Alfonso Kennard, said of the lawsuit.
"The problem is UHD," Kennard said. He said Gengler had "claims" against the university system, but they were resolved and there's a confidentiality agreement with the University of Houston–Downtown.
Of Gooden, Kennard said, "This is one of those cases where they have attempted to massacre his reputation but, not so fast, the truth will come out as needed. But, you know, he's [Gengler] not someone that rose to the level that he rose by being the kind of person that he's being described as in some sham lawsuit."
In a November letter that Inside Higher Ed received anonymously, Marilyn Davies, the namesake businesswoman of the College of Business, defends Gengler and appears to criticize Gooden, without naming him.
"In all the times I have interacted with Dean Gengler, he has put UHD first," Davies wrote. "First in his conversations, and first in his commitment to assist all the students and the school. Never have his comments ever been even close to racist, sexist or homophobic."
"Isn't it interesting that the person the [sic] filed the complaint about Dean Gengler about being racist is the same person that was hired by Dean Gengler as the best person for the job?" Davies wrote. "Isn't it interesting that the person who filed the complaint against Dean Gengler is the same person who after six months asked for a raise and a promotion, was turned down, because they were still on probation?"
"The atmosphere within the school for complaining about each other and reading rude things out of just casual comments it [sic] just out of control," she wrote. "To leave the complainant at the school, to drum up an army of other complaints, while asking Dean Gengler to leave was not right."
She concluded that "this investigation has caused undue harm to the school, because I am personally hearing negative comments about the school and my name is on the school. It all needs to stop."
The university and the University of Houston system didn't provide interviews for this story.
"Dr. Gooden remains a valued employee of the University of Houston-Downtown and we are aware of his lawsuit and disagree with his assertions, which we will vigorously defend," a system spokesperson said in an email. "The University of Houston-Downtown is a community of diverse faculty, staff, students and regional partners dedicated to nurturing talent, generating knowledge and driving socioeconomic mobility for a just and sustainable future."
The spokesperson also said, "We investigate all complaints and allegations, while respecting individuals' rights to privacy and due process."
This is a second race-related controversy for the University of Houston–Downtown this year. In February, conservative media outlets reported that the university had removed an antiracist statement from its English department's website after a professor complained.
Inside Higher Ed later reported that that professor, Adam Ellwanger, had linked in his own column complaining about the antiracist statement to an article that advanced the argument that Black people are intellectually inferior to whites.
As for Gengler, the university investigation also looked into complaints about multiple jokes Gengler made.
"Based on the findings of this report and respondent's history, it is clear that respondent engages in conduct regarding issues around race, sex and gender in the workplace that many of his colleagues find unprofessional or even harassing and discriminatory," the reports say. "Much of respondent's conduct constitutes suggestive comments, jokes, microaggressions, slights, double entendre and boorish behavior."
"Respondent stated he did make a joke about Critical Race Theory, but that complainant #1's recitation of the joke is incorrect," the reports say. "According to respondent, the joke goes something like, 'In Florida they are banning math books based on Critical Race Theory, how they know is they look at the table of contents and every chapter is on division.'"
Another part of the report regards a joke with a disputed punch line: where a demon inside a woman tells a priest "get me out of this bitch" or "get me out of this witch." The report says, "Respondent admitted that he tells this joke and said he has been working on refining this joke for a while," but it's unclear when he might have said "bitch."
One Black witness, witness No. 2, said that "while discussing her performance evaluation, respondent got off topic and made comments about how African people enslaved each other and that was more egregious than the American slave trade," the reports say.
"Respondent denied making this allegation, and also stated: 'While the allegation is clearly false, it does make me curious. I searched the internet and found numerous credible sources that say exactly what the allegation says about the history of slavery,'" the reports say.
Gooden also said that Gengler liked a German provost candidate, and Gooden said he went to Martin Luther University, to which Gengler allegedly replied, "Yeah, hopefully our campus is ignorant enough to think it's Martin Luther King and they will actually vote for him," the reports say. Gengler denied this, the reports say.
The more recent preliminary investigation report says, "Respondent has been counseled and provided training on prior occasions regarding respondent's comments that employees felt were concerning race-based comments."
Both reports say Gengler accused Gooden of telling him that "he was a racist because he is white and a helpless product of a systematic racist society." They also say Gengler alleged Gooden complained about him in retaliation for denying him a raise, promotion and comp time.
The second report adds that Gengler accused some witnesses in the investigation of bias. But the investigators noted that one of the witnesses "said she left UHD because of a breakdown in management style with complainant #1 and also discrimination from respondent."
"Witness #2 has no motive to vouch for complainant #1, as witness #2 no longer works at UHD," the second report says. "In addition, witness #2 reported that she did not have a good relationship with complainant #1, and she believes he is a bully, unprofessional and a narcissist. In short, investigators found witness #2 to be unbiased and equally unfavorable in her assessment of both complainant #1 and respondent."
Witness No. 2 is Black, as is witness No. 5, who said he was leaving UHD because of Gooden, not Gengler.