You have /5 articles left.
Sign up for a free account or log in.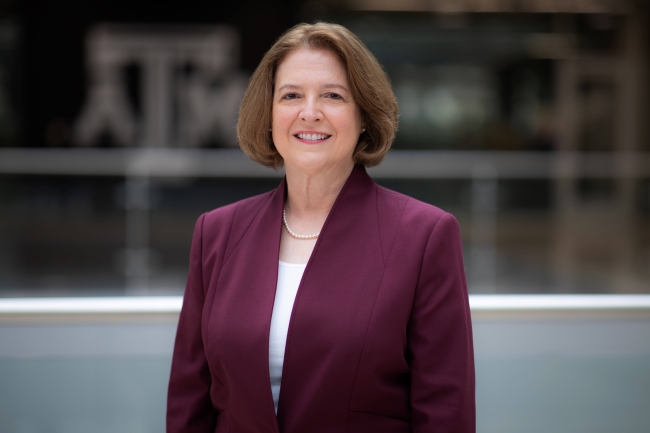 Texas A&M University's president retired effective immediately late Thursday, citing the continued controversy over A&M's mishandling of the hiring of a Black professor and journalist.
In her six-sentence resignation letter, President M. Katherine Banks wrote, "The recent challenges regarding Dr. [Kathleen] McElroy have made it clear to me that I must retire immediately. The negative press is a distraction from the wonderful work being done here."
Asked whether Banks was pressured or asked to retire, Laylan Copelin, an A&M system spokesman, said, "It was her decision."
Banks became president in June 2021.
On June 13 of this year, the university held an appointment letter signing ceremony for McElroy, a former New York Times editor and current University of Texas at Austin professor who had recently been director of that university's journalism school. A&M trumpeted her as the new director of A&M's revived journalism program.
But, in a July 11 Texas Tribune article, McElroy said she turned down the position after A&M changed its offer of a tenured position to a one-year, at-will contract. This came amid conservative criticism of her hiring.
Since that article, Inside Higher Ed, The Washington Post and The New York Times have been among the national outlets writing about the situation.
Last Monday, José Luis Bermúdez announced he would resign from his role as interim dean of the College of Arts and Sciences, which houses the Department of Communication and Journalism. And on Wednesday, Banks told a special Faculty Senate meeting regarding the controversy that there had been a procedural breakdown.
"I am embarrassed," Banks said, "that we are in a situation where we have an offer [for employment] that was released without the proper approvals."
"However, it's important to note that we honored that letter, we honored all the letters because it was no fault of the candidate—who was very, very qualified—that our administrative structure broke down," Banks said.
N. K. Anand, vice president for faculty affairs, told the faculty senators that "usually, when an offer is made, it comes to our office for review. And, in this case, we did not get that for review … and when the second offer was made, we don't have that, either."
"It didn't even go to the dean's office, and it was executed at the department level," Anand said. "And the second offer that was made … same thing happened, so by the time we got involved it was after the fact."
The Faculty Senate then passed a resolution appointing a committee to look into the failed appointment.
"Recent events have called into question the state of academic freedom at our university, and created a national perception that outside influence has interfered in the appointment of Dr. Kathleen McElroy as a full professor with tenure," the resolution said. The resolution went on to state that the situation could jeopardize A&M's standing in the Association of American Universities, a group of top research institutions, and that the Senate "remains skeptical and lacks confidence in answers provided by the administration."
Individual faculty members are also speaking out. Hart Blanton, who heads the Texas A&M Department of Communication and Journalism, issued a statement Friday afternoon in which he said, "The public has been misled" about the failed attempt to recruit McElroy, which he called a "great loss to A&M" that has "surely caused her great unnecessary suffering."
He said Banks "injected herself into the process atypically and early on. The unusual level of scrutiny being given to the hiring of Dr. McElroy was acknowledged by one administrator to have been based, at least in part, on race. Regardless of the source of any such pressure, I understand it to be illegal for any employer—much less a public university—to subject a job candidate to stricter scrutiny due to her race or color."
And McElroy said via email, "I'm deeply grateful for the groundswell of support I've received, especially from Aggies of all majors, and my former and current students. There's much more I could say and will say about what has unfolded. But for now, I'll reserve those statements for a future date."
On Thursday, John Sharp, the A&M system chancellor, wrote to the Senate that he agreed with the outside influence concerns.
"Outside influence is never welcome, nor invited," Sharp wrote. "It also is frustrating when outside groups try to take credit for some action, sowing doubt and discord among the Aggie family."
Texas Scorecard had written an article on McElroy subtitled, "State law will soon ban DEI offices in universities, but state universities can still continue hiring DEI proponents." It reported she "has focused on race and its intersection with journalism in her Ph.D. program at UT Austin."
The Rudder Association, a group of alumni and others associated with A&M, said it expressed concerns to university administration. In a statement on its website, the group said it "believes that a department head should embrace the egalitarian and merit-based traditions that characterize Texas A&M's values rather than the divisive ideology of identity politics."
On Friday morning, the university announced Banks had resigned late the previous day. The second paragraph of the university's news release brought up the McElroy controversy and the faculty investigating committee.
"The university announced the hiring of McElroy to revive the school's journalism program," the news release went on to say, "but that fell apart as the details of the job offer changed from a position with the possibility of tenure to a one-year professor of practice appointment, with the option to renew."
"President Banks denied knowing about the changes in the job offer but took responsibility for a flawed hiring process after a wave of national publicity suggesting McElroy, who has done research on diversity and inclusion, was a victim of 'anti-woke' hysteria and outside interference in the faculty hiring process," the release said.
The controversy came after, earlier this year, Texas's Republican-controlled Legislature passed, and its Republican governor signed, Senate Bill 17. This sweeping ban on public college and university diversity, equity and inclusion programming takes effect in 2024.
Across the now majority-minority state, the law will ban race- and sex-based affirmative action in institutions' hiring as well as "trainings, programs or activities designed or implemented in reference to race, color, ethnicity, gender identity or sexual orientation."
Those activities can take place "for the sole purpose of ensuring compliance" with court orders and state and federal law. But, even then, they must be developed by a lawyer and signed off on by the Texas Higher Education Coordinating Board.
Sharp has appointed as acting president Mark A. Welsh III, dean of A&M's Bush School of Government and Public Service and a retired Air Force general, Copelin said, and Sharp is also recommending to the system Board of Regents that Welsh be the interim president.
Banks faced earlier controversies, though only the McElroy situation was mentioned in her resignation letter and the accompanying university news release that shared it.
In spring 2022, A&M's proposed libraries overhaul led to a Faculty Senate resolution asking Banks to "reconsider plans to alter the faculty and tenure status of university librarians and to refrain from advancing any other major changes to the library system without the involvement and support of major stakeholders, including students and faculty, especially the librarians." The university, at the time, didn't provide much detail about how the overhaul would actually affect librarians' tenure.
In July 2022, she received pushback for a Qatar branch campus plan that would switch professors from renewable rolling contracts to fixed-term deals, consolidate power under one dean and exclude faculty members of non-degree-granting units from research activities.
The Tribune reported in 2022 that she was forcing the student newspaper to publish online only (it still prints) and, in August 2022, that faculty members were largely blaming her for shared governance issues.
Tracy Hammond, the Faculty Senate speaker, told Inside Higher Ed Friday that many changes under Banks were positive.
"Not all the changes were good," she said, "but, over all, the issue that faculty had was the amount of change and the speed of change were incredibly intense for a university of this size."
Hammond, a tenured professor of computer science and engineering, said Banks was her dean for over a decade. Before she became president, Banks was vice chancellor of engineering and national laboratories and dean of the College of Engineering.
"It feels very sudden; it definitely took me by surprise," Hammond said of Banks's departure. "She has done a lot for the university over her tenure here, and the situation is very unfortunate."