You have /5 articles left.
Sign up for a free account or log in.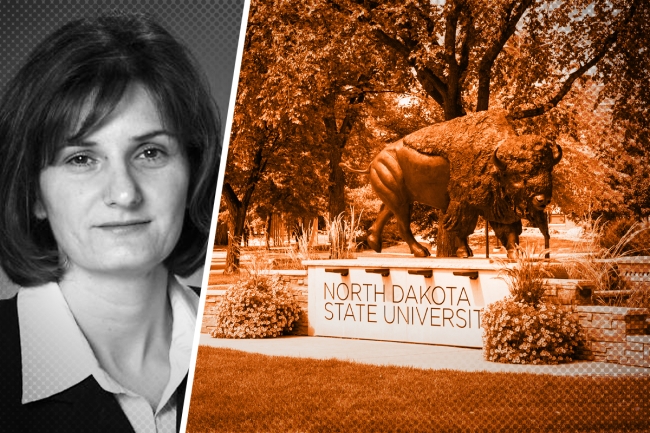 Justin Morrison/Inside Higher Ed | North Dakota State University
On Sept. 15, an email went out to the North Dakota State University campus saying the vice provost for faculty affairs and equity position "will be discontinued."
"We thank Dr. Canan Bilen-Green for her service in this position as she returns to being a faculty member in the College of Engineering," wrote David Bertolini, the provost. He went on to describe a broader restructuring of his office.
In the only statement Bilen-Green provided to Inside Higher Ed, she said she learned of "the plans for my return to a faculty position" during a meeting with "NDSU administration around noon" that day—about 30 minutes before the email went out. The university didn't deny that time frame, and it provided the immediate termination letter she was given that day.
Anastassiya Andrianova, a tenured associate English professor at the university, said Bilen-Green's daughter, a student at North Dakota State, and her husband, a faculty member there, learned about Bilen-Green's ouster from the campuswide email. Andrianova said Bilen-Green was only the latest female leader there to be "unceremoniously dismissed."
According to hundreds of pages of documents the university gave media outlets and faculty, staff and student leaders after the controversial firing, Bilen-Green's ouster came after the university's general counsel, Matt Hammer, who works for the state's attorney general, and an outside lawyer said her office mishandled a 2022–23 discrimination complaint. The complaint involved allegations against Bertolini, and the outside lawyer reversed the findings against him.
Hammer said the university was legally obligated to release the slew of documents, including Bilen-Green's personnel file, in response to media requests under the state's permissive open-records law. But women told Inside Higher Ed they were concerned that these documents were disclosed.
Andrianova called the university's release of documents about the complaint, including names, "a gross misstep" and "a way to distract from what is the real, systemic mistreatment of women leaders on campus."
"I see this, again, as a pattern of mistreatment of women leaders, and I'm very disturbed and I'm very concerned about other women faculty who are also feeling betrayed," Andrianova said.
Other women, who said Bilen-Green had long played a crucial role in advancing women at North Dakota State, echoed the same. Some brought up the same names: former provosts Beth Ingram and Margaret Fitzgerald, and Kelly A. Rusch, former vice president for research and creative activity.
Last week, more than 100 faculty members, students and others marched on the campus in protest. A couple of female former leaders, who remain at the university in faculty roles, were even there.
Bilen-Green, in her sole statement on the controversy, wrote, "I stand by my record and achievements during my 25 years of NDSU service, including more than a decade as vice provost."
An Ignominious History
Birgit Pruess, a tenured microbiological sciences professor who started at the university in 2004, said a lack of female representation should've been clear to anyone who walked across campus back then.
"If you don't see any women, it should tell you something—or at least if you don't see any older women," Pruess said.
In 2006, The Chronicle of Higher Education published an article noting the phenomenon. In 2007, it published a follow-up, headlined: "At North Dakota State, Women Are Few and Far Between."
The American Association of University Professors had ranked the university, among 1,445 institutions, "close to last" in the percentage of tenured faculty members who were female, the Chronicle reported. Only 10 of its 156 full professors were female, women complained about being "passed over for leadership" and "One of the chief problems is that there are virtually no women in the top administrative ranks," the Chronicle wrote—though it noted the recent bad publicity was spurring efforts for change.
The Chronicle quoted Bilen-Green, who was then working toward a National Science Foundation grant to support women on the faculty.
Multiple women told Inside Higher Ed that the Chronicle coverage more than 15 years ago elicited change. Ingram, the former provost, and Erin Gillam, a tenured biological sciences professor, said it led to North Dakota State actually receiving an NSF ADVANCE grant, for which Bilen-Green was the principal investigator.
Gillam said she was able to conduct research in Costa Rica using some of the money, and it over all "had huge impacts on our productivity and how supported we felt as women as NDSU." Ingram said Bilen-Green had a long history of aiding female faculty members and getting grants to support them.
Pruess said, "Pretty much everyone on campus has been helped by her on one of several occasions."
Further, Ingram said that Bilen-Green, who worked under her, "was a meticulous, thorough Title IX coordinator."
Last year, Bilen-Green co-wrote an update for the Chronicle, titled, "We Raised Our Female Faculty Numbers. So Can You."
Now, she's out of her administrative position.
"This was a super, super disrespectful way to do it, especially for someone who has worked for positive change on our campus for so long," Gillam said.
"There's now a void where there was an office that helped faculty voice their concerns," Andrianova said. "Not just women faculty, but other faculty who were going up for promotion, going up for tenure."
She said there's a vacancy where "a mentor and an adviser and an impartial listener was before."
On Sept. 21, six days after Bilen-Green's firing, Bertolini and David Cook, the university's president, sent a campuswide apology email to follow up.
"We are writing today in response to reactions we've received about the reorganization in the Office of the Provost," they wrote. "We offer our sincere apologies for doing a poor job communicating and explaining the new structure. We also understand that this has prompted a larger conversation about women in leadership at NDSU."
After providing links to more information, the email ends with "We again would like to stress our deep regret with how we communicated these changes and acknowledge how these changes compounded deep frustrations about the status of women leaders on campus. We are committed to gaining your trust and support to improve through ongoing dialogue and collaborations."
But, alongside these apologies, the university has released documents showing officials didn't think Bilen-Green's office was very meticulous or thorough—at least in two recent cases.
'No Credibility'
On Sept. 20 and 21, according to emails the university provided Inside Higher Ed, a Fargo Forum reporter requested "any documents from NDSU relating to the decision to discontinue Dr. Canan Bilen-Green as Vice Provost for Faculty Affairs and Equity," as well as those related to a Title IX case that may have been related and her personnel file.
The Forum published a story Sept. 22 citing the documents. Inside Higher Ed requested what the outlet had received, and the university provided Bilen-Green's 228-page personnel file, which contains glowing reviews from Bertolini and previous provosts; about 90 further pages, which focus on the cases the university says she mishandled; and a memo from Cook, produced after The Forum's article.
That Sept. 25 document is addressed to leaders of student government and the faculty and staff senates.
"There were two cases being handled by the EO [Equal Opportunity] Office that are at the root of my decision," Cook wrote.
"I was troubled by the handling of both these cases and the lack of willingness to take corrective action," he wrote. "The obligations of the EO Office are set forth in federal and state law—we do not have a choice but to ensure that we are following both the law and best practices. People's careers and reputations are on the line with those investigations. When I received guidance from both the attorney general's office and outside counsel about serious process problems, I had no choice but to take action. Attempts to provide this guidance to the EO Office were rebuffed, and I knew I needed to reorganize."
There's little information in the memo and the other documents on the first case, which the memo said is still pending. The memo says there was "an obvious conflict of interest" that should've meant the case was sent to an external investigator, yet the president had to intervene before that happened.
There are far more documents on the second case, which Andrianova filed a year ago over being paid only 50 percent of her salary, rather than the policy-allowed up to 75 percent, for developmental leave during the 2019–20 academic year. She said developmental leave resembles a sabbatical.
Bertolini was dean of the College of Arts, Humanities and Social Sciences at the time of the request, and he cited the strain of Andrianova's husband, another English faculty member, requesting to take leave for the same year. The English department head at the time of the request said the department needed to fund a fill-in while they both were gone.
In emails to university leaders, Bilen-Green said Bertolini and the former English department head weren't interviewed because Andrianova instead named the current chair and dean as the official responding parties to her complaint.
If Bertolini had been named, Bilen-Green wrote, "we would have sought an external investigator for the complaint."
Regardless, the office later offered Bertolini an interview, but he declined.
"We are concerned that bringing in outside counsel to 'resolve the issues' following a policy violation determination by the Review Committee may create unintended consequences, including perceptions of covering for the NDSU administration," Bilen-Green wrote. "It may also be seen as retaliatory against members of the Equal Opportunity and Title IX Compliance Office because NDSU administration does not agree with the Review Committee's findings."
In a June memo to Cook, Hammer wrote, "NDSU has once again failed to properly identify the parties." He wrote that, regardless of whom Andrianova named as the parties, the discrimination allegations were against Bertolini and the former English department head, neither of whom were interviewed.
Cook, who has been president a little over a year, wrote, "There is an obvious conflict of interest with the Equity Office investigating its supervisor."
On Aug. 30, Bilen-Green, continuing to object, wrote to him that "Although I report directly to the provost, my supervisors and the campus community in general have long understood and acknowledged that my role maintains an indirect reporting link to the president." She also wrote that it isn't within her "purview to micromanage or influence investigations."
She said the "unexpected change" in the provost's office last October—Cook replaced Margaret Fitzgerald with Bertolini as provost—made this case "unusual or more complex." But she said, "It is best to communicate any concerns with the investigative process to me directly … instead of circumventing my office, which created a power imbalance in an otherwise neutral and well-established process."
On Sept. 5, 10 days before Bilen-Green's firing, Hammer gave Cook a memo accusing Bilen-Green of deliberately misleading him and saying that Bilen-Green couldn't properly identify conflicts of interest.
"The actions of the Equity Office demonstrate that they are not fair and impartial," he wrote. "The Equity Office does not treat all sides equally—in this case, they did not even invite the other side to the investigation … the Equity Office simply has no credibility opining about their commitment to fairness."
'Old Wound'
Hammer told Inside Higher Ed the university didn't want to release these files, but North Dakota has broad open-records laws, the institution has a legal obligation to provide them to the media and, so, "we are where we are now."
"The way we handled the announcement and such was to keep this as discreet as possible," he said.
Cook said the decision opened "an old wound for people on this campus … that relates to this topic of women in leadership at NDSU."
"I hear them, I appreciate what they're telling me and I'm committed to continue to listen and learn," he said.
Kristi Steinmann, the Staff Senate president, sent an email to staff senators Thursday saying that, after meeting with Hammer and Cook, who "shared with us the details of the situation that led up to president Cook dismissing Dr. Bilen-Green from her leadership role," she supports the decision.
"We know that there are a lot of opinions and emotions around this decision and the changes it brings, but the facts showed us that this decision was justified," wrote Steinmann, the communications and strategic partnerships lead in the university's information technology division. She declined further comment for this article.
Warren Christensen, the acting Faculty Senate president, declined to say what he thinks of the Bilen-Green ouster. But he did criticize its handling.
"A very quick, brief and immediate dismissal, like how it was announced via an email, is consistent with how many decisions have been made within this administration, but also in our prior administration," Christensen said. "There's a number of instances, and many of those do include women in leadership roles. They are not exclusive to that, though."
He cited a lack of shared governance at times, but he said he believes Cook is listening to feedback.
Ingram, the former North Dakota State provost, said she was asked by the prior president there to resign immediately. That prior president, Dean L. Bresciani, who still works at the university, didn't respond to a request for comment Friday.
"The same thing they threatened to do to me happened to Canan [Bilen-Green]—they started releasing information," said Ingram, now a tenured economics professor at Northern Illinois University.
Of Bilen-Green, Ingram said, "The way they did it was just not the way you should treat people."