You have /5 articles left.
Sign up for a free account or log in.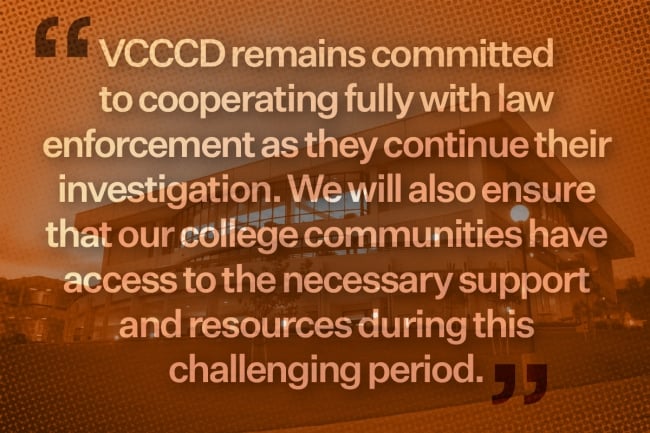 Photo illustration by Justin Morrison/Inside Higher Ed | Photo: Getty Images | Text: Ventura County Community College District
California prosecutors have charged a community college faculty member with involuntary manslaughter and battery with serious bodily injury in the death of a Jewish protester during off-campus Israel-Palestine demonstrations.
On Thursday, Ventura County sheriff's detectives arrested Loay Alnaji, a now-suspended employee of Moorpark College, part of the county's community college district. His faculty webpage was taken down, but the Wayback Machine archive from earlier this month showed Alnaji as a full-time faculty member. According to Alnaji's attorney, he is a Jordanian Muslim.
"Effective immediately, Mr. Alnaji will be placed on administrative leave," the community college district said in a statement Thursday. "… Necessary protocols have been taken to ensure the safety and well-being of our students, faculty and staff, which will remain our top priority."
The district didn't return a request for comment Friday, and someone answering the phone at Moorpark College referred questions to the district.
In a statement early this month, the county sheriff's office said Paul Kessler, 69, "died as a result of injuries sustained during an altercation at a Pro-Israeli/Pro-Palestinian event, both of which were occurring simultaneously at the intersection of Westlake Blvd. and Thousand Oaks Blvd." That's in Thousand Oaks, California.
"Witness accounts indicated that Kessler was involved in a physical altercation with counter-protestor(s)," the statement said. "During the altercation, Kessler fell backwards and struck his head on the ground. Kessler was transported to an area hospital for advanced medical treatment. On November 6, 2023, Kessler succumbed to his injuries."
In a news conference Friday, neither the county sheriff nor its district attorney, Erik Nasarenko, provided much detail about what prosecutors are alleging Alnaji actually did to cause Kessler's death. Explaining the manslaughter charge, Nasarenko said investigators received no evidence that Alnaji came to the protest intending to harm or kill. "He killed another with criminal negligence—specifically, reckless conduct that carried with it a high risk of death or great bodily injury," Nasarenko said.
"We did not file murder because there was no intent on the defendant's part to commit one," Nasarenko said. "We also did not file a hate crime at this time, although that investigation is ongoing."
Nasarenko said that Kessler himself "taught sales and marketing to a number of satellite college campuses." A spokesman for the district attorney told Inside Higher Ed in an email Friday that "there's nothing more that I can provide about the confrontation."
Inside Higher Ed was unable to reach Alnaji, who pleaded not guilty to the charges during his arraignment Friday. Ron Bamieh, Alnaji's lawyer, said he has video showing Alnaji was 6 to 7 feet away from Kessler, on the other side of a Shell gas station sign, when Kessler fell. Bamieh declined to provide the video to Inside Higher Ed, saying it's evidence in a criminal case.
"The video makes it clear that the battery was independent of the fall," he said. "They didn't happen back to back."
He said Kessler falls 4 or 5 seconds after the two separate. Bamieh said Alnaji hasn't denied law enforcement's allegation that Alnaji hit Kessler's right cheek with a megaphone, although the video doesn't show that part.
"I think there was a battery committed in self-defense—Mr. Kessler pushed his phone in my client's face," Bamieh said. "… He was calling him 'baby beheader' when he did, I don't know why he did it."
At a news conference Friday, Bamieh showed reporters videos of what he said was Kessler flipping people off at the protest and repeatedly shouting an Arabic swear word. He told Inside Higher Ed that "nobody would feel good about convicting a man looking at the evidence I've seen."