You have /5 articles left.
Sign up for a free account or log in.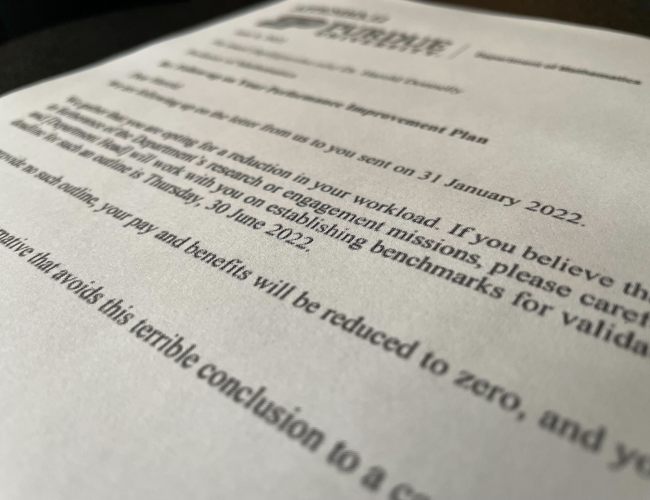 Math professor Harold Donnelly is still listed on Purdue University's website—but fellow math professors have shared something odd about his salary.
It's $0, after the university began reducing it in fall 2021, according to emails these professors provided.
"I have carefully considered your career of contributions to mathematics and to our department, college and university," says a July 2021 email from a math department head, whose name is redacted, about the first salary slash, a 20 percent cut. Irena Swanson, who was the department head then and now, didn't return requests for comment Friday.
"Those contributions are well-documented and beyond dispute," the email said. "Still, I must also take into account your most recent effort in the areas of teaching, research and service as I consider how to allocate the scarce merit pay resources our department receives. I also took into account your teaching in the spring, and your subsequent unsatisfactory completion of the communicated conditions to teach in the fall."
Later, in early 2022, the department head wrote that "For more than a year, the Department of Mathematics and the College of Science have warned you that your failure to meaningfully prepare for and adequately deliver instruction could result in disciplinary sanction. We have provided helpful resources and feedback to you, which you have largely ignored."
That email said, "We have provided explicit examples of what successful preparation and delivery of instruction entails. Your failure to meet any of the four criteria that were due on 24th of January, together with unsuccessful completion of two prior iterations of criteria, demonstrates that you have no desire or intention of providing adequate instruction."
The email then says this to Donnelly, who is in his early 70s:
You will not be assigned to any teaching for Mathematics during the 2022/2023 academic year. In addition to working with you on instruction, we have discussed with you incentives for retirement, which the college has authorized, and which several faculty in our college have embraced. You have intermittently been open to retirement discussions, but ultimately decided against pursuing an incentive. That is, of course, your prerogative.
Donnelly didn't respond to requests for comment Friday.
That early 2022 email suggested speaking to Leonard Lipshitz, a Purdue math professor emeritus, who had "volunteered to be a sounding board to anyone who is contemplating retirement." But after Donnelly contacted him, this "sounding board" began fighting on Donnelly's behalf against the university.
"Harold shared a number of memos and e-mail messages," Lipshitz wrote in a June memo to colleagues. "The problem had nothing to do with the legalese in a retirement incentive package. The problem was that [department head] was pressuring Harold to retire, and he did not want to. To say that I was shocked by both the content and the sometimes contemptuous tone of [department head]'s communications would be an understatement."
Lipshitz didn't return requests for comment Friday.
Charles Fefferman, a Princeton University math professor who worked with Donnelly in the '80s, shared these emails in a December letter to the editor to the Notices of the American Mathematical Society, calling attention to the situation. The Exponent student newspaper has also reported on the situation.
The emails don't include department heads and other officials' names—at the request of Notices' editor, the documents say.
Fefferman said he heard about the issue from Donnelly.
"When I heard what had happened, it made my blood boil, and so that's how I came to involved," he told Inside Higher Ed Friday.
"He has taught over the years a wide variety of courses," Fefferman said of Donnelly. "There is one particular course that he taught, this is a service course for engineers, and during the pandemic it involved the use, of course, of technology … He completely screwed up remote teaching, and he screwed up this particular course."
But, Fefferman said, instead of the university assigning Donnelly to teach a different course, he was told he would only be teaching that one.
"Furthermore, he was required to produce a set of notes, of lecture notes, so detailed as to require no ad-libbing—that is extremely unusual," Fefferman said.
Alongside saying Donnelly's treatment was "grossly unfair," Fefferman said it seems "that because Donnelly is 71 years old, that he is going to be a poster boy for pushing people out when they get old."
Purdue's College of Science was given a chance to respond to Fefferman in the same issue of Notices.
Its response was almost word for word the response a university spokesman emailed Inside Higher Ed Friday. The university didn't provide interviews.
"Without commenting on an individual case, we can assure that each faculty member in the College of Science receives regular feedback from departmental leadership about their work performance," the spokesman said in the email. "Full professors are evaluated every three years, and leaders strive to provide clear, objective and workable guidelines and resources for performance improvement when a faculty member's review indicates they are not meeting expectations."
The email also said employment decisions "are all subject to a robust Faculty Grievance Procedure, whereby faculty can have specific employment-related issues heard and evaluated by a committee of faculty peers, with further review by the vice provost for faculty affairs and provost. The College of Science regrets that some have chosen to release incomplete confidential personnel files related to a faculty member with a long and valued career. Purdue respects the privacy of our faculty members and will not comment on any specific personnel actions."
A July email from the math department head suggested that, even with his pay at zero, Donnelly's tenure may be a target.
"You are not teaching in 2022/2023 and you have not submitted the required outline of your research or other engagement," the email said. "I am very sorry that we cannot establish that you will be doing any work expected of a faculty member. Thus we cannot pay you … if you exhibit no plan for improving upon your current level of effort for the entire fall semester, the department will recommend to the college that your tenure be terminated for gross neglect of your duties as a faculty member."
Manushag N. Powell, Purdue's secretary of faculties, said Donnelly's situation "is not a matter that has come before the [University] Senate."