You have /5 articles left.
Sign up for a free account or log in.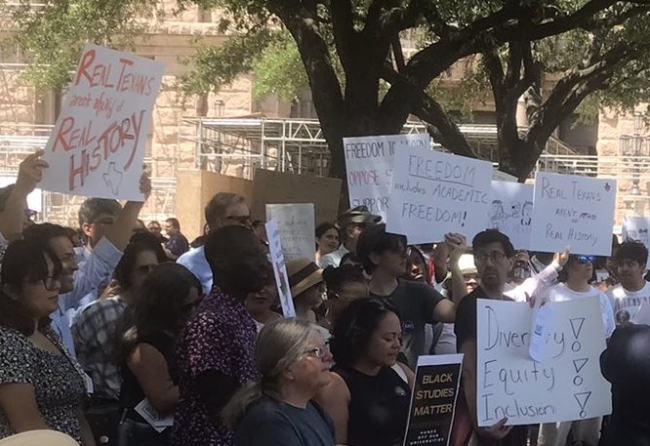 University of Texas at Austin AAUP/Twitter
Last month, Texas lieutenant governor Dan Patrick called the State Senate's passage of four higher education bills "the strongest pushback on woke policies in higher education nationwide."
One of these bills was Senate Bill 15, which would ban transgender people from playing on sports teams matching their gender identity.
The others were the triad of SB 16, which would force universities to fire professors who "attempt to compel a student" to adopt a belief that any "social, political or religious belief is inherently superior to any other"; SB 17, which would ban what that legislation defines as diversity, equity and inclusion activities; and SB 18, which would end tenure for future professors.
The bills would only affect public universities.
"Professors did not believe we would push back on their advances, but they were wrong," Patrick said in his news release. "Students should be taught how to think critically, not what to think."
"The Texas Senate has now drawn a line in the sand and stated loud and clear that these woke policies will not be tolerated in Texas," the Republican stated. "I look forward to the swift passage of these bills through the Texas House."
The Texas House of Representatives, though, hasn't yet passed Patrick's touted bills. And, on Monday, the House Higher Education Committee discussed a proposed new version of SB 18 that wouldn't end tenure, but rather would etch tenure rules into law.
"The one about tenure, I mean, really just codifies what we're currently doing," said Jeff Blodgett, president of the Texas Conference of the American Association of University Professors.
He provided copies of the new "committee substitute" for SB 18 after John Kuempel, chair of the House Higher Education Committee, didn't respond to Inside Higher Ed's requests for comment. Kuempel, like Patrick, is a Republican.
The Texas Tribune previously reported on the newly proposed version.
"They're just trying to give the lieutenant governor something he can say, 'Oh look, we passed something about this, so we can oversee them more,'" Blodgett said of the new SB 18.
Patrick didn't return requests for comment Monday.
"If this is the final version of it, then, again, it's pretty benign," Blodgett said.
Texas A&M University's chancellor, John Sharp, responded Monday to reports that the proposed new SB 18's tenure rules are based on his university's policy.
"The Texas A&M University System's tenure policy has been in place for several years and has well-served both our faculty and students," Sharp said in a statement. "It has allowed the Texas A&M System's universities to continue to recruit and retain top faculty members, including a five-fold increase in the number of National Academy members to our flagship institution, Texas A&M University. We believe a statute based on our tenure policy will answer the concerns of state officials while keeping Texas universities on the forefront of recruiting the best and brightest."
Other faculty members, though, have taken issue with even the proposed new SB 18. Jim Klein, president of the Texas Association of College Teachers, noted that the faculty's role isn't mentioned in the tenure or dismissal processes.
And there's a section that allows for dismissing tenured faculty if they have "engaged in unprofessional conduct that adversely affects the institution or the faculty member's performance of duties or meeting of responsibilities." Klein said the undefined phrase "unprofessional conduct" would allow for an administrator to target a faculty member "for whatever reason."
Moreover, as Klein and other faculty members have pointed out, even if the House Higher Education Committee passes the new version of SB 18 instead of the Senate's version to the floor of the full House, "once it's on the floor, there's always the possibility of amending it again."
That could mean moving back toward the Senate version.
The House Higher Education Committee is also considering a new version of SB 17, the legislation that would ban what it defines as diversity, equity and inclusion activities.
The new version would still generally ban "engaging in hiring or employment practices" and "implementing policies or procedures" that "give preferential treatment on the basis of race, sex, color or ethnicity." Student recruitment and admissions would be exempted from this ban, but prospective and current employees, administrators, and contractors wouldn't.
"The committee substitute for SB 17 is also substantially better than the version that passed the Senate," says an email Blodgett provided from prominent bill opponents. "However, for reasons stated above about SB 18, this bill must also not be passed out of committee."
"The new version repeatedly uses the language of 'preferential treatment,'" the opposing email says. "Without DEI, preferential treatment will be given to those from majority backgrounds because efforts to recruit a diverse pool of job applicants will likely not be allowed under SB 17. Finding a diverse pool of job applicants is already a challenge given Texas politics, and we've already seen recruitment and retention issues this academic year due to the chilling effect proposed laws have had on recruiting prospective candidates."
Texas's legislative session terminates May 29. Klein, with a laugh, said, "We're looking forward to the end of the legislative session."