You have /5 articles left.
Sign up for a free account or log in.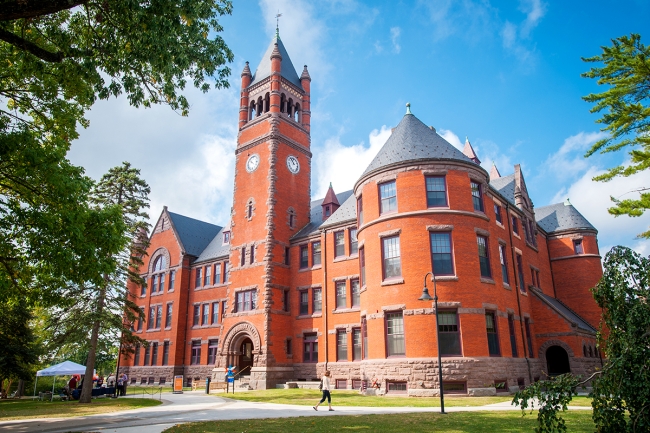 Edwin Remsburg/VW Pics via Getty Images
Gettysburg College recently confirmed it's shuttering its namesake literary magazine after more than 30 years of publication. But laying off editors may be just part of a broader shake-up for the private institution's employees, which is raising faculty members' concerns about their students' education and their own employment.
Bob Iuliano, president of the Pennsylvania liberal arts college, told Inside Higher Ed earlier this month that The Gettysburg Review's funding may be shifted to more directly support students, saying the magazine's purpose wasn't "the education of students." He said the closing of The Gettysburg Review was part of a larger strategic change focused on students' experiences and outcomes.
Multiple faculty members are worried about a particular tactical shift: they say college officials have indicated that they're planning to reduce, and possibly eliminate, adjunct and visiting assistant professor positions, which might increase remaining faculty members' teaching responsibilities. They also say the college is planning for a smaller student body composed of admittees who are less reliant on financial aid.
Iuliano partly confirmed those two moves in an interview Friday with Inside Higher Ed.
"We think smaller is stronger in this current moment, so we're returning to a size that most of our alumni would have been familiar with," Iuliano said. The college's website says it currently has 2,400 students, down from nearly 2,900 last fall (when Gettysburg first accepted graduate students) and 2,600 about a decade ago. Iuliano declined to provide a target enrollment number but said, "It's probably about 100 students per class smaller than the target that we might have had."
He said the plan is for a student body that, as a whole, "is better positioned to help defray some of the costs of their education." He again declined to give specifics.
As for the adjuncts and visiting assistant professors, the future is murkier. Iuliano said, "No decisions have been made. There are conversations happening with the faculty, happening at each of the departmental levels, about staffing the curriculum."
"We are trying to make sure that we are focusing our resources that permit our tenure-track faculty to engage with our students as much as possible. That's why people come to a place like Gettysburg College," he said. "As we think about all of this, there is likely to be—ideally, I think—less reliance on adjuncts and visitors."
Multiple faculty members say Gettysburg has a history of nontenured faculty members who have long worked for the college, who have ingrained themselves in the community and who serve students well.
"Their goal is to phase out adjunct faculty," wrote Matt Barrett, an adjunct English instructor, in an email to Inside Higher Ed. "It's disappointing to me for a lot of reasons—I not only have taught a 3-2 course load for the past four years, but I also graduated from Gettysburg College with a degree in English and creative writing (2011). This is home to me. The new administration enjoys looking at the 'analytics' without taking into account the human side of running a college."
He wrote, "Curriculum Planning Guidelines were sent from the provost to all departments on Sept. 28. The exact wording in the text is 'Please work with your faculty to present a revised plan designed to optimize efficiency and eliminate the need for part-time instructors.'"
Another adjunct faculty member in a different department, who wished to remain anonymous, said, "A number of adjuncts have been here, you know, a dozen, 20, 30 years." They said two who are no longer with the college served 50 years.
"The goal is to eliminate as many of those folks as possible and to get tenure-line faculty to teach more," the adjunct said. They said departments have been asked to draft teaching plans for next academic year requiring no adjuncts or visiting assistant professors. "In my own department," they said, "I have seen the form making the request." And in "another department I heard from a senior faculty member that they received the same request."
"How all the courses are going to get taught is a little bit muddy," they said.
Christopher Fee, Gettysburg's Graeff Chair in English (a position separate from the department chair), wrote in an email, "My understanding is that the administration is planning to do away with contingent faculty, at least as far as they are able."
"The rationale seems to be that full-time faculty should be spending as much time as possible with students, which is a logical and even laudable sentiment," Fee wrote. But he also mentioned a possible financial motive.
"I don't doubt that there are financial challenges that colleges must face with hard decisions," he wrote, "but this one, if implemented, promises to cause long-term damage to the core of our major and thus will actively disadvantage our students at the same time that it throws on the ash-heap individuals who have committed themselves to Gettysburg College and its students."
Fee said staffing collegewide requirements, especially first-year writing, while also maintaining a "robust" English major, would be difficult without adjuncts.
"This department has spent decades trying to recruit, cultivate and maintain a large pool of highly-qualified and extremely dedicated adjunct faculty," he wrote. "I don't want any of these folks (some of whom have given many years and countless hours to our students) to lose their jobs."
Christopher D'Addario, who chairs the English department, said the college is planning to minimize the number of classes taught by adjunct faculty members and visiting assistant professors, but knows of no immediate plans to do so. He said he's recently been approved to have more part-time faculty in his department.
"Part-time faculty are an integral part of our major," D'Addario said. He said many have been there longer than he has and have developed their own courses.
De-Adjunctification
A college citing financial rationales to possibly lay off adjunct faculty members, rather than better-paid tenured or tenure-track ones, may sound backward.
Colleges rely heavily on adjuncts. The American Association of University Professors says 68 percent of U.S. faculty members held what it calls contingent appointments in fall 2021, compared to about 47 percent in 1987. Contingent faculty are nontenured and non-tenure-track faculty, categorized as adjuncts or other labels depending on the institution.
But Glenn Colby, the AAUP senior researcher who has tracked this trend, also noted a significant decline in the total number of particularly part-time faculty members in 2020, while the tenured faculty's ranks actually increased. The part-time figure had yet to climb back to its pre-pandemic numbers as of the AAUP's latest data, from fall 2021.
"Tens of thousands of contingent people lost their jobs," Colby said earlier this year.
Adrianna Kezar, Wilbur-Kieffer Professor of Higher Education at the University of Southern California, said in an email, "I definitely see a trend of campuses starting to reduce the number of part-time faculty because they are not able to support students as well as full-time faculty."
"The adjunct or part-time faculty model was only meant to be a very small percentage of the faculty originally and has bloomed up to over 50 percent of the faculty now," Kezar wrote. "So reducing the number of part-time faculty is a great idea. However, a small number of part-time faculty to teach certain courses where their expertise from the field can be beneficial has always been an important aspect of higher education, so complete eradication, it's probably not a good idea."
Iuliano said there are financial pressures on Gettysburg, but he contested the notion that it is financially struggling. "We have an incredibly strong balance sheet," he said. "It's an environment where we are investing in the things that we think will make a difference."