You have /5 articles left.
Sign up for a free account or log in.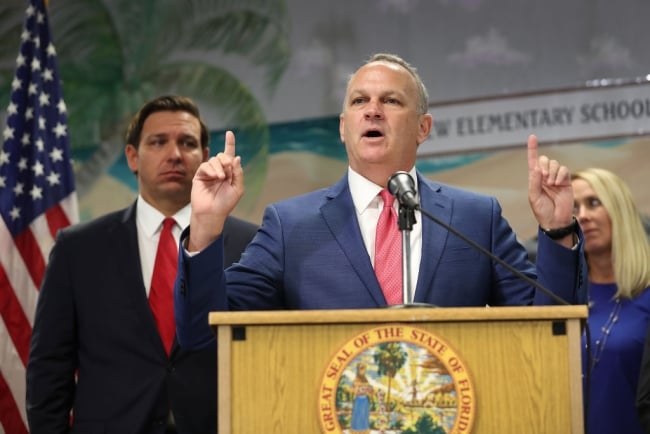 A new presidential profile is emerging in Florida, where those hired or considered for top executive positions are increasingly conservative politicians—often with ties to Ron DeSantis, the Republican governor who has sought to reshape higher education in the Sunshine State.
And in a state where DeSantis and the Republican-led Florida Board of Governors appoint trustees to oversee state institutions, board members also play a key role in shaping the state's new presidential profile—and many seem eager to please the governor by hiring candidates that align with his political priorities.
Ben Sasse, a Republican former U.S. senator from Nebraska, was the first such hire. Though Sasse does not have direct ties to DeSantis, his hire in November to lead the University of Florida marked a rightward shift among presidential candidates; Sasse shares the governor's political stances on matters of same-sex marriage, gender identity and other issues that have energized the Republican Party in recent months. And as DeSantis has pushed his conservative agenda on the state, Sasse—like every other president at Florida's 40 public colleges and universities—has stayed silent.
After Sasse came Richard Corcoran, who was hired as interim president of the New College of Florida in February. Corcoran, a Republican former state lawmaker, stepped into the job amid major political upheaval at NCF driven by a slate of new trustees appointed by DeSantis in January with the specific goal of forcing the small liberal arts college to the right. After the new board members pushed out NCF's president, they quickly hired Corcoran with a $400,000 pay increase over his predecessor.
Since then, other DeSantis-aligned candidates—including those with little or no experience working in higher education—have been considered for top jobs at state colleges and universities.
Questionable Search Processes
In addition to Sasse and Corcoran, three other DeSantis allies have emerged as candidates for presidential posts. Republican lawmaker Randy Fine was reportedly approached by DeSantis, who urged him to pursue the Florida Atlantic University presidency. Fine, who currently serves in the Florida House, has downplayed his interest, noting that he plans to run for the State Senate.
Last month DeSantis ally Henry Mack was named a finalist for the Florida Gulf Coast University presidency when the search was restarted after the initial search identified three candidates but failed to select one, leading to questions of interference by state officials. Mack, who serves as the senior chancellor at the Florida Department of Education, narrowly lost the job by one vote; trustees instead chose internal candidate Aysegul Timur, an FGCU vice president and vice provost.
But even then politicians intervened to try to steer the process: Florida Department of Education commissioner Manny Diaz Jr.—who served as a Republican state lawmaker before stepping into his current role last summer—encouraged the Florida Board of Governors at its June meeting to give Timur a "shorter contract," though he did not specify the length. Diaz argued that "performance and proof" should dictate longer contracts for college presidents.
The Florida Board of Governors, however, pushed back.
"Oversight from the Board of Governors is very different than actually trying to impose a will on the Board of Trustees for every decision. We have boards of trustees at each of these universities because they are responsible for the oversight of the individual university and managing those processes, including selection of their top people," Eric Silagy, vice chair of the Florida Board of Governors, said at the meeting, cautioning against micromanaging boards of trustees.
Diaz and the Florida Board of Governors did not respond to requests for comment. An FGCU spokesperson said "negotiations are ongoing" regarding Timur's contract, which must first be approved by the university's Board of Trustees before advancing to the state Board of Governors.
At South Florida State College, Fred Hawkins emerged as a presidential finalist after a failed search. SFSC unveiled three finalists in March, but all three dropped out suddenly and mysteriously in May. (None responded to a request for comment from Inside Higher Ed.) The board then launched a new search, dropped the requirements for a terminal degree and within a week named Hawkins—a DeSantis ally with no higher education experience—as the sole finalist.
Hawkins, who has authored legislation advancing DeSantis's battle against the Walt Disney Company, will interview for the job this week, with the board scheduled to announce a decision in June. But he seems to believe he has the job in hand.
"Pages turn and new chapters begin. I am looking forward to becoming the next President of South Florida State College. My time as an elected official has been a highlight of my life, especially serving in the Florida House," Hawkins tweeted after he was named the sole finalist.
The South Florida State College Board of Trustees declined to provide a comment to Inside Higher Ed, but local news coverage suggests that political interference scuttled the initial search.
With a hiring decision looming before the board, an anonymous source told the local newspaper The Herald-Advocate, "the governor's office contacted the college" and stopped the process.
The Herald-Advocate also reported complaints that came up during a recent workshop in which trustee Joe Wright expressed "concern about serving on the board" after "intervening issues" in the presidential selection process, according to documents obtained by the newspaper. An anonymous source told the paper that DeSantis had expressed displeasure over the finalists.
A report from The Tampa Bay Times spelled out the interference in clearer terms.
"You have to understand that we are political appointees, and they were all Democrats," SFSC trustee Louis Kirschner told a Tampa Bay Times reporter, referring to the three finalists. "The governor doesn't appoint all Republican trustees and expect us to select a Democrat."
Kirschner, who also chairs a local Republican Party committee, added that he saw no problem with state officials being involved in the presidential selection process and expressed concerns that a left-leaning college president would impose a "woke" ideology on South Florida State.
The DeSantis press office did not respond to a request for comment from Inside Higher Ed.
And DeSantis allies aren't only being employed as college presidents; last year the Florida Board of Governors hired former state Republican lawmaker Ray Rodrigues as chancellor of the State University System of Florida after a search yielded only eight applicants for the position.
Politicians as Presidents
While hiring a college president with a political background may be controversial, it isn't new. Both Republican and Democratic politicians have taken executive jobs at colleges across the U.S.
Sonny Perdue, a former Georgia governor and secretary of the U.S. Department of Education, was hired last year as chancellor of the University System of Georgia. Mitch Daniels, a Republican former governor of Indiana, led Purdue University for a decade before retiring this year. And the late Rebecca Blank served in various roles in the Obama administration, including as acting secretary of the U.S. Department of Commerce, before leading the University of Wisconsin at Madison for nearly a decade. More recently, former Oklahoma legislator and lieutenant governor Todd Lamb was named president of the University of Central Oklahoma, drawing ire from some faculty.
Numerous other examples exist at both public and private colleges. Still, moving from politics to a college presidency remains fairly uncommon.
The latest presidential survey from the American Council on Education, which was completed by more than 1,000 top leaders, found that only 4 percent of respondents indicated "public sector/government" as the career pathway that led them to their positions as a college president. Hawkins, who holds only a bachelor's degree, is an even more unusual case; the ACE survey found only 0.6 percent of respondents had an undergraduate degree as their highest credential, with the vast majority—83.6 percent—holding a doctorate.
Having a political background doesn't necessarily dictate how a candidate will perform as a college president. The two recent Republican lawmakers hired in Florida have demonstrated sharply different approaches. Sasse has been a barely visible presence on the University of Florida campus, ducking the student newspaper as questions linger about where he is and exactly what he is doing.
Corcoran, however, has left few questions about his role at New College of Florida, where he has carried out the governor's agenda by driving rapid and aggressive change in the face of protests. Under his leadership, the college has closed its diversity, equity and inclusion office; denied tenure to five professors; and abruptly dismissed two LGBTQ+ employees for unclear reasons, among other actions.
Critics worry that DeSantis is intervening in presidential selection processes in an effort to hire loyal foot soldiers for the state Legislature's war on what he has called the "ideological conformity" and "woke activism" of higher education.
"What's happening is the Legislature and the Board of Governors are trying to turn the president position into an all-powerful CEO position with little to no shared governance," Andrew Gothard, president of the United Faculty of Florida, told Inside Higher Ed. "This political takeover of that position should really be seen in terms of the naked partisanship that it is."
In spring 2022, the Florida Legislature passed a bill that allowed colleges to be more opaque in presidential hiring processes, releasing only the names of three finalists; previously, all applicants were identifiable under the state's public records laws. By last fall, that process led to Sasse being unveiled as the sole finalist for the University of Florida presidency.
Gothard said that knowing who applied "allowed us to keep our politicians and our leaders honest about ensuring that the best candidates were the ones who made final round of interviews, so there couldn't be this good-old-boy horse trading to become some of the most powerful, unelected individuals in the state who control billions of dollars in research funds and tax dollars."
Now he believes lawmakers are being hired as presidents as payback for political favors, which he sees as a disaster in the making—particularly for candidates who aren't qualified for such positions.
"These people not having experiences in these roles and not knowing what they're doing is going to cause disruption and chaos at worst," Gothard said. "At best, they're just going to be neutral nonentities like we've seen with Ben Sasse. He might as well not even exist as president of UF."