You have /5 articles left.
Sign up for a free account or log in.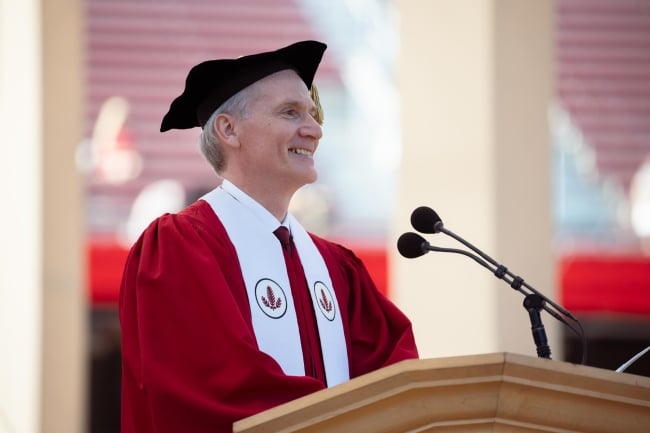 Stanford University/Facebook
Marc Tessier-Lavigne is stepping down as president of Stanford University following a months-long investigation of alleged research misconduct that cleared him of personally engaging in fraud or falsification of data but acknowledged he had left mistakes in scientific papers uncorrected, according to a university report.
The scientific panel that conducted the investigation found he "failed to decisively and forthrightly correct mistakes in the scientific record."
In the wake of the findings, Tessier-Lavigne is resigning from the institution he has presided over since 2016 because he believes he can no longer effectively lead the renowned research university amid sharp scrutiny. The university announced his resignation Wednesday.
Tessier-Lavigne said in a resignation letter to the Stanford community that he was "gratified" that an investigative panel "concluded I did not engage in any fraud or falsification of scientific data." But he acknowledged he "should have been more diligent when seeking corrections." The panel also found that other researchers manipulated data under his watch, which went undetected. Tessier-Lavigne said in his resignation letter he was unaware of such issues.
"Although the report clearly refutes the allegations of fraud and misconduct that were made against me, for the good of the University, I have made the decision to step down as President effective August 31," Tessier-Lavigne wrote in his resignation letter.
Ultimately, he noted that it was in Stanford's best interest for him to step down before classes begin for the fall quarter, suggesting the institution needed a leader who "is not hampered by such discussions."
Tessier-Lavigne, a renowned neuroscientist, will remain with the university as a tenured professor in the biology department and will continue to conduct research on brain development and neurodegeneration.
The Background
Tessier-Lavigne first faced claims of research misconduct in November when The Stanford Daily reported on allegations that several research articles he co-authored in the early 2000s contained manipulated images. The investigation grew from five to 12 papers on which he was either a principal or secondary author. Tessier-Lavigne has denied the charges from the beginning, pushing back forcefully at times on the newspaper, which he accused of making a "string of false allegations" and unfairly questioning his integrity.
The newspaper has stood by its reporting, with the student reporter who first broke the news winning a prestigious 2022 George Polk Award in Journalism for his scoop on the president.
At a school known for its research prowess, the allegations of misconduct landed hard. Stanford faculty members initially expressed mixed reactions, with some encouraging the president to step down amid questions over his research while others cautioned against a rush to judgment.
Stanford's board responded quickly by creating a committee to investigate the claims, later adding a panel of research experts and a law firm to the effort. The board has indicated that the effort involved "hundreds of hours of meetings and witness interviews," with more than 50,000 documents reviewed as part of the in-depth investigation that was distilled into a 95-page report.
Of the five papers that drew initial scrutiny, Tessier-Lavigne is expected to withdraw three publications and "pursue robust corrections" to the other two, according to the report.
"For the five reviewed papers where Dr. Tessier-Lavigne was a principal author (sometimes referred to as the 'primary papers'), the Scientific Panel has concluded that Dr. Tessier-Lavigne did not have actual knowledge of the manipulation of research data that occurred in his lab and was not reckless in failing to identify such manipulation prior to publication. Nonetheless, based on the available research record and other factors, each of the papers has serious flaws in the presentation of research data; in at least four of the five papers, there was apparent manipulation of research data by others," the report stated.
The Stanford Board of Trustees noted in its own statement that the scientific panel "did not find evidence to conclude that Dr. Tessier-Lavigne personally engaged in research misconduct, as defined by the federal Office of Research Integrity" and was unaware of alleged misconduct by other researchers. However, the board agreed it was best for the university that Tessier-Lavigne resign as president.
"In light of the report and its impact on his ability to lead Stanford, the Board decided to accept President Tessier-Lavigne's resignation and agrees with him that it is in the University's best interests," Jerry Yang, chair of Stanford's Board of Trustees and a former CEO of Yahoo, said in a Wednesday statement.
Allegations of research misconduct hung over Tessier-Lavigne for months as he battled other public relations challenges, including a free speech controversy at Stanford Law School, which prompted the president to apologize to a conservative judge whom students shouted down in March. Critics have also raised concerns about student suicide rates, and the university is currently being sued by the family of former soccer star Katie Meyer, who died by suicide last year.
Tessier-Lavigne's condemnations of the student newspaper's coverage of his alleged research misconduct also prompted scrutiny from outside observers, who questioned whether the president should make such an aggressive public defense amid an ongoing investigation.
Now, with Tessier-Lavigne out, the Board of Trustees has tapped Richard Saller as interim president, effective Sept. 1. Saller is currently the Kleinheinz Family Professor of European Studies at Stanford and previously served as the dean of Stanford's School of Humanities and Sciences. Prior to Stanford, Saller was a professor and provost at the University of Chicago.
In May, Provost Persis Drell announced she was stepping down this fall, compounding the administrative vacuum at the top.
A search to find a new president will begin in the coming weeks, according to the board's statement.
A Unique Exit
Tessier-Lavigne is far from the only president to be toppled by controversy in recent memory.
Connecticut College president Katherine Bergeron resigned in March, following student protests and accusations of missteps on diversity, equity and inclusion matters. Temple University president Jason Wingard also stepped down in March amid mounting pressure over campus safety concerns and workforce issues, departing after less than two years on the job. Vermont State University president Parwinder Grewal resigned in April, less than a year into his role, citing personal reasons as controversy swirled over plans to restructure the university's library and cut athletics.
Others have resigned under pressure from constituents, including Linda Oubré, who resigned from Whittier College in May after clashes with alumni and employees over declining enrollment and cuts to athletics. Similarly, Tougaloo College president Carmen Walters stepped down in June under pressure from alumni over declining enrollment and employee retention concerns, among other issues.
But of the abrupt departures this year, Tessier-Lavigne's exit is unique in that it isn't directly related to his performance as president but rather to his past research as a scientist.
The consequences of research misconduct or missteps can be far-ranging depending on the circumstances, explained Lauran Qualkenbush, president of the Association of Research Integrity Officers and senior director of research integrity and training at Northwestern University.
Qualkenbush noted that in cases where federal funds are involved, the U.S. Office of Research Integrity can get involved, and she pointed to the published standards defining such misconduct. According to the ORI website, "research misconduct means fabrication, falsification, or plagiarism in proposing, performing, or reviewing research, or in reporting research results."
Depending on the level of offense, consequences could include the loss of federal funding, termination or suspension of employment, or the correction or retraction of published work. Beyond those official consequences, research misconduct can also erode public trust.
Qualkenbush, who also serves as a research integrity officer at Northwestern, stressed the obligation for researchers to "ensure that the scientific record is correct." If an error is discovered, she said it is incumbent upon researchers to immediately contact the journal where an article is published and initiate action, though she noted it is up to the publication to decide how to move forward.
In Tessier-Lavigne's case, the report noted that when questions arose about his research, in some instances he pursued corrections with the relevant journals—including Science and Cell—but the corrections were never published, either because of editorial lapses or because the fixes were deemed unnecessary "given the nature of the alleged issues and the passage of time." Still, as the panel—and Tessier-Lavigne himself—observed, he was nevertheless "independently responsible for ensuring that the corrections were made," regardless of the journals' actions.
Regarding a 2009 paper in Nature, Tessier-Lavigne's response to discussions about inaccurate or incomplete findings was "to issue a series of follow-on papers," the panel found. While using additional publications to correct the scientific record is "within the boundaries of normal scientific practice," the report noted, "his decision to neither retract nor directly correct the Nature '09 paper was suboptimal."
Holden Thorp, editor in chief of Science and a chemistry professor at George Washington University, who has also navigated the dual roles of researcher and college administrator, wrote on Wednesday that "running a research laboratory is a full-time job and can't be done effectively when the principal investigator is simultaneously fulfilling a challenging administrative role."
In a Science blog post, Thorp argued that researchers who hold administrative jobs—like Tessier-Lavigne did at the biotechnology firm Genentech and Rockefeller University before coming to Stanford—are torn between two demanding worlds, which is "simply too much for one person." (Tessier-Lavigne also oversaw a lab at Stanford while president.)
David Rowe, senior vice president and managing principal of AGB Consulting, suggested that the college presidency has both functional and symbolic dimensions to the job. The functional dimension includes areas such as hiring a team and crafting a vision for the university, whereas the symbolic side includes presiding over events and interacting with campus constituents.
While Tessier-Lavigne's research transgressions may not have undermined the functional side of his job, it seems that the blow to his credibility led many on campus to question his ability to lead a major research university, thus harming his reputational value as the leader of Stanford, where research reigns and Nobel Prize winners abound.