You have /5 articles left.
Sign up for a free account or log in.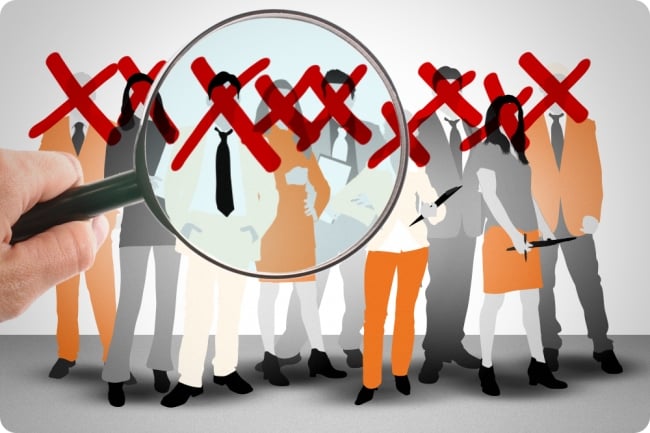 Photo illustration by Justin Morrison/Inside Higher Ed | Getty Images
Two months ago the Florida Atlantic University Board of Trustees identified three presidential candidates to step into the post vacated by John Kelly, who retired at the end of last year. The finalists included a Navy vice admiral, a former chancellor and a dean at Florida State University.
But that search is now stuck at a standstill, suspended by State University System chancellor Ray Rodrigues, who cited "concerning information" and "anomalies" in the process. Critics say he was motivated less by procedural glitches than by the absence of one particular finalist: Randy Fine, a state lawmaker and the preferred choice of Governor Ron DeSantis, a fellow Republican. Fine's name had been floated for months, even as he downplayed his interest in taking the top executive job at FAU.
When Rodrigues halted the search, he took issue with the university search committee for conducting a straw poll to identify the top candidates. He also criticized the firm that led the search for administering a voluntary survey that asked candidates about their views on sexual orientation and gender identity.
The firm—AGB Search—has defended its processes. But FAU is now stuck in interim limbo: the president, provost and several other high-ranking positions are filled by temporary placeholders.
And FAU is not the only Florida institution to experience irregularities in the hunt for a new leader in recent months.
A failed search at Florida Gulf Coast University was rebooted, with an internal candidate hired over a DeSantis ally in April by one vote. After a search at South Florida State College failed in May, the board hired Fred Hawkins, a Republican state lawmaker and DeSantis ally, as its new president. South Florida State College trustee Louis Kirschner later told The Tampa Bay Times that "the governor doesn't appoint all Republican trustees and expect us to select a Democrat."
The muddled searches, coupled with increasing political influence on higher education in the state, raise an important question: Who wants to lead a presidential search at any of Florida's 40 public institutions?
Unpacking the FAU Search
Out of the 63 candidates who applied for the FAU presidency, the board selected three finalists: Vice Admiral Sean Buck, who has led the U.S. Naval Academy since 2019; Jose Sartarelli, who served as chancellor of the University of North Carolina at Wilmington from 2015 to 2022; and Michael Hartline, who currently serves as the dean of the College of Business at Florida State University.
But the search was suspended almost immediately. Rodrigues sent a letter to the board suggesting that survey questions about gender identity and sexual orientation were "inappropriate and potentially illegal." Since then, the inspector general for the Florida Board of Governors has been investigating the search process.
Rod McDavis, managing principal and CEO of AGB Search, defended the questionnaire in a July statement, noting that it was "part of AGB Search's strategy to assess its ability to recruit a broad range of candidates" and that the voluntary survey "includes demographic questions."
McDavis referred to it as "a general, routine survey that is used in all of our executive searches."
Rodrigues—himself a DeSantis ally and former Republican lawmaker who was one of only eight applicants for the chancellor job—has said little publicly about the matter. He was set to provide an update to the Florida Board of Governors at a meeting last week that was rescheduled for Sept. 8 due to Hurricane Idalia. (The chancellor's office did not respond to a request for comment or a copy of any presentation or written remarks prepared for the postponed meeting.)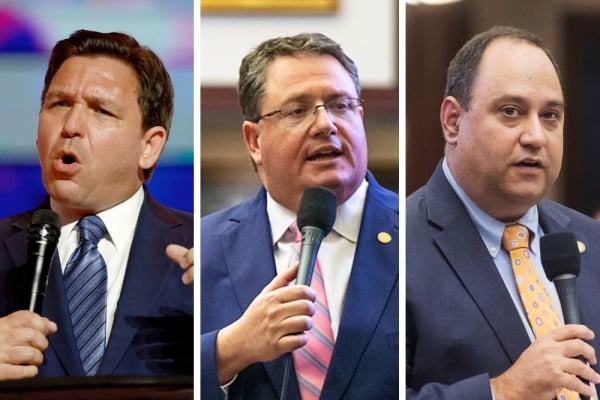 At a contentious meeting last month, FAU board chair Brad Levine defended the search, arguing that the finalists were "exceptionally well qualified." He pushed back on the idea that sexual orientation or gender identity had been factored into the hiring process, noting that the board was unaware the survey had even been sent to the candidates.
(Levine did not respond to an interview request from Inside Higher Ed sent through FAU.)
Fine, for his part, recently told a local TV station, "What leadership at FAU should do is shut its mouth, stop trying to put out propaganda, and allow the Board of Governors to do their job."
Florida's Recent Search Issues
When Hurricane Ian tore through Florida last fall, the initial presidential search at Florida Gulf Coast University was blown off course; candidate forums had to be rescheduled. The Florida Board of Governors then asked FGCU's trustees to delay their selection, which was scheduled to be made a week before the governors' meeting. Two of the three finalists withdrew suddenly, imploding the effort—which was led by AGB Search.
One finalist, speaking anonymously, told Inside Higher Ed last fall that the search failed not because of the timing but because of political interference from above. The finalist said there were no problems with the search process or the FGCU board, which operated in a completely professional manner.
The timing issue certainly wasn't a factor when the University of Florida Board of Trustees hired Republican U.S. senator Ben Sasse as president on Nov. 1, a hiring the Florida Board of Governors signed off on at its meeting eight days later. The board had operated on the same timeline for UF's presidential hiring process that it objected to in the Florida Gulf Coast search.
A rebooted search at FGCU, led by Greenwood Asher & Associates, resulted in the hiring of Aysegul Timur, an FGCU vice president and vice provost, over Henry Mack, a DeSantis ally. FGCU's board—which includes a student and a faculty member—chose Timur over Mack by one vote in April.
When South Florida State College's presidential search—led by the Association of Community College Trustees—failed in May, it was quickly rebooted, minus the requirement that candidates have an advanced degree. Hawkins, a former rodeo cowboy whose highest credential is a bachelor's degree, soon emerged as the sole finalist. His degree makes him an anomaly in higher education: only 0.6 percent of college presidents have a bachelor's degree as their highest credential, according to the latest presidential survey from the American Council on Education, completed by more than 1,000 top executives.
(The ACCT did not respond to a request for comment on the South Florida State presidential search.)
Another DeSantis ally also seems poised to step into a presidential post: Richard Corcoran, currently the interim president at New College of Florida, is one of the three finalists for the full-time position. Corcoran, a former Republican lawmaker, was named interim president shortly after DeSantis appointed a swath of new trustees to NCF in January, who quickly pushed out President Patricia Okker as part of an effort to drive the college in a conservative direction. Trustees opted not to hire a search firm to find her replacement, entrusting a committee to handle the task.
Implications for Florida Searches
In light of the recent spate of failed presidential searches— combined with DeSantis's legislative broadsides on higher education—Inside Higher Ed asked more than a dozen national organizations specializing in higher ed executive searches how they view operating in a climate where political interference is a concern.
AGB Search officials said they were limited in what they could discuss on the FAU search.
"Given that the FAU search is still under review by the system's inspector general, I can't comment beyond the statement I made [in July]. AGB Search is proud to have conducted more than 1,200 presidential and other executive searches, including 16 in Florida since 2020, and we plan to continue supporting institutions in the Sunshine State and elsewhere for the foreseeable future," McDavis said in a statement to Inside Higher Ed.
Most other organizations did not respond, though three executives commented anonymously. They agreed that political interference in Florida presidential searches is a major concern.
Officials said that from the outside, the FAU search seems to have followed standard procedures and best practices. One search firm leader questioned whether "the decision on FAU was made before any proposals went out," given the news reports circulating that DeSantis had expressed his preference to hire Fine for the role.
That executive also suggested the concerns raised by the state "are basically a red herring," arguing that FAU's search has been sidelined by conservative politics rather than missteps.
"A very good firm, some nice colleagues are getting burned in the FAU search," the source said.
"I ache for the search organization involved there," said another executive.
Executives also said that the prevailing politics of the state—where Republicans, among other things, imposed limitations on diversity, equity and inclusion initiatives and restricted instruction on topics such as gender and sexuality earlier this year—has depressed applicant pools. Candidates often raise concerns about the state's political environment when declining to apply for a job at a public institution, executives said; at the same time, other academics are eager to decamp from the state.
Some search organizations that don't have a strong foothold in Florida aren't seeking to establish one.
"There are times when the demands for our services have exceeded our available resources, but we are mindful of what the search conditions are as we respond to requests for proposals," one search firm executive said, noting their organization has led few Florida searches recently.
Ultimately, the executives who spoke with Inside Higher Ed said they aren't leaving Florida altogether but are carefully considering which presidential searches to participate in. They suggested that certain hiring outcomes—such as at New College of Florida—seem predetermined.
"There are circumstances in which search firms would be very worried," one executive said. "For example, if they called us for New College of Florida, we would not do that search. On the other hand, if we got a call from the University of Central Florida, the University of South Florida, [Florida International University], Florida or Florida State, we would inquire carefully about who was on the search committee and who was making decisions, but we would be inclined to compete."