You have /5 articles left.
Sign up for a free account or log in.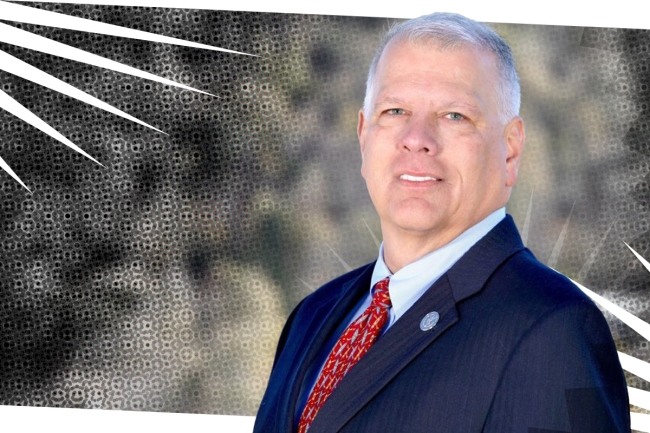 Photo illustration by Justin Morrison/Inside Higher Ed | University of Maine System
Despite nearly three decades of higher education experience, Michael Laliberte hasn't found a new job since he withdrew 16 months ago after being hired at the University of Maine at Augusta. But he's still drawing a paycheck from the University of Maine System.
Laliberte is contractually obligated to look for work, according to the terms of the settlement he reached with the system. His hire fell through when it was uncovered that system chancellor Dannel Malloy had withheld information during the search process about two votes of no confidence in Laliberte's leadership at his prior job, as president of the State University of New York at Delhi. Almost as soon as his name became public for the Augusta job, Laliberte bowed out amid questions over the way the search was handled.
As a result of the failed hire, Laliberte reached an agreement with the system to receive $235,000 a year for three years, with payments to cease as soon as he finds another position. So far, Laliberte has yet to land another job and collects nearly $20,000 a month from the University of Maine System—all while providing free higher education consulting services elsewhere. And until Laliberte finds work, Maine is on the hook for a total of more than $700,000 in settlement payments.
A Failed Presidential Hire
When the university system announced Laliberte's hire in April 2022, a press release touted his record at SUNY Delhi, where he added new degree programs and student success initiatives and oversaw $42 million in capital projects, among other accomplishments during his six years there.
But Laliberte also clashed with faculty.
In October 2021, the SUNY Delhi College Senate passed a no-confidence vote alleging a lack of transparency and the erosion of shared governance under Laliberte's leadership, according to meeting minutes. The Student Senate also voted no confidence in November.
Faculty members also appealed to Laliberte's boss, Jim Malatras, then chancellor of the SUNY system, who resigned in late 2021 over a scandal involving his behavior as aide to former New York governor Andrew Cuomo, toppled by allegations of sexual misconduct.
In an email to Malatras, the College Senate accused Laliberte of failing to enact a vision for the university, blowing through financial reserves and "enabling a culture of disrespect and hostility."
Roughly six months later, Laliberte was hired at Augusta following a search led by Chancellor Malloy and trustee Sven Bartholomew, who made the decision to withhold from the search committee information about Laliberte's tenure at SUNY Delhi. (An internal review later found that decision was in violation of University of Maine System policies.)
The blowback was immediate. Malloy was the subject of multiple no-confidence votes and later issued an apology taking responsibility for the mistake. The system then struck a deal with Laliberte announcing that he would withdraw from the contract he'd signed with the university.
The system then rebooted the search and hired a new president for Augusta. But Laliberte remains on the payroll and will stay there until he finds another job or his three-year agreement expires. As part of the settlement, Laliberte is required to look for work and submit updates on his job search. The system, however, has not shared details about Laliberte's job hunt.
Looking for Work
A recent story in The Kennebec Journal noted that some public records advocates in Maine believe details of Laliberte's job search should be made available. The system disagrees, arguing that those records are personnel files and thus exempt from the Freedom of Information Act. The system has repeatedly denied the newspaper's requests for those records—a decision trustees defended in a recent op-ed.
The settlement requires Laliberte to find work "as soon as reasonably possible." But 16 months later, he is still unemployed. And, as The Kennebec Journal pointed out, Laliberte indicated on his LinkedIn page that he had been consulting for unnamed universities for free during this time. (Laliberte's LinkedIn page was deleted upon publication of the article.)
Despite the lack of progress on the job search—and the system's unwillingness to share related details—officials told Inside Higher Ed that Laliberte is in compliance with the agreement.
"Dr. Laliberte continues to diligently fulfill his responsibilities under the agreement, including providing detailed regular reports of his efforts," officials said in an emailed statement, adding that prorated monthly payments "will continue through the end of the agreed upon period or until he finds other employment, whichever comes first."
The settlement agreement, obtained by Inside Higher Ed via a public records request, states that Laliberte should seek work "commensurate with his skills and abilities," though that doesn't necessarily mean a presidential post. It notes that other possible roles include a high-ranking administrative position, such as provost or dean, or a business or higher education consultant.
Laliberte said he's diligently looking for work, but the press is making it difficult.
"I have worked closely with the University of Maine System, sharing extensive details of my job search. I am actively and aggressively seeking a full-time position. However, the media speculation is making this quite difficult as potential employers are clearly concerned about adverse publicity," Laliberte said in a statement sent through the system. "UMS and I have adhered to all the requirements of the 05/27/22 agreement. I also believe UMS has acted judiciously in an attempt to protect my right to privacy while I actively pursue a new position."
He noted he has refrained from speaking with media and only provided a statement due to a "recent and overt uptick in media speculation regarding the details of my contractual settlement."
Unusual Circumstances
Payouts for fired presidents—golden parachutes—are common in higher education. Universities regularly pay presidents millions of dollars to simply go away.
But the Laliberte situation presents a unique scenario in that he wasn't fired, he is required to look for outside work and he will fall off the Maine payroll once hired elsewhere. Experts noted that such provisions are unusual, as are many aspects of the flawed search and failed hire.
"Given how badly the system seemingly bungled this, I think that's how you end up with an unusual settlement in this case," said Michael S. Harris, a professor of higher education and chair of the Department of Education Policy and Leadership at Southern Methodist University.
Essentially, Harris said, the system "painted itself into a corner." Now the consequences for the failed search may mean paying out the full amount of Laliberte's contract if he doesn't find another job—which Harris said may be harder given the "reputational baggage" he's accumulated. In a sense, Laliberte was marked with a professional "scarlet letter," Harris said, due to the failed hire, which also brought more attention to concerns about his leadership at SUNY Delhi.
But even ex-presidents with baggage end up with second acts in or adjacent to higher education.
Malatras, Laliberte's former boss, is one example. Though Malatras resigned from SUNY amid controversy after text messages of him mocking a critic of Cuomo emerged during the fallout of the governor's sexual misconduct scandal, he was hired as chief strategy officer and senior vice president of education at the Fedcap Group, which provides various educational services.
Robin Capehart, who resigned as president of West Liberty University in 2015 after a faculty vote of no confidence and amid an ethics review, has led Bluefield State University since 2019. (At Bluefield, Capehart recently received another vote of no confidence from faculty and has drawn ire over his threats to fire complaining employees.)
Other presidents who were fired or resigned in scandal have joined higher ed consulting firms.
Ultimately, Harris believes that the University of Maine System scenario could have been prevented with proper search procedures, underscoring the importance of clear processes in presidential hires. And that may be a hard lesson that it will cost the system $700,000 to learn.
"I suspect at the end of the day, they're going to end up paying out the entire contract," he said.