You have /5 articles left.
Sign up for a free account or log in.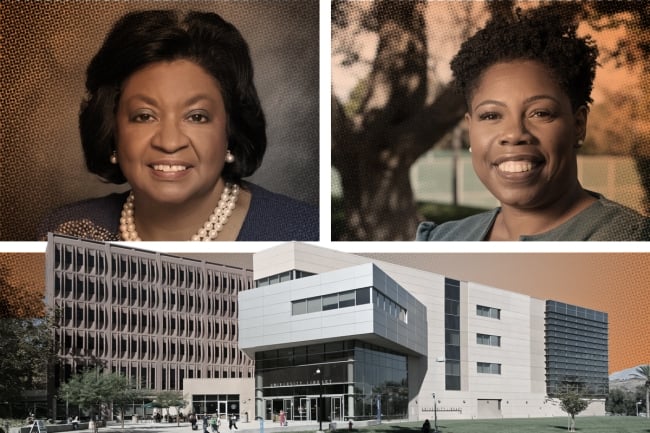 Photo illustration by Justin Morrison/Inside Higher Ed | California State University System | Cal Poly Pomona | Victorrocha/Wikimedia Commons
When Jennifer Brown was removed from her position as provost and vice president for academic affairs at California State Polytechnic University, Pomona, earlier this month, the move caught her by surprise—she'd only been there for 18 months.
Cal Poly Pomona officials have offered little rationale for Brown's termination, framing the abrupt change in vague terms and declining to comment on personnel issues. Faculty members, meanwhile, are wondering what happened to a provost who has been described as well-liked on campus. The university has since appointed an interim provost while staying mostly mum on why Brown was so suddenly removed.
Brown is now appealing the decision.
A Surprise Termination
Brown joined CPP in April 2022, arriving from the University of California, Riverside, where she was vice provost and dean of undergraduate education as well as a professor in the school of public policy. She previously served in similar leadership roles at Oregon State University.
In a hiring announcement, Cal Poly Pomona president Soraya Coley praised Brown's "demonstrated commitment to student, faculty and staff success; record of leading innovations in digital teaching and learning; focus on access, equity and inclusive excellence; and her breadth of experience in interdisciplinary research and scholarship." She added that Brown was "a clear and inspired choice to provide visionary leadership" at CPP. (This paragraph has been updated to correct the spelling of President Coley's name.)
But by this September, Coley's outlook on Brown as provost seems to have soured.
Brown told Inside Higher Ed that while she and Coley had normal points of friction over certain initiatives, their relationship hadn't been otherwise contentious.
Given that an appeals process is currently playing out, there are limits on what Brown can divulge. But she indicated that she and the president experienced "bumps in the road" in navigating student success initiatives, such as systemwide efforts to increase graduation rates and decrease equity gaps; enrollment management; and career-readiness efforts.
"There were some initiatives that were moving forward, and there were distinct ways that we both wanted to proceed," Brown said. "But ultimately, as a member of her cabinet, I recognized that her word was the final word and I would not have proceeded in a different direction if it was ultimately clear that that was not the direction that she wanted to go in. There were initiatives where there was friction, things she wanted to move forward, that I thought budgetarily we may not be able to do."
Brown noted that her communication with the president began to decrease starting in spring 2023, though there was no clear indication that she was going to be removed. They maintained a schedule, meeting for roughly two hours every other week, but Brown said her calls and text messages to the president began to go unreturned.
Then, on Sept. 17, Brown received an eight-page performance evaluation raising concerns that she said had not been previously addressed and that lacked adequate context, which includes a dearth of staffing and infrastructure in the provost's office and the preponderance of interim appointments on her leadership team. Brown declined to share a copy of the evaluation due to the ongoing appeals process but noted that the review also said she lacked "administrative acumen." It was the first she'd heard of most of the criticisms.
"The issues raised definitely caught me by surprise," Brown said.
The next day she was fired via Zoom. As part of the process, she was placed on two weeks of administrative leave before exiting her role to go on sabbatical; she will return to the faculty ranks next fall, a standard process. Cal Poly Pomona's administration officially announced the change in an Oct. 2 statement from Coley.
The statement announced the appointment of an interim provost but made little mention of Brown or the reasons for her removal, noting only that "shifts in leadership can be unsettling." It added that a national search to find her successor would soon begin.
Campus Reactions
News of Brown's termination caught faculty at Cal Poly Pomona by surprise.
"It's unfortunate, because you had a provost who was generally well-liked and was seemingly dismissed for no reason. There may be a reason, but the fact that it can't be shared in any capacity is extremely unfortunate, because this is coming out of nowhere," said Nicholas Von Glahn, chair of the psychology department and president of the Cal Poly Pomona chapter of the California Faculty Association.
Brown's short stint at CPP means five people—counting interim appointees—have rotated through the provost position since Coley became president in 2015. They include Martin denBoer, who left to become provost of DePaul University in early 2015; Sylvia Alva, who departed for a job with the California State University system in 2021; Iris Levine, who served as interim for seven months; Brown; and now Terri Gomez, a longtime CPP employee who has served in various administrative roles.
Cal Poly Pomona leaders declined an interview request, sending a statement instead that yielded little new information about Brown's departure but did address questions about turnover at the provost position, arguing it was largely normal.
"The university cannot comment on any individual personnel matters, however every personnel decision at the executive level is taken seriously, deliberately, and in consideration of the impact to the institution. Further, the circumstances regarding each transition in leadership were distinct," Cal Poly Pomona spokesperson Cynthia Peters said by email. "The Provost role is highly valued and multidimensional for its advancement of the academic mission as well as the university's strategic direction."
Peters added that lengths of service for CPP provosts are in line with national trends.
Von Glahn, however, suggested there is a proliferation of interim appointments across the university, with some staying two or even three years in those roles.
WASC Senior College and University Commission, CPP's accreditor, raised the issue in a 2019 report, which noted "a relatively large number of interim positions" in middle management roles. In a letter sent to the college in February 2020, WASC urged CPP to "develop and implement a sustainable approach to fill leadership positions with permanent staff and faculty."
Cal Poly Pomona officials noted that the university is working to fill vacancies and has hired deans in seven of nine colleges in the last two years; two searches have been unsuccessful.
"During the pandemic and its immediate aftermath, Cal Poly Pomona retained interim leadership personnel longer than is customary recognizing the limited capacity of the campus to dedicate time and effort for a thorough and diverse search process. The same is true for many universities nationally," Peters wrote. "That said, the university has been actively addressing the need to fill vacancies among senior leadership, including cabinet-level positions and Academic Deans."
What's Next?
Brown will find out no later than Nov. 10 if her request for reconsideration will be resolved. If her termination stands, she can then appeal that decision to the CSU system.
But even if she were offered her old job back, Brown has doubts about how she would carry it out. She worries that her dismissal may have permanently tarnished her relationship with her direct reports and would require significant changes to repair her communications with the president.
"There are options, and one would include me being reinstated in my role," Brown said. "And I'm not confident that could work if we continued with business as usual."