You have /5 articles left.
Sign up for a free account or log in.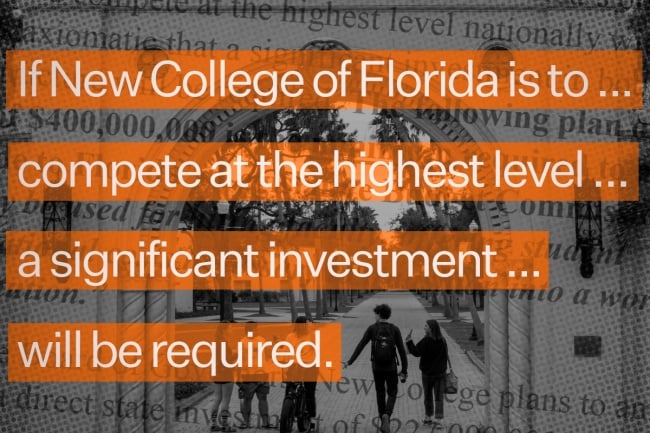 Justin Morrison/Inside Higher Ed | Photo: Getty Images | Documents: New College of Florida
In January, Republican governor Ron DeSantis appointed a new cohort of trustees at New College of Florida and tasked them with driving a conservative overhaul of the small liberal arts institution.
Some 10 months later, with former Republican state lawmaker Richard Corcoran newly confirmed as NCF's permanent president, the board is asking for at least $400 million to complete that makeover, according to a business plan approved by the Florida Board of Governors last week.
The trustees also requested another $20 million in debt forgiveness.
Given that NCF currently has a head count of about 700 students—with plans to raise enrollment to 1,200 by 2028—the funding request breaks down to roughly $571,000 per student.
The request comes three years after state lawmakers considered merging NCF into another university because some considered the state cost of $197,681 per degree too high. It also follows a record influx of state funding in the spring to aid New College's transformation.
College officials have cast the business plan as necessary to revitalize an institution that lost its way due to alleged missteps by previous president Patricia Okker, who was pushed out by the new trustees in January, and years of underfunding, which now require a "significant investment" to remedy, the plan says. NCF administrators described that money as the "minimum" needed to reach state goals.
Approved by Florida's Board of Governors, the budget request now heads to the state Legislature, where some Republican officials have questioned the high costs of NCF's transformation.
The Plan
The 74-page business plan in which NCF administrators made their case emphasizes enrollment growth, additional athletic programs and new graduate degrees. It also requests funding for a "Freedom Institute" to drive civil discourse on campus.
"If New College of Florida is to accomplish its statutory mission university [sic] as Florida's only public residential liberal art honors college and compete at the highest level nationally with other liberal arts colleges, public and private, it is axiomatic that a significant investment in both academic and ancillary facilities and infrastructure will be required," the plan reads in part.
NCF officials also make the argument that increasing enrollment—and boosting retention—requires investment in a variety of services to better support the student body.
"We will stabilize attrition by two primary methods: first, by improving student quality of life on campus with improved facilities (including dorms), food (quality and options), social, co-curricular, and extra-curricular programming. In the past, New College assigned most of these quality-of-life issues to students, and such programs were often implemented on an ad hoc basis, according to student interest and impulse. Going forward, we will approach these issues pro-actively and programmatically," NCF administrators wrote in the plan.
The new master's degree programs slated for development are in marine mammal science, environmental economics and policy, and educational leadership, which the plan noted will reflect NCF's conservative bent.
"Education pedagogy has, in many ways, become corrupted with political agendas that undermine that primary purposes of education practice [sic]," administrators wrote, noting that the educational leadership program would help NCF become "a new home for education reformers."
NCF is also seeking funding to boost athletics. The college launched its first sports programs in April, starting with six teams; officials aim to expand the offerings to 23 sports by fall 2027, which would add up to 350 student athletes to the head count. Athletic offerings will include the usual slate of programs—such as soccer and basketball, which are already established at NCF—as well as new teams in tennis, golf, bass fishing and more.
"New College intends to grow its athletic program in parallel with growing its academic program. At maturity, the number of varsity athletes at the school will be approximately 25% to 30%, with the current projections placing the percent of athletes at about 29%," the business plan notes.
Reactions
The Florida Board of Governors approved the $400 million plan with little pushback.
But on campus, where NCF trustees first signed off on the plan in August, student and faculty board members objected, questioning certain aspects of the proposal and raising concerns that trustees didn't have enough time to vet it before the vote.
"You're asking us to approve a tremendous amount of different projects that we couldn't have possibly had proper discussion about in the 24 hours that most of us have had this document," student trustee Grace Keenan said at the August board meeting.
Keenan added that the plan was "repetitive, unclear and just plain chaotic" and questioned the professionalism of the report. Ultimately the board approved the proposal 9 to 2, with only Keenan and faculty trustee Amy Reid opposing.
Outside experts have also called New College's business plan into question.
Anonymous faculty members at the University of Florida's Warrington College of Business who analyzed the plan at the request of Amanda Phalin, a UF professor and member of the Board of Governors, declared it "not financially viable," according to local news reports.
The faculty members raised concerns about the lack of detail, arguing that the plan failed to outline how NCF will meet unfilled market needs to increase enrollment.
The Board of Governors, which offered little resistance to the business plan, took issue with the analysis of the plan.
"I can't function as a board member, and I don't think any of us can, if we get into the habit of calling anonymous faculty to opine on the plans of other institutions. I can see where that becomes a slippery slope, and it can get really messy," board member Alan Levine, who chairs the Strategic Planning Committee, said in a FLBOG meeting on Wednesday.
And Republican state officials, including Florida Senate president Kathleen Passidomo, have expressed skepticism about the request, according to a statement provided to The Capitolist.
"She does have concerns, and the cost per student for Florida taxpayers is certainly among those concerns," spokeswoman Katie Betta said. "Ultimately, Senate committees with jurisdiction over these issues would review the plan more closely in the context of the budget process."
By comparison, The Capitolist noted that if the University of Central Florida—the largest institution in the state system, with enrollment of more than 66,000—requested the same amount per student as NCF, its budget would come out to more than $40 billion.
Neither Passidomo's office nor the DeSantis administration replied to a request for comment.
New College of Florida officials also did not respond to a request for comment from Inside Higher Ed about aspects of the plan or how it squares with past statements from Corcoran, who emphasized during his time as House speaker that institutions should "live within their means."
The plan will go before Florida's Republican-dominated Legislature for approval this spring.