You have /5 articles left.
Sign up for a free account or log in.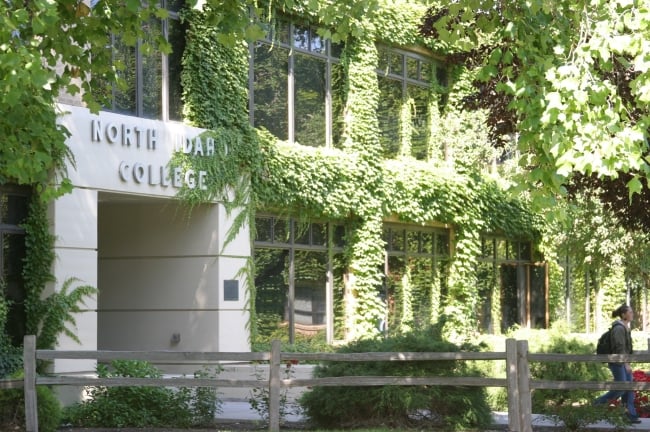 North Idaho College/Facebook
Dysfunctional board governance at North Idaho College has led to a revolving door of presidents and numerous violations of open meetings laws. Yet despite multiple warnings from the Northwest Commission on Colleges and Universities, the Board of Trustees continues to take actions that may threaten accreditation of the community college in Coeur d'Alene.
NIC's Board of Trustees met twice last week. In a special meeting last Monday, the board majority nullified President Nick Swayne's contract, claiming he was hired illegally last year after former trustees conspired on the choice.
Yet despite having his contract declared invalid, Swayne remains in place, a move that the board made clear was to placate NWCCU, the institution's accreditor, which has specifically cautioned trustees against interfering with the daily operations of the college.
Now, with a show cause order hanging over the college, trustees are walking a fine line with NWCCU: while the three-member, ultra-conservative board majority is still eager to impose its will on the college, it appears to be finally starting to heed the accreditor's persistent warnings.
Nullifying the President's Contract
Counting interim appointments, North Idaho College is on its fourth president since fall 2021, when trustees fired Rick MacLennan without cause for reasons that were not revealed publicly.
The board later settled with MacLennan for $500,000 and appointed then-wrestling coach Michael Sebaaly as president. Sebaaly was later replaced by Swayne, who was hired on a 3-to-2 board vote and took over in August of last year. But Swayne was temporarily sidelined by the board in December, when he was placed on administrative leave at the recommendation of college attorney Art Macomber, who was hired controversially. At the time, Macomber alleged contractual errors and hinted vaguely at malfeasance; a sprawling investigation he released last week, which claims Swayne was improperly hired, ultimately provided the justification for the board majority to nullify the president's contract.
When Swayne was sidelined, the NIC board appointed Greg South as interim, with a salary higher than Swayne's. South remains under contract but the board placed him on administrative leave when Swayne was restored to the presidency in March.
(The three trustees who hired Swayne are no longer on the board. They had been appointed by the state to replace one trustee who stepped down after questions about his residency and two who resigned after constantly deadlocking on votes on the remaining four-member board. Those resignations prompted the appointment of three members, who were replaced by elected trustees late last year.)
Last week—despite a judge's order to reinstate Swayne—the board majority nullified his contract on a 3-to-2 vote, citing the investigation by Macomber that alleges Swayne was hired as the result of a secret meeting of three former trustees. No evidence of such a meeting appears in the 173-page report. The board also sparred over the contents of the report, which two dissenting trustees argued was based largely on speculation and would violate the recent court order to reinstate Swayne.
"I see this as an unhinged analysis, and it recommends taking action that would be against the law and a violation of the current court order," said Trustee Brad Corkill during the meeting. Corkill voted against nullifying Swayne's contract.
Tarie Zimmerman, who also voted against nullifying Swayne's contract, questioned the legality of the decision, the veracity of the report and the quality of Macomber's legal advice on the matter. Zimmerman also raised the specter of losing accreditation, warning, "Remember, they're watching us."
But other board members pressed forward, undeterred by the court or the accreditors.
"I guess it comes down to whose legal advice we're taking, since the judge doesn't work for us and Mr. Macomber does," said Trustee Todd Banducci, who led the effort to nullify the contract.
While the decision to nullify Swayne's contract is likely to raise the ire of the college's accreditor, trustees aimed to placate NWCCU by keeping him in place. But in the same meeting last Monday, the board majority sought to strip Swayne's hiring powers, ultimately backing down amid pushback from Swayne and two trustees who warned that such a move was an improper intrusion into college governance and would lead to a loss of accreditation.
"If you want to lose accreditation, go ahead and vote for it," Swayne told trustees, a warning that was ultimately heeded on a 3-to-2 vote that allowed the president to retain powers to hire personnel without the requirement that board chair Greg McKenzie sign off on such employment decisions.
Striking a Different Tone
In its second meeting of the week, on Wednesday—the same day NWCCU officials conducted a campus visit related to accreditation concerns—the board struck a more measured tone.
The meeting opened with a public comment portion in which multiple constituents pleaded with trustees to take accreditation issues seriously and work together for the future of the college. Then the board turned to an agenda that included a budget update and the search for a new college attorney to replace Macomber.
Macomber—who wrote the resolution to hire himself, which Banducci introduced as his own work—has come under fire from community members who question his connections to the board; he has made financial contributions to Banducci, McKenzie and Mike Waggoner, the trustees who form a majority voting bloc on the board. Critics have also questioned his expertise as a retired real estate attorney, and his ethics, given his controversial hiring after the college's prior legal counsel resigned over issues with the board.
Board members ultimately voted 3 to 2 to replace Macomber with the Boise-based law firm Holland and Hart, with McKenzie casting the deciding vote. Banducci and Waggoner—who voted to hire Macomber on the spot in December without a formal process and despite the objections from minority board members— voted against hiring a new law firm, arguing that they didn't have enough information to do so.
Macomber will now lead a transition to the new legal team expected to be completed in June.
Trustees also heard a budget proposal on Wednesday night, which offered some insights into how board actions are adding to college costs, driving up insurance rates and legal fees.
Sarah Garcia, vice president of finance and business for NIC, noted a $2 million budget shortfall and requested the board consider dipping into its reserves, a decision it will make at a future meeting. The budget shortfall—which comes as NIC keeps two presidents on the payroll—stems from a mix of increased personnel costs and a $500,000 spike in insurance rates after the previous insurer bowed out in the aftermath of MacLennan's firing, which led to a costly settlement.
The board will be asked to approve its final budget for fiscal year 2024 at a future meeting.
What Comes Next?
NWCCU officials declined to speak with Inside Higher Ed about North Idaho College's accreditation issues, but the agency could make a decision on its future as soon as this summer, according to various reports. If NIC does lose accreditation, it will not be for academic issues but because the board has repeatedly intruded in the operations of the college, often overstepping its established authority.
McKenzie did not return a voice message left by Inside Higher Ed, and Banducci hung up when asked for a comment by phone. The college did not make Swayne available for an interview; an official noted "that he is happy to set up interviews once the commission has completed its work."
Now trustees, college officials and the community remain stuck in limbo, awaiting action from the NWCCU. Faced with the potential loss of accreditation, the board—so eager in the past to defy its overseers—is beginning to show last-minute hints of compromise.