You have /5 articles left.
Sign up for a free account or log in.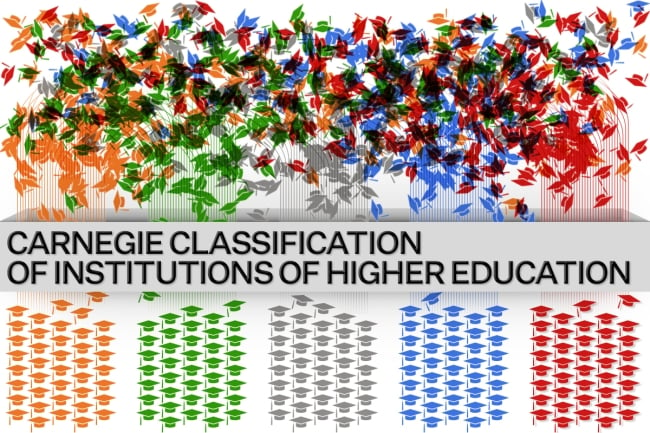 Illustration by Justin Morrison/Inside Higher Ed
If most people know anything at all about the Carnegie Classifications—and many don't—it starts and stops with one phrase: R-1.
"Research 1," the term the classification system attached to universities with the strongest research base, has in some quarters become synonymous with the "best" institutions, just as the most selective colleges are often assumed to be at the top of the heap. Governing boards, state legislators and ambitious campus leaders often make pursuing (or sustaining) R-1 status central to their strategic plans—sometimes prioritizing it over other goals that might serve their students or communities better.
The Carnegie Classifications were designed 50 years ago to help researchers, policy makers and college officials themselves make sense of the complex, diffuse mélange of roughly 4,000 American colleges and universities whose missions, resources and student bodies vary greatly. That the Carnegie framework has, for many people inside and outside higher education, become reducible to one factor is among the reasons why officials at the American Council on Education, which last year joined the Carnegie Foundation for the Advancement of Teaching in managing the classifications, concluded that it needed an overhaul.
Today ACE announced the first steps in that process: a set of changes to Carnegie's "basic" categorization that will simplify it in some ways and make it more nuanced and complex in others. "We wanted to be complex where the complexity matters, and simple where simple tells the right story," said Ted Mitchell, the council's president.
The overall goals of the restructuring, Mitchell said, are to make it easier to group and compare similar institutions, and to change or eliminate requirements that can lead institutions to alter their strategy in ways inconsistent with their missions. "We want them to be the best version of themselves," said Mushtaq Gunja, who directs the classifications for ACE.
To be specific:
The classifications currently designate colleges and universities by one main descriptor based on the highest degree they award—defining them as doctoral universities or baccalaureate colleges, for instance. ("R-1: Doctoral Universities—Very High Research Activity" is a subcategory of "Doctoral Universities.") Carnegie and ACE will instead move to a more "three-dimensional" definition of individual institutions, likely based on some combination of their size, mission, location or other factor. "Instead of a single label," Mitchell said, "think of a Myers-Briggs approach with two to three different variables."
The aforementioned R-1 category, a holy grail to which many institutions strive, now uses a murky 10-factor formula to determine eligibility and caps the number that can qualify, so new institutions enter only at the expense of others. Beginning in 2025, the classifications will shrink the criteria for earning the highest research designation from 10 to two: at least $50 million in total research spending and a minimum of 70 research doctorates awarded. Institutions will continue to qualify as a "Research-2" university by exceeding the current minimum threshold of $5 million in annual research spending and 20 research doctorates awarded.
ACE and Carnegie will also stop requiring institutions to award doctoral degrees in a broad range of disciplines to be considered in the Research-1 category. This could allow institutions with significant, but narrow, research infrastructures (focused on science and mathematics fields, or prioritizing applied research, for example) to earn that label without having to build or expand doctoral programs in areas that aren't core to their mission. The combination of this and the previous change is likely to result for the first time in a historically black college or university becoming an R1 institution.
A new category, "Research Colleges and Universities," will recognize institutions that spend at least $2.5 million on research a year; this could include liberal arts colleges and regional institutions that are primarily teaching focused but integrate meaningful research.
Many details about the new categories have yet to be worked out, and ACE and Carnegie are still working on what could eventually be the most significant element of the new system: a plan to create a new classification that categorizes colleges and universities based on the degree of social and economic mobility they produce for their graduates.
The changes announced today in many ways have the greatest immediate implication for the many organizations that use the Carnegie Classifications in their own work: foundations and government agencies that award grants to institutions in certain categories, accreditors, and other accountability groups that impose expectations on different types of colleges—and ranking entities such as U.S. News & World Report, whose use of Carnegie's single-label categories can result in odd rankings.
"These changes would put the focus in a much better place than a single-minded effort to demonstrate quality and status through research," said Jamienne S. Studley, president of the WASC Senior College and University Commission (WSCUC), an accreditor. "It's saying, 'Let's look at a wider set of dimensions that define an institution, and not distort the process by overweighting one single aspect of an institution's purpose and activities.'"
Why the Classifications Matter
If you've read this far, you've already defied the odds: most articles about the Carnegie Classifications, like those about accreditation, can make readers' eyes glaze over.
But the Carnegie framework carries a lot of influence, and while the classifications have had a bumpy ride since they were last released by the Carnegie Foundation and Indiana University in 2021—seemingly headed to a new home at Albion College before landing at the American Council on Education last year—Mitchell sees an opportunity for them to better reflect the tremendous diversity of today's postsecondary ecosystem.
"The American higher education landscape is incredibly dynamic and complex," Mitchell said in a news release. "But the Carnegie Classifications as they are organized today do not capture that dynamism or the variety of higher education institutions."
ACE's early focus when it assumed responsibility for the Carnegie framework last year was to build out a new classification (separate from the basic classifications at Carnegie's core) to recognize economic and social mobility as an institutional mission. But as Gunja and the rest of the Carnegie team ACE assembled spoke to hundreds of people about the classifications, they recognized a more fundamental problem: the basic classification "wasn't doing its most basic job: grouping like things together," said Gunja.
Specifically, the existing basic classification groups institutions together based purely on the highest degree they offer (three categories of doctoral-granting institutions, three categories of master's-level colleges and universities, two kinds of baccalaureate institutions, and two categories of institutions that offer two-year degrees). That approach both groups together unlike institutions (think Harvard University, Ohio State University and the CUNY Graduate School and University Center in the "Doctoral: R-1" category) and fails to account for potentially important differences in institutional missions.
Moving from a single label (based on highest degree offered) to a set of variables (which will be determined in the coming months but could include size, mission, primary degree awarded and other factors) will create a more complex and sophisticated understanding of an institution, "which reflects more accurately the way institutions have changed over time and the context in which they operate," Mitchell said. "For researchers, funders and institutions themselves that look for comparison groups in making decisions, that complexity should be a good thing."
Gunja and Sara Gast, deputy executive director of the Carnegie Classifications, envisioned the possibility of a few dozen groupings of more similar institutions (small, open-access colleges that mostly award associate degrees, or large urban private universities that offer no Ph.D.s), rather than the two handfuls of large degree-based ones that exist now. "This would be a much better tool for researchers, because right now you may have the same grouping for every research question you have," Gast said.
The problem of using a single label for institutions is amplified when ranking organizations like U.S. News use them, Gunja said. Its methodology "collapses 10 of the Carnegie categories from the Basic Classification into four main groupings," U.S. News states, amplifying the oversimplification problem. ACE's Gast "gets about a call a week from a college that wants to change its Carnegie Classification because they feel like they're in the wrong rankings bucket," Gunja said.
A spokeswoman for U.S. News declined to comment on how the changes in the Carnegie Classifications might affect the magazine's rankings going forward.
The Research Conundrum
If oversimplicity is a key problem of the current Carnegie framework when it comes to institutional labeling, complexity and lack of transparency are the issues in the other major area of ACE's work, related to research emphasis.
Carnegie's current guidelines deem an institution to be a "doctoral university" if it awards at least 20 research doctorates or 30 professional practice doctorates (including Ed.D.s) a year. Those that surpass the floor for research doctorates and spend at least $5 million a year on research are placed in either the "high research activity" or "very high research activity" category. That determination is based on an index that includes "correlates of research activity" such as research staff and expenditures in science and nonscience fields, among other things. The top half of the institutions are placed in the "very high" research category, and the rest in "high research."
Many universities deem becoming a Research-1 university a strategic goal. But because the index is complicated, and qualifying depends not just on an institution's status but on how it compares to other institutions pursuing the same goal, institutional leaders—sometimes under pressure from trustees or legislators seeking the higher status—may end up investing in the wrong research priorities, Mitchell said.

By clearly setting the bar for the new "R-1: Very High Research Spending and Doctorate Production" status at $50 million and 70 research doctorates, presidents and provosts may be able to "move from generalized anxiety to specific metrics they can aim at," Mitchell said. "We've heard from presidents, 'I can work on those.'"
"R-1 has taken on some mythical status in our society, and a lot of people view as a measure of prestige and quality," said Gast. "We wanted to make clear exactly what R-1 entails and what it does not entail. There are places doing a tremendous amount of research that will now be in that classification, and it should be about that, not making it a measure of quality and prestige."
ACE and Carnegie will also remove the artificial cap on the number of institutions that can earn the R-1 designation, though Mitchell said worries from research powerhouses that the change would "blast open the barn door" and "make everyone an R-1" are unfounded. "This will be a very, very modest change," he said.
Another change ACE and Carnegie will make in the 2025 classifications regarding research could have greater effect. It will eliminate from the research classification formula the requirement that an institution award doctoral degrees across a broad range of disciplines, which Mitchell noted has kept the University of California, San Francisco—a medical university that receives hundreds of millions of dollars in National Institutes of Health funding—from earning R-1 status. "They'd have to develop humanities," he said. (UCSF is designated as a "Special Focus" institution.)
The requirement also may contribute to why there are currently no historically Black colleges in the R-1 category. To meet the current goal, science-focused institutions like North Carolina A&T State University and Florida A&M University would have to invest heavily in humanities or social science doctoral programs that might well distract them from their mission, for instance. Projections show that Howard University would qualify under the new R1 criteria planned for 2025.
One unintended consequence of the changed requirement about breadth of doctoral programs that ACE officials did not discuss was that it could give some colleges and universities the latitude to spend less than they do now on, or cut entirely, doctoral programs in some fields, if diminishing them would not hurt their chances of remaining an R-1 institution. The question of whether West Virginia University could remain R-1 despite reductions to numerous doctoral programs was raised during debates over significant budget cuts there.
Studley, president of WSCUC, said the accreditor was one of many organizations that would have to adapt to the new Carnegie framework, since it uses the classifications to help institutions compare themselves to peers in its Key Indicators Dashboard.
She said she appreciated that ACE and Carnegie were laying out the plans and "inviting conversation" about them this far in advance. "That's a way of working toward maximum acceptance and allowing themselves to develop it in conversation, as opposed to putting out something they're already wedded to."