You have /5 articles left.
Sign up for a free account or log in.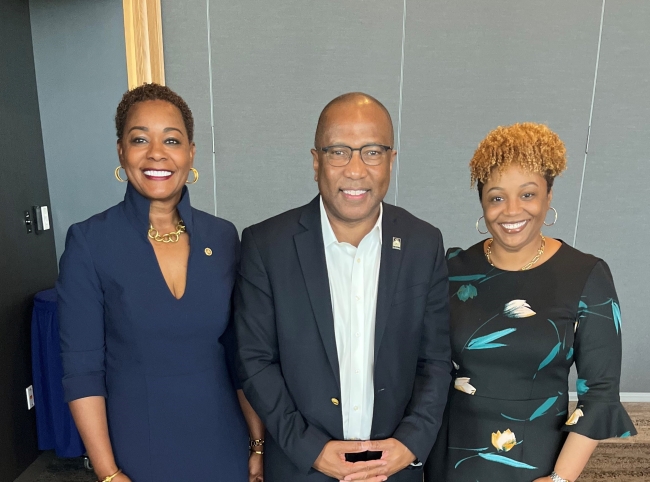 The Thurgood Marshall College Fund, a membership organization representing public historically Black colleges and universities, is actively welcoming Black community colleges into its network for the first time. The group brought six two-year institutions in Alabama into the fold this week.
Community college leaders who advocated for the move say joining the organization will bring new resources to their students and raise the profile of institutions that too often go unnoticed. The partnership means students enrolled at these colleges will have access to TMCF scholarships, internships and other professional development programs. The organization also lobbies policy makers for more funding for HBCUs and will now advocate for these institutions as well.
Harry Williams, president and CEO of TMCF, described the move as a "perfect marriage." Although TMCF traditionally focuses on four-year universities, he said the organization also wants to support students pursuing alternate routes to careers outside of a four-year degree as employers increasingly seek workers with associate degrees, certificates, badges or other types of credentials.
"In talking to our corporate partners, there are a lot of amazing jobs out there that don't require a four-year degree," Williams said. "Part of our mission at TMCF is to provide opportunities for those that have been left out and try to create equity in our country. Historically, [these community colleges] align with what we do here at TMCF, but we've never had a strong relationship with them."
There are a dozen historically Black community colleges nationwide, concentrated in Southern states, including Alabama, Mississippi and South Carolina. Like their four-year counterparts, these institutions are federally designated as historically Black community colleges if they were established prior to the 1964 Civil Rights Act with a mission to serve Black students.
Williams noted that the Southern University System in Louisiana, a member of the organization, includes one two-year institution. But this is the first time TMCF is intentionally bringing historically Black community colleges into the organization.
Patricia Sims, president of Drake State Community & Technical College, raised the idea to Williams at a convening of HBCU leaders in September. She said the request was born out of a need for more resources. The college in Huntsville, Ala., is one of five higher ed institutions in the city, including a predominantly white university, two HBCUs and another community college. She believes fresh partnerships will help her campus, and other historically Black community colleges, stay competitive.
Neighboring institutions "have very beautiful campuses," she said. "And here's Drake State, a small, underfunded, historically Black college that sits in the middle of a very well-resourced city."
She also wants more scholarships and career-training opportunities for the students.
The average age of Drake State's student body is 28 years old, most are women and many are single parents, she said. The majority are "just one childcare incident, one car breakdown, one missed rent payment away" from stopping out.
Her pitch to TMCF leaders was that partnering with historically Black community colleges would further the organization's mission to increase access to higher ed for more students by making sure their services reach students on nontraditional education pathways.
Williams traveled to Alabama in March to visit the campuses, met with administrators, faculty members and students, and decided it made sense to grant them TMCF membership. While there are no current plans to bring more two-year colleges into the network, he said he's open to talking with other community college leaders who want to join.
"We are expanding our reach. We are expanding our focus," he said, noting HBCCs' "history of working with young people that are looking for careers, and looking to stay in their community by helping them find out what they may want to do and working with employers in their region and getting them ready" for jobs or transfer to four-year universities.
A Long-Awaited Spotlight
Tramelle Howard, Louisiana state director at the Education Trust, a research and advocacy organization focused on closing equity gaps in education, said these colleges are "hidden gems" that sometimes get overshadowed, alongside other lesser-known HBCUs, by more prominent institutions such as Howard University in Washington, D.C., or Spelman and Morehouse Colleges in Atlanta. He said a historic stigma associated with community colleges has also contributed to their relative obscurity.
These colleges have been "double" underestimated as both HBCUs and community colleges, he said. But "a partnership like Thurgood Marshall changes the game for exposure and access and for people to have information about these types of institutions."
Sims said many people don't know that historically Black community colleges exist. She hopes to build a consortium of all 12 of these institutions to share resources and raise awareness. She said Drake State, and other colleges like it, are feeders to four-year universities, including HBCUs, and to well-paying jobs in the local communities where students live.
"For a long time, for particularly the African American community, having a bachelor's degree was the expectation," she said. "That was a defined marker of success. So, there was a lot of push to encourage people to pursue a four-year degree, which is fine, and it worked for many."
But "in underserved and marginalized communities, oftentimes, students simply cannot afford to go to a four-year institution," she added. "They don't have the resources to do that. And just because they cannot go there doesn't mean that they cannot achieve their goals."
A 2019 paper on historically Black community colleges found that there's minimal academic literature about these institutions, but the research that does exist suggests their graduation and transfer rates are equal to, if not better than, community colleges' over all. Meanwhile, an independent economic impact study of the Alabama Community College System found that its six historically Black community colleges collectively contribute more than $600 million to the state's economy and fill more than 9,000 jobs, according to a press release from Drake State. These institutions serve roughly 20,000 students.
Kathy Murphy, president of Gadsden State Community College, said though these institutions have long been overlooked, she believes that's changing. She noted that community colleges in general have attracted more positive public attention as more jobs don't require a bachelor's degree.
"I do think the pivot has come as the relevance of the two-year system has heightened," she said. "And then it hasn't hurt that there's been some real strong advocacy … We raised our hand and said, 'Look at us. Please include us, too. We're out there working very hard on behalf of our students.'"
She believes access to TMCF scholarships will be particularly helpful to her student body.
"Many of our students are first generation," Murphy said. "Some of our students have lived in some levels of generational poverty. So, any support that they can get to be able to come to college, that financial support and that motivation … all of that is just so important."
Howard said community colleges joining TMCF's ranks also sends a broader message to Black students that there is a variety of ways to be upwardly mobile.
"For some people, economic mobility looks like going to be a welder or going to one of these other two-year associate degree pathways," he said. TMCF has resources to offer, he said, and is "saying, it's OK for you to choose this. I think that's game changing for students to take ownership of their education and do what they truly want to do that creates a pathway to economic mobility for them."