You have /5 articles left.
Sign up for a free account or log in.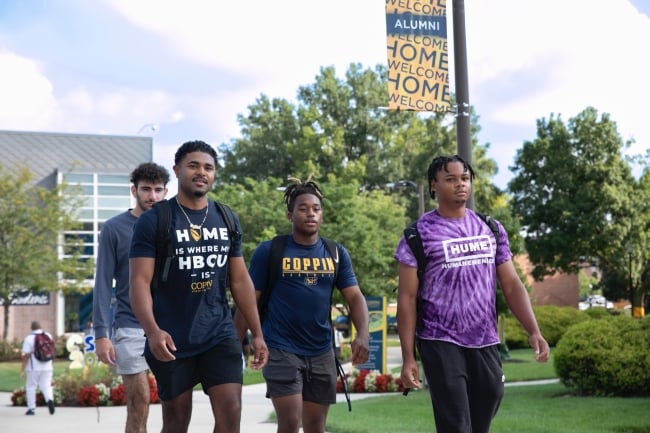 Students from states without historically Black colleges and universities will soon be able to attend two Maryland HBCUs at a discount. Coppin State University and the University of Maryland Eastern Shore recently announced plans to offer in-state tuition to students with no HBCUs, or just one or two, in their home states.
First-time undergraduates from 29 U.S. states and four territories will be eligible for in-state tuition at the two institutions starting in fall 2024.
Anthony Jenkins, president of Coppin State, said he spearheaded the initiative and invited other Maryland HBCUs to join in. Administrators at the University of Maryland Eastern Shore took him up on the offer. The proposal for the new tuition policy was approved by the University System of Maryland Board of Regents during a meeting at Coppin State in April.
Jenkins said he came up with the idea in response to a problem—low retention rates among out-of-state students at Coppin. He noted that these students tended to struggle to stay enrolled relative to their in-state peers, often because of financial challenges associated with the higher tuition costs for out-of-state students.
"We looked at data on our out-of-state students and what their financial packages look like over a period of time," he said. "And what we saw was that there was a gap between what we were asking them to pay and what their financial aid could cover."
He noted that, on average, out-of-state students were exhausting their financial aid dollars by their junior year.
When Jenkins took the helm at Coppin State in 2020, the second-year retention rate for out-of-state students was 41 percent, compared to 66 percent for in-state students, according to university data. That disparity seems to be evening out. Both groups had a second-year retention rate of 62 percent in 2021, the latest finalized retention data. But university leaders want to see retention rates rise.
The thought process was "How can we create greater pathways for students who want to come to Coppin, who want an urban HBCU experience and students we need to help finish?" Jenkins said.
The in-state tuition offer is the latest in a suite of initiatives intended to retain students at Coppin State, including its new Eagle Achievement Center, a "one-stop shop" launched last year where students can go for academic advising, writing and math help, mental health counseling, and veteran student programming, among other services.
The university also plans to break ground on a new student residence hall in fall 2024, in part because a lack of student housing has been a damper on enrollment, Jenkins noted. (Undergraduate enrollment dropped from 2,383 in 2019 to 1,757 in 2022, according to data from the university. But first-year student enrollment increased last year and is projected to increase this year as well, a promising trend to university leaders.) Jenkins said the university had to turn away at least 700 prospective students who wanted to attend Coppin State between 2015 and 2020 because there wasn't enough housing.
He hopes the in-state tuition offer enhances the university's existing enrollment and retention efforts at a time when the university is drawing students from a wider range of regions.
"With the growing number of students who are coming to us from a growing number of states, I think this will make a significant impact in their ability to finish their college education," he said.
Latoya Jenkins, vice president for enrollment management and student experience at the University of Maryland Eastern Shore, said enrollment and retention rates at her institution are on an upward trajectory. Undergraduate enrollment at the university rose from 1,811 students in fall 2021 to 1,933 in fall 2022, according to data from the University System of Maryland. While enrollment numbers for this fall aren't yet final, this year's incoming class is also projected to be larger than the last, she said. She expects the new tuition policy will contribute to further growth.
"We are always looking for ways to help students excel and achieve higher education," she said. The discount seemed like a "step in the right direction" to remove financial barriers for prospective students. Currently, about a quarter of the university's student body comes from outside Maryland.
Nationally, out-of-state students tend to pay significantly more than their in-state peers. The average out-of-state tuition is $28,240 at a four-year public institution, compared to $10,940 annually for in-state students, according to the College Board's 2022 "Trends in College Pricing and Student Aid" report. Coppin State is charging in-state students $4,933 per year and out-of-state students $11,721 this academic year. The University of Maryland Eastern Shore is charging in-state students $5,637 and out-of-state students $16,467 per year.
Tuition costs are "often double or even triple for students who live out of state," said Catherine Brown, senior director of policy and advocacy at the National College Attainment Network. And "students who have greater need for financial support are less likely to complete college for exactly that reason."
She noted that a college affordability report by the network identified "significant affordability gaps" in Maryland. The report found that only 20 percent of bachelor's degree–granting institutions in the state were affordable for students receiving Pell Grants.
The new policy at Coppin State and the University of Maryland Eastern Shore means a loss of tuition dollars for both institutions, but administrators have come up with ways to cover the costs. The University of Maryland Eastern Shore is dipping into funds set aside for scholarships. Coppin State leaders, meanwhile, calculated that if enrollment increases by between a dozen and two dozen students and the university's retention rate increases by one or two percentage points, it'll generate enough revenue to make up for any losses in out-of-state tuition dollars.
The two HBCUs aren't the only higher ed institutions that have offered in-state or discounted tuition to out-of-state students. The University of Illinois at Springfield plans to offer in-state tuition to students from nearby areas of Iowa and Missouri starting next fall. A 2021 Florida law provides out-of-state students who have grandparents in the state an in-state tuition deal. Some states have regional agreements that allow students from neighboring states to pay discounted tuition prices. For example, the Midwest Student Exchange, a regional tuition discount reciprocity agreement, prevents public universities in eight Midwestern states from charging students from other states in the region more than 150 percent of in-state tuition.
Robert Massa, research associate at the Center for Enrollment Research, Policy and Practice at the University of Southern California, said discounted tuitions for out-of-state students have become an increasingly popular enrollment strategy over the last few years, particularly in the Northeast and the Midwest, where the number of traditional college-age residents is projected to drop.
Some universities in these regions have taken an enrollment "hit from COVID and from the shifting and declining demographics," plus "a regional decrease in the percentage of high school graduates going on to college, so sort of a double whammy," Massa said.
Massa noted that the national proliferation of these tuition discount offers comes with possible pitfalls. He worries the uptick of universities offering in-state tuition to out-of-state students, or tuition equivalent to the public flagships in students' home states, heightens competition between universities in different states and forces more of them to offer discounts just to keep up, whether or not they can afford it.
The risk is competition "ratchets up to the point where there's significant loss in revenue, because the enrollment isn't keeping up with the discount," he said. "And the problem is, once you start it, it's very hard to back off, because students begin to expect that if they apply to your institution, that they're going to get a large discount or large scholarships … If you discount too heavily, at some point, it's going to come back to bite you."
But he believes those risks don't really apply in the case of Coppin State and the University of Maryland Eastern Shore because they're specifically targeting students who want, but have limited access to, an HBCU education. They're also doing so at a time when many HBCUs are experiencing enrollment increases, "an indication that there's more demand out there for HBCUs."
He called the policy "a rather brilliant move."
Brown of NCAN noted that many of the discounted tuition offers that exist for out-of-state students have certain merit requirements, such as a minimum GPA. She applauded the HBCUs for giving out-of-state students admitted to the institutions a "clean" cost-saving option with minimal "strings attached."
"I wish more schools would provide more discounted tuition," Brown said. "The cost of college is rising significantly, and it's really important that schools take significant steps to make it possible for students to enroll and for them to see on the front end that they're going to be able to afford tuition, fees, food, books, supplies—all the things that go into a college education."