You have /5 articles left.
Sign up for a free account or log in.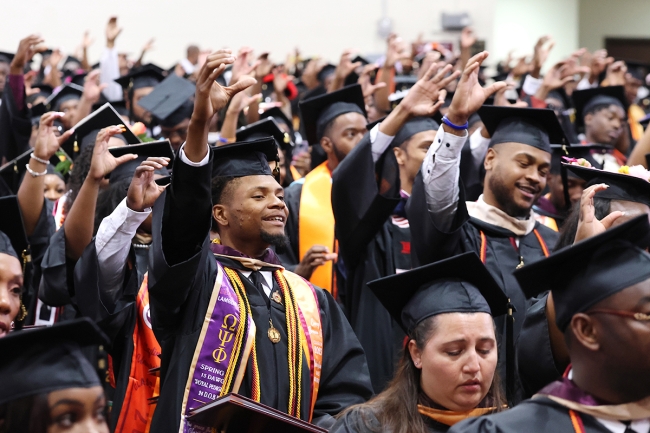 Colin Myers/Claflin University/HBCU via Getty Images
A national philanthropy group focused on advancing social and economic mobility is donating a whopping $124 million toward bolstering historically Black colleges and universities.
Blue Meridian Partners, which includes big-name donors such as the Bill & Melinda Gates Foundation and MacKenzie Scott, is giving the grant to the HBCU Transformation Project, according to an announcement Tuesday.
The project, launched after the onset of the pandemic, was the first major joint effort between the Thurgood Marshall College Fund and the United Negro College Fund, organizations representing public and private HBCUs, respectively, and the Partnership for Education Advancement, an organization dedicated to strengthening these institutions. The project's long-range goals include increasing HBCU enrollment by 40 percent, boosting their graduation rates by 54 percent and alleviating historic funding inequities to these institutions.
The project currently works with slightly over 40 public and private HBCUs, with plans to add more, to finance efforts that help them run more efficiently and serve students better. For example, the project is helping some colleges assess and streamline their enrollment and financial aid processes. The project also encourages HBCUs to work together on addressing shared challenges. Notably, they help institutions secure lower prices as a group for technology services and tools for customer relationship management systems, or CRMs, and chat bots to assist with enrolling and retaining students.
Nicholas Pelzer, senior director for portfolio management at Blue Meridian Partners, said HBCUs seemed like an obvious investment for a philanthropy group focused on social impact.
HBCUs have "always been engines for Black economic mobility and Black leadership," he said. He noted that they represent 3 percent of higher education institutions but produce half of Black public school teachers, lawyers and doctors and 80 percent of Black judges, despite being "historically, chronically underfunded for the entirety of their existence."
The bulk of the $124 million will go to initiatives at individual HBCUs to build up their technology and infrastructure and boost enrollment, retention and other student success initiatives. Leaders of the HBCU Transformation Project are discussing with campus leaders what their campuses need and how the funding could help. Some funding will also go to UNCF, TMCF and Ed Advancement to help them lead the project and raise money to further close funding disparities.
Edward Smith-Lewis, vice president of strategic partnerships and institutional programs at UNCF, said the dollars can fund recruitment and retention efforts, improvements to campus facilities, new staff positions and other needs, alongside instituting "shared services" such as helping multiple institutions partner with a student success coaching company. The goal is a "networked approach."
"If we can come together as a system of institutions, aligned [on] a mission, really sharing resources, then we can magnify not only our opportunity on the ground but the effectiveness of what we do," he said.
He added that this is a "performance-based grant," so HBCU Transformation Project leaders will be keeping track of the outcomes of what they fund and regularly reporting to Blue Meridian Partners about the returns on their investment.
Pelzer noted that too often donors are reluctant to spend on colleges' "basic infrastructure, the technology, the talent management," even if it's what institutions need.
"It was very important that we were focusing our capital on the areas identified by the schools themselves that they thought [were] going to help them to leverage their core capabilities," he said. "That's increasing enrollment, retention, graduation rates and student success."
He added that HBCUs may need extra support after the U.S. Supreme Court ruled using race as a factor in admissions illegal this past summer. Some HBCUs are expecting enrollment increases in the wake of the decision, and campus leaders are worried they might not have the capacity to serve large influxes of students.
The ongoing partnership between Blue Meridian Partners and the HBCU advocacy organizations was born out of a moment of crisis. The philanthropy group donated $15 million to 31 HBCUs in 2020 in hopes of helping them weather the pandemic financially. Blue Meridian gave another $60 million to the Transformation Project last year after some early signs of progress. Pelzer said the HBCUs supported by the group started staving off pandemic enrollment declines and making long-term investments in campus infrastructure, which made funders excited about what these institutions could accomplish with more funding.
"We saw some of the innovative things they were putting in place—and we saw that it was starting to work," he said.
Michael L. Lomax, president and CEO of UNCF, said the funding marks a milestone for HBCUs, a shift from "crisis management" work to "transformation" work, a moment of post-pandemic relief when campus leaders can dream bigger than mere survival for their institutions.
"This transformation work, the ability of the institutions to be their best selves and to meet their aspirations, was really grounded in work that we did [at the] beginning of the pandemic," a time when campus leaders thought HBCUs would "take a body blow," he said. "Three years later, HBCUs are in a stronger position than they've ever been, and they are now charting a future toward institutional transformation … It's allowing us to be innovative, to think about ways of reducing the costs and improving the impact of our college experience, enhancing the operational effectiveness of our institutions as well as the academic offerings of our institutions."
Lomax said the funding, which will be doled out in increments through 2026, is a sign that philanthropists are recognizing the value of HBCUs.
HBCUs "are lean organizations," he said. "They primarily address the needs of low-income and first-generation students of color, a growing part of our population but not a particularly well-served part of our population."
HBCUs have experienced a surge of donations in recent years since the killings of George Floyd and Breonna Taylor. Philanthropist MacKenzie Scott notably dropped multimillion-dollar gifts on some of these institutions, and Netflix co-founder Reed Hastings and his wife donated $120 million that year to Spelman College, Morehouse College and the United Negro College Fund.
Harry Williams, president and CEO of TMCF, said HBCU advocates wondered if those gifts would dissipate over time, and while donations to HBCUs have slowed somewhat since 2020, he's heartened to see major investments continue three years later.
"There's still a lot of interest in supporting these institutions, because of their historic commitment to working with the underserved, the underrepresented and providing them with a leg up," he said. "There's a movement that's going on as it relates to HBCUs."
Lomax noted that one of the benefits of the Blue Meridian Partners investment is, unlike some of the major gifts in 2020, the funds will reach some of the smaller, lesser-known HBCUs, not just household names like Howard University or Spelman College.
Terrell Strayhorn, director of the Center for the Study of HBCUs at Virginia Union University, noted that HBCUs might be experiencing a second influx of funding now that philanthropists are able to see the outcomes of their investments in 2020. Some of those gifts have contributed to enrollment increases, new programs and other tangible successes that might be compelling donors to give more.
He also noted that other incidents, including a rash of bomb threats at HBCUs and a recent security risk at Edward Waters University involving a white supremacist who came on campus intending to kill people, have reminded the country that the racial injustices that came to the fore in 2020 persist.
The influx of philanthropic dollars over the last few years has been a welcome change of pace for the chronically underfunded institutions. A 2019 report found that HBCUs received 178 times less funding from philanthropic foundations than Ivy League institutions. A 2020 report from the Brookings Institute, a public policy think tank, found that the 10 largest HBCU endowments were 100 times smaller than the 10 largest endowments at predominantly white institutions.
Strayhorn estimated that the funding gap between HBCUs and their predominantly white counterparts since the mid-1990s comes in at nearly $13 billion. He emphasized that decades of underfunding have had all kinds of negative ripple effects on these institutions and their students. Many HBCUs struggle to offer competitive salaries to faculty members, lack the bandwidth to apply for as many competitive federal research grants as their predominantly white counterparts and don't have the funding to build the state-of-the-art labs required for the high-caliber STEM graduate programs they want to run and research they want to do, he said. Some campuses have aging campuses and decades of deferred maintenance.
Underfunding "significantly reduces and stiffens your ability to be creative and nimble and innovative," he said.
Strayhorn hopes the gift from Blue Meridian Partners, and investments to follow, help change that. He also believes this is a "prime time" for a substantial investment in HBCUs, when some of these institutions are striving for R-1 status, the coveted Carnegie classification held by doctoral universities that demonstrate research prowess. Achieving that goal is going to require improvements to technology and campus infrastructure, and philanthropic dollars can help.
Pelzer, of Blue Meridian Partners, said he hopes the funding spurs other donors to follow suit and invest in these institutions.
"Our investment is substantive, but it's just one piece of what would be a much larger need to try to build equity and parity across HBCUs and their predominantly white institution counterparts," he said. "We think it's an excellent first step, but we've still got a long way to go, and we're hoping other people will join us on the journey."