You have /5 articles left.
Sign up for a free account or log in.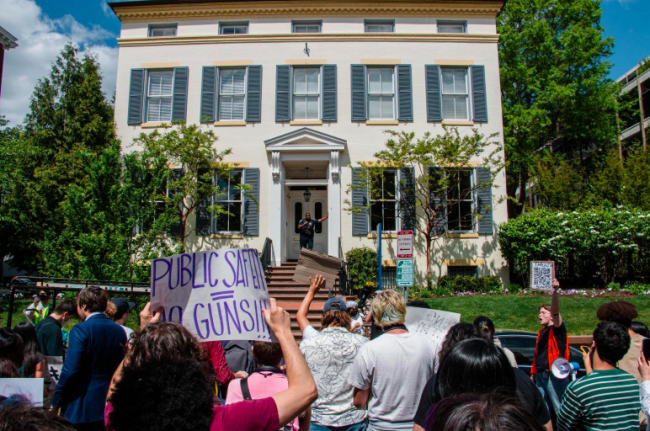 Around 150 students and community members protested George Washington University's decision to begin arming campus police officers, marching on Monday afternoon to F Street House, the residence of GWU president Mark S. Wrighton, with signs reading, "We keep us safe" and "Guns ≠ public safety."
Wrighton announced last Thursday that some members of the university's police force will begin carrying firearms. He cited increasing gun violence at institutions across the country, including recent shootings at Michigan State University, the University of Virginia and the Covenant School, an elementary school in Nashville. He noted that only certain "highly qualified supervisory officers" who have received formal police academy training and specialized firearms training will be armed.
In addition to the protest, 20 student organizations signed a statement decrying the announcement and arguing that arming police officers will only lead to increased violence, particularly against students of color.
"The vast majority of instances in which GWPD is called to action are to resolve conflicts and pacify intoxicated students," the statement read. "If GWPD is responsible for protecting students' safety on campus, they would have the capacity for de-escalation practices. The decision to arm campus police with threatening weapons with no regard for the input of students, parents, or faculty should not be taken lightly. By GWPD's own reports, they detained only 12 people on campus in 2022, none of whom were carrying weapons or contraband. The presence of guns on campus can only put students at risk of gun violence."