You have /5 articles left.
Sign up for a free account or log in.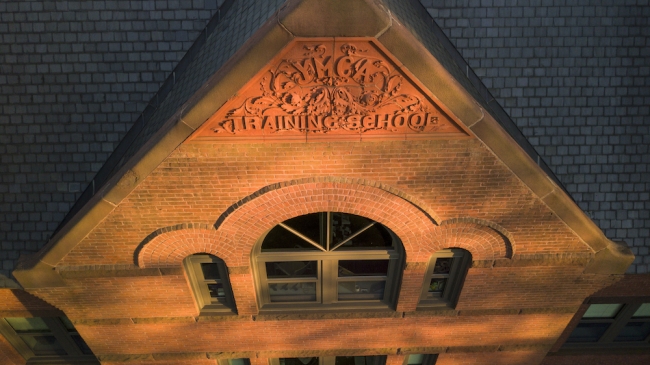 Rosie Tseng was 17 years old when she realized what she wanted to do for the rest of her life.
Though she loved working with children, she had no desire to be a teacher. Nor did her interest in health and physical well-being mean she wanted to be a nutritionist, doctor or professional athlete.
What she wanted to do instead was work for the YMCA, the Christian youth development nonprofit that operates recreation facilities worldwide.
Tseng had long attended—and later served as a counselor at—YMCA camps at the Boroughs Family Branch YMCA in central Massachusetts. As luck would have it, that branch is only about an hour from Springfield College, the only college in the country where students can receive a formal education in the history and operations of the YMCA and even earn a minor in YMCA professional studies.
"I wanted to take what I learned at the Y and pass it forward," she recalled.
The minor consists of a total of five classes on both general business management and YMCA-specific topics, including the history of the organization beyond its broad reputation as a bare-bones gym and a wildly popular Village People song. The curriculum is currently being redeveloped to keep up with "the needs of the ever-evolving YMCA movement," according to Scott Woodaman, director of YMCA relations at Springfield, a private institution in Massachusetts.
According to Woodaman, the students in the minor and in the college's YMCA club, which allows students to participate in YMCA-related activities without taking any classes, have unique access to various internships, volunteer opportunities and entry-level jobs at YMCAs around the country. The students also develop programming to support nearby YMCAs.
"Last year, we did summer learning-loss programming on why it's important to read over the summertime and made bookmarks and encouraged young people to read," Woodaman said. "We don't know what we're doing this year, because, when the students get back to campus—they're the ones that designed the program—we hear what the YMCAs need, and then the students come up with the meat of the programming and what they want to deliver."
With many institutions increasingly focused on career and technical education, it is not uncommon for students to pursue minors or certificates in specific skills relevant to their career path, whether it's health care or data engineering. But few, if any, focus on a single organization, as Springfield's YMCA professional studies minor does.
"It fits the pattern across higher education of providing minors, if not majors, that have a more direct workforce connection," said James Stone, director of the National Research Center for Career & Technical Education, part of the Southern Regional Education Board. "[But] most of the minors … that tend to attract people are things like cybersecurity, which is not specific to an organization."
Lasting Partnership
Springfield's history with the YMCA dates back to the college's founding in the mid-1800s—just a few years after the first YMCA opened—to train Sunday school teachers and YMCA administrators. Well over a century later, the college has grown considerably, serving about 4,000 undergraduate and graduate students; in keeping with its YMCA roots, many students pursue athletics or recreation-based majors, such as physical education. (Aside from its connection to the YMCA, Springfield also has the distinction of being the birthplace of basketball and the original home of the Basketball Hall of Fame.)
Though the college's partnership with the Y has changed over the years, it remains a central part of Springfield's identity. The college's core educational philosophy, Humanics—which "calls for educating students in spirit, mind, and body for leadership in service to others"—derives from the YMCA's goals of developing a healthy spirit, mind and body. The college houses the YMCA Hall of Fame, which honors volunteers and employees who have made significant contributions to the organization. Springfield's current president, Mary-Beth A. Cooper, has long been involved with the YMCA, serving as the chairperson for the Greater Rochester YMCA before coming to Springfield.
"I'd worked as a volunteer for 25 years," she said. "And then I learned that there was actually a college that had a tie to YMCA, so that intrigued me enough to apply."
The minor lost some students during the pandemic, though Woodaman, who has been in his role for less than a year, plans to recruit incoming freshmen in an effort to build it back up. Historically, the program has appealed in large part to students who were "Y kids"—those who spent a lot of time at their neighborhood YMCA as a child, attending camps or using the recreational facilities. Springfield even recruits at various YMCA events in the surrounding region, with the hope of reaching young people who might not know there is a college they can attend that will allow them to continue to do the community service work they love.
But there are even draws for those who have never set foot in a Y. Students have the opportunity to travel on service-oriented trips—such as expeditions to build houses in the badlands of South Dakota or to help repair a YMCA in Haiti—as well as attend various national YMCA conferences and events.
Stone also said he could see how the minor could potentially prove useful even to students who don't necessarily want to work at the YMCA, especially if they have an interest in the world of nonprofits or humanitarian work more broadly.
"The role of minors is to try to give you some options," he said. "What a minor like this might represent is … that they have interest in that general area of helping people, and that would be a positive thing to an employer."
For what it's worth, many of the students who complete the minor do go on to work for the organization; a number of Springfield graduates have become leaders either in local Y branches or the national YMCA of the USA, according to Cooper; Tseng is currently a youth development director at her childhood YMCA.
In that role, she said, she's living out her dream of being involved in YMCA camps and creating "programs for kids of all ages."