You have /5 articles left.
Sign up for a free account or log in.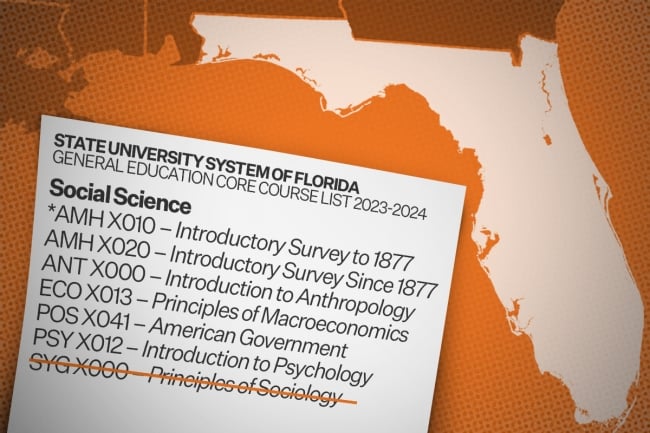 Photo illustration by Justin Morrison/Inside Higher Ed
The Florida Board of Governors voted on Nov. 9 to remove the Principles of Sociology from the list of core courses that the state's public college students can take to fulfill their general education requirements. The news shocked sociology professors across the state, who say the ripple effects of such a decision could be disastrous.
Students often rely on the course to satisfy the social sciences general education requirement. Indeed, many sociology departments consider it their bread and butter; at some of Florida's largest institutions, the course can easily draw more than 100 students per section. It's also the class where many sociology students first learn about the discipline.
"A lot of students are not exposed to what sociology is in high school," said Rachel Paul, a senior at the University of North Florida who is minoring in sociology. "I did not know what the word meant until college. I found out through that intro class," which she took at a friend's recommendation.
The change is still subject to a final vote in January; currently, the core course list is open to public comment. But many of the state's sociology professors argue that upholding the vote will not only impact department enrollments, but also be a great disservice to students, who will lose out on the lessons an introductory sociology class can offer.
"It's really important for students to understand that human behavior is not just a factor of individual level characteristics, right? That there are larger social structures at play," said Alison Cares, an associate professor of sociology at the University of Central Florida who teaches an introductory sociology class.
Critics of the move believe that the course is being targeted because it covers race, gender and sexual orientation, topics that have drawn intense backlash and in some cases have even been banned by conservative politicians in Florida and beyond. Most recently, the New College of Florida board voted to remove gender studies as a major, an effort spearheaded by Christopher Rufo, a trustee and conservative activist who has also rallied against Florida State University's sociology department.
Cares said that while she touches on such topics in her Introduction to Sociology courses, she doesn't seek to indoctrinate her students or steer them toward any particular beliefs.
"There are lots of ways that the world is experienced differently," she said. "We have differences, for example, by gender in STEM. People have different arguments for why that is. I'm not going to tell you why that is. I don't necessarily know why that is; I have my own personal views on that, but that's not what comes into the classroom. What comes into the classroom is, what is the systematic way that you look at this? What's the kind of evidence you need to come up with why you think we're seeing these different patterns by these groups?"
Reworking General Education
The board had been slated to approve a list of general education courses developed by faculty experts at universities across Florida, which had received public comment and been authorized by a body known as the Articulation Coordinating Committee in October. The original list did not remove any courses but added two new natural science courses and one social science course, an American history survey up to the year 1877.
It was Manny Díaz Jr., Florida's education commissioner, who proposed an amendment to remove Principles of Sociology during a meeting of the board's Academic and Student Affairs Committee. Díaz didn't mention controversial topics or syllabi; instead, he focused on the idea that the introductory sociology course would be replaced by the American history survey class, which also satisfies a Florida state requirement that students must take a civic literacy course or complete a civic literacy assessment to graduate.
"The revision I'm suggesting would reduce the number of social science [Gen Ed] courses to six, with three of those potentially being options to meet the requirement for civic literacy," he said when he introduced the amendment.
However, multiple sociology professors have noted that there was no need to remove another course to make room for the American history course; while Florida law dictates a maximum of five courses in each of the five general education subject areas—communication, humanities, mathematics, social science and natural science—it also says that number can be exceeded with approval from the Board of Governors and the Florida Department of Education. In fact, three of the five categories already do exceed that limit; for example, there are 13 different natural sciences core general education courses.
But the law, Florida statute 1007.25, was altered this year as part of SB 266, Florida's anti-diversity, equity and inclusion law, which forbids institutions of higher education from spending state funds on DEI programs or initiatives. With that change, the curriculum statute now also says that general education core courses, among other things, "may not distort significant historical events or include a curriculum that teaches identity politics … or is based on theories that systemic racism, sexism, oppression, and privilege are inherent in the institutions of the United States and were created to maintain social, political, and economic inequities."
Sociology professors said they were blindsided by the decision to remove Principles of Sociology from the general education core curriculum, even though legislation like SB 266 made it clear that some of the topics explored by sociologists were under attack.
"This caught me by surprise. It shouldn't have, because of all of the things that have been happening," said William Marsiglio, a sociology professor at the University of Florida. "I was aware that there might be concerns about what could be taught in the course, but the idea of taking if off of [the general education core course list] was a step beyond what I thought might have been possible."
Many sociology professors and students are working to file public comments opposing the course's removal between now and the Nov. 23 deadline. The American Sociological Association, a national professional organization for sociologists, submitted a public comment pointing out that Principles of Sociology did not need to be removed to make room for the new American history course, while also noting that the course could, in fact, contribute to students' civic literacy education.
"Failure to expose students to the scientific study of the range of issues faced by American citizens would be a failure of civics education. How can we expect students to make positive contributions to their communities if they do not have scientific understanding of the issues facing those communities?" the comment said, imploring the board to restore the course before the final list is approved in January.
Florida's Board of Education did not respond to questions about the amendment, including why Díaz believes Principles of Sociology does not meet the standards to count as a social science general education course.
Ricochet Effects
If the new list of general education core courses receives final approval from the Board of Governors in January, it could have a rebound effect on sociology departments across the state.
David Jaffee, a sociology professor at the University of North Florida, noted that the introduction of the civic literacy requirement has already had an impact on the number of students in his introductory sociology courses; now many students opt to cover both the civic literacy and social science requirements with a single class, and sociology doesn't satisfy the former.
If the course is removed as a general education option, the number of students taking sociology will continue to shrink, he said, which could significantly impact departmental enrollment, funding and faculty. Jaffee added that he's aware of professors at other institutions—especially community colleges—whose entire courseload consists of multiple sections of introductory sociology.
"It's even more devastating for that group," he said.
Marsiglio noted that many graduate students also teach an introductory sociology course, meaning that a decline in enrollment in that course could "affect the mechanics of how we recruit and fund grad students."
In addition, the exam students take to get into medical school, the Medical College Admissions Test, includes a section on sociology, as do tests for several other health-care professions. Removing Principles of Sociology from the Gen Ed list may make it more difficult for students to prepare for that portion of the test, and could ultimately affect the quality of health care in the state.
"Understanding how class, race, gender, and sex influence health and health outcomes and how these social constructs interact with society and its institutions is necessary for any current and future health professional," Ramon Hinojosa, an associate professor of sociology at UCF, wrote in an email to Inside Higher Ed.
"The decision to strike Principles from GEP means that Florida students' performance on the MCAT and other entrance tests will likely fall far behind that of students from other states," he continued. "Without the GEP requirement, students will likely not take Sociology only to later learn that it is necessary for preparing for these entry exams. State-level metrics for the performance on the MCAT and other allied health professions tests are available and I suspect in a few short years, there will be documentary evidence that removing Principles has negatively impacted the readiness of future health care professionals here in the state of Florida."