You have /5 articles left.
Sign up for a free account or log in.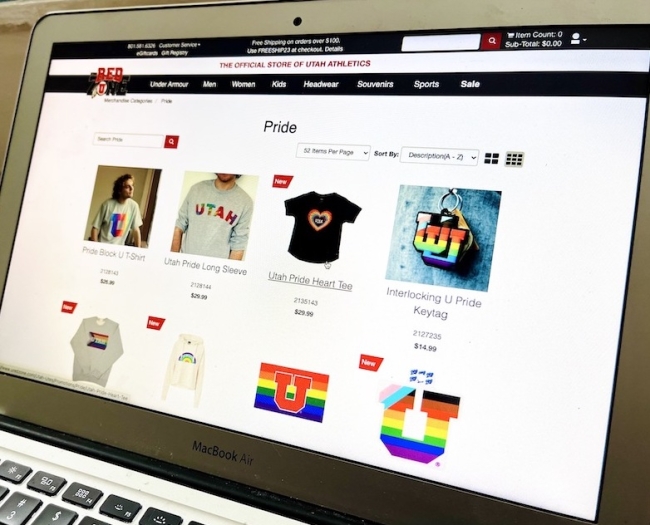 Johanna Alonso/Inside Higher Ed
At the University of Utah campus store, traditional sports team merchandise is interspersed with hoodies, key chains and hats emblazoned with rainbow letter U's, celebrating LGBTQ+ pride. To acknowledge Pride Month, the store's website is promoting these items on the homepage, calling on shoppers to "celebrate equality" by shopping the pride collection.
Ien Zielinski, a transgender junior at Utah, said the pride merchandise in the university's store—some of which is sold year-round while other items are June exclusives—signals to LGBTQ+ students that the university accepts their identities and wants them to feel at home on campus. This is especially important in a state like Utah, he said, which skews conservative and has passed a ban on transgender athletes participating in sports teams that match their gender identity, though a state judge temporarily blocked it.
"From a student perspective, it can be very reassuring to see these things sold by the university," said Zielinski, who added that his mom had bought him some Utah pride stickers when he was a freshman. "Seeing those things on laptops and cars can be very reassuring."
Pushback at Target
Such shows of pride at campus stores are especially vital to LGBTQ+ students at a time when some mainstream retailers have rolled back their own Pride Month displays amid increasing anti-LGBTQ+ backlash.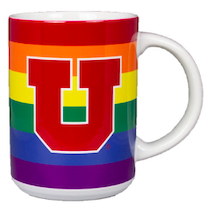 Retailers—particularly Target, which has offered LGBTQ+ pride products in June for over a decade—have reported customers yelling at employees about the company's show of pride support and even tearing down rainbow displays near store entrances, the Associated Press reported.
The outbursts prompted some Targets to move their Pride Month displays to a less prominent position in the store and remove some items altogether.
"Since introducing this year's collection, we've experienced threats impacting our team members' sense of safety and well-being while at work," a Target spokesperson said in a statement. "Given these volatile circumstances, we are making adjustments to our plans, including removing items that have been at the center of the most significant confrontational behavior."
Joanna Schwartz, a professor of marketing at Georgia College and State University, said that given the attacks on pride displays at mainstream retail stores—and in the face of broader of anti-LGBTQ+ legislation that has sprung up in some states—campus pride displays are more important than ever.
"Right now, at this moment, a pride flag is more than just an acknowledgment that some of the people in your institution are LGBTQ+," she said. "It's really an acknowledgment that not only do you recognize that, but you support them as people and you want them to succeed and you also see them as an overall broader population within [the] university."
'Rainbow Capitalism'
Corporations that sell pride merchandise often face criticism from the LGBTQ+ community for profiting off their identity, a phenomenon known as "rainbow capitalism." But Zielinski believes that the positive effects of a university selling pride gear outweigh any potential negative impacts of rainbow capitalism. Plus, he noted, selling merchandise isn't the only thing the University of Utah does to support queer students; it has several student organizations and a resource center.
"It feels more supportive and grounded," he said.
Profits from pride products sold at the Utah store go toward nonacademic programs and facilities on campus, a university spokesperson said, just like profits from all the other items in the store.
But some universities put the money they earn from their pride gear specifically toward supporting the LGBTQ+ community.
At the University of Massachusetts at Amherst, a portion of the profits from the campus store's pride merch goes to the university's Stonewall Center, an LGBTQ+ resource center on campus, according to Josh Báez Vigo, merchandise manager and planner for the store. He said he was not sure of the exact portion.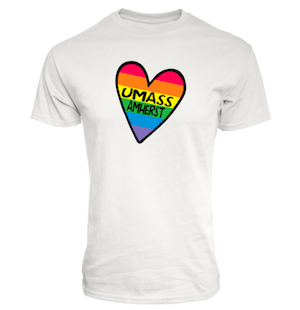 "Since we are a nonprofit, all of our profit goes to the university at the end of the fiscal year, but we made a point of taking part of the money we make from that merchandise and donating it back to Stonewall Center specifically," he said.
Báez Vigo said he has never seen any backlash to the store's support of LGBTQ+ pride, but he acknowledged that UMass Amherst is very accepting of the queer community.
"I think we're pretty insulated, as a university. I feel like people have come to expect to see that type of item in our store," he said. "We're also in a pretty liberal side of a pretty liberal state."
Many universities contract with an outside vendor to operate the campus store. One such company, Follett Corporation, offers its partner universities a range of LGBTQ+ pride gear, including branded mugs, shirts and lanyards, to sell in their stores. Some of the more than 1,200 university bookstores that Follett operates, according to its website, also offer a small number of LGBTQ+-themed books, including the picture book 'Twas the Night Before Pride and the memoir Gay Like Me.
"Pride Month is a time to celebrate the LGBTQ+ community. Pride items, such as t-shirts and hats, are made available to Follett campuses who choose to participate. Campuses that do not wish to receive Pride items for their campus store can opt out," a company spokesperson told Inside Higher Ed in an email.
The spokesperson did not respond to questions about whether the profits from this merchandise go to support the LGBTQ+ community.
Schwartz said that she believes universities can put their pride swag to good use by either giving away such items to queer students for free or using the profits from the products to support LGBTQ+ people on campus and beyond.
"Being able to show your support [by selling pride merchandise] is first-tier acceptance. But taking that support and giving your pride stuff away, not turning a profit on it … that's better," she said. "If you are going to sell it, take that money and donate it. You can donate the entire proceeds, or donate everything over cost, to campus organizations or local organizations or national organizations that are looking out for these students in a very real way."