You have /5 articles left.
Sign up for a free account or log in.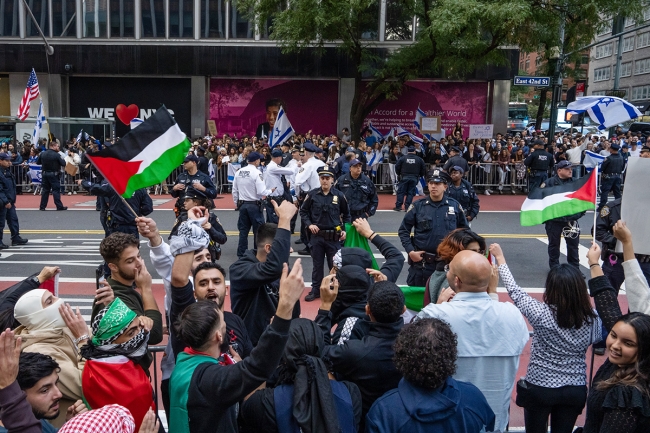 Pro-Palestinian student groups on many U.S. college campuses have drawn ire this week for their celebratory response to the Oct. 7 Hamas attacks against Israeli civilians, one of the deadliest acts of terrorism in the Jewish state's history.
Various campus chapters of Students for Justice in Palestine, a national organization that advocates for Palestinian liberation, released statements applauding the attack. In an Instagram post on Saturday, the SJP chapter at Ohio State University wrote, "An unprecedented but historical series of events has taken place, led by our heroic resistance in Gaza who have shown the world yet again that the spirit of the Palestinian people cannot and will not be trampled."
At Harvard, over 30 separate student organizations signed a letter written by the Harvard Undergraduate Palestine Solidarity Committee and Harvard Graduate Students for Palestine stating that they "hold the Israeli regime entirely responsible for all unfolding violence." The Instagram post was updated two days later to remove the names of the specific organizations that signed due to safety concerns.
Such statements have been widely condemned on social media and in the press, with critics calling on university officials to denounce the students' stance.
"The silence from Harvard's leadership, so far, coupled with a vocal and widely reported student groups' statement blaming Israel solely, has allowed Harvard to appear at best neutral towards acts of terror against the Jewish state of Israel," Lawrence Summers, a former Harvard president, wrote in a widely shared thread on X. "Instead, Harvard is being defined by the morally unconscionable statement apparently coming from two dozen student groups blaming all the violence on Israel. I am sickened. I cannot fathom the Administration's failure to disassociate the University and condemn this statement."
Critics also blasted universities, particularly well-known, highly selective ones, for waiting multiple days before releasing statements on the attack. They questioned why such institutions were so much quicker to offer a response to other conflicts, including Russia's invasion of Ukraine.
Responses Run the Gamut
Since the social media backlash against pro-Palestinian demonstrations on campus sprang up, many institutions—including both Harvard and Ohio State—have published statements. Harvard's initial statement, which was signed by newly instated president Claudine Gay and a number of other administrators, said they were "heartbroken by the death and destruction unleashed by the attack by Hamas that targeted citizens in Israel this weekend, and by the war in Israel and Gaza now under way."
But it did not touch on the joint student statement, leading to additional criticism. The next day, Gay released another statement, signed only with her name, which read: "As the events of recent days continue to reverberate, let there be no doubt that I condemn the terrorist atrocities perpetuated by Hamas. Such inhumanity is abhorrent, whatever one's individual views of the origins of longstanding conflicts in the region." (This paragraph has been updated from an earlier version to add context about Harvard's position.)
It continued, "While our students have the right to speak for themselves, no student group—not even 30 student groups—speaks for Harvard University or its leadership," she wrote.
Harvard did not respond to a request for comment.
OSU's brief statement did not touch on the Instagram post by the university's SJP chapter, nor did it take an overt stance on the war; instead, it stressed the importance of the well-being of OSU community members, offering links to resources.
In an email to Inside Higher Ed, an OSU spokesman said, "We are steadfastly committed to protecting the First Amendment right to free speech and expression on our campuses, and we support the right of our students, faculty and staff to peacefully express their views and speak out about issues that are important to them."
A number of other university leaders made statements that more explicitly expressed support of Israel or condemnation of Hamas. John B. King, chancellor of the State University of New York system, wrote on X, "We stand with the families & loved ones of the victims, the state of Israel, & our Jewish students, faculty, & community members." President Ann Kirschner of Hunter College, part of the City University of New York system, opened her statement simply by saying, "We condemn the violent attack by Hamas terrorists on Israel." And Princeton University president Christopher L. Eisgruber noted, "Even in a world wearied and torn by violence and hatred, Hamas's murder and kidnapping of hundreds of Israelis over the past weekend is among the most atrocious of terrorist acts."
Hillel International, which describes itself as the world's largest Jewish campus organization, has released multiple statements since Saturday, including one calling on university leaders to officially speak out against Hamas.
"A failure to speak out is a failure of leadership—not only for your Jewish students, but for your entire university community," the organization wrote on Instagram.
Many pro-Israel and Jewish campus organizations, including Hillel chapters, also spoke out against Hamas's attacks, held vigils mourning the dead and sought to support their Jewish and Israeli communities on campus. Some universities, including the University of Michigan, Harvard and the Claremont Colleges, held candlelight vigils that drew hundreds of attendees, while others are planning similar events for later in the week.
Some institutions also noted that their Hillel staff would be available to talk with students about the ongoing violence.
"Mason Hillel will be holding space for students to process, ask questions, and be together throughout the week," George Mason University's Hillel chapter posted on Instagram Monday.
When to Take a Stance
Not everyone agrees that universities have a duty to take a public stance on global conflicts, crises and disasters—even though many institutions have made it a practice to do so in recent years. And as some of Harvard's critics noted, that precedent made the administration's initial silence especially galling.
"I actually think universities should not be in the business of issuing these kinds of statements," Yascha Mounk, a professor of the practice of international affairs at Johns Hopkins University's School of Advanced International Studies, noted on X. "But since they do issue statements about all kinds of events all of the time, it sends a very clear message if they then happen to fall silent when the victims are Jews."
Alex Morey, an attorney with the Foundation for Individual Rights and Expression, said that the trend of universities making statements about external crises—a practice that she believes accelerated with the 2020 police murder of George Floyd—has no benefit to universities.
"At best, these kinds of statements on social and political [events] make administrators' lives harder, because it creates this never-ending hamster wheel of having to weigh in on everything, or if you choose not to weigh in, that in and of itself is a statement of a kind," she said.
She noted that official statements can also have a chilling effect on campus dialogue, discouraging students and faculty from expressing opinions that go against the administration's stance.
"The war in the Middle East, race, abortion, COVID—students and faculty tell us these are topics they are uncomfortable discussing on many campuses because they're so heated. But they're the most important issues of the day," she said, noting that many of today's students will one day be engaged in far more practical and concrete discussions about such issues in their capacity as policy makers and lawyers.
"Universities can help serve their students best by providing resources to have these debates and discussions," she said.
Kenneth S. Stern, the director of the Bard Center for the Study of Hate and the author of The Conflict Over the Conflict: The Israel/Palestine Campus Debate (University of Toronto Press, 2020), echoed Morey's sentiments, saying he was "deeply disturbed" by the statement released by the 30 Harvard student groups—yet he does not believe it's the university's job to shut down students' opinions. Instead, administrators should focus on ensuring that their campus is a place where students can learn and talk about the issues that matter to them.
"Students are going to have deeply felt, strongly opposing views, where people on the other side can see their opponents as being, at least, insensitive and not having emotional capacity to understand the impact on human beings on the other side of the divide and, at most, being hateful," he said. "To cultivate an environment on a campus where people can have strongly opposing views but not harass and intimidate and bully each other is really what the goal of the administration should be."
Most university statements, regardless of their stance, included details on how campus personnel were seeking to support students with ties either to Israel or the Palestinian territories, as well as to promote a more complete and nuanced understanding of the long-standing conflict in the region.
Stanford University, in a statement that also touched on the Armenia-Azerbaijan conflict and the recent earthquake in Afghanistan, said it had reached out individually to students whose home addresses are in Israel or the Palestinian territories. Institutions including the University of California, Santa Cruz; the University of Rhode Island; and Hamilton College encouraged students impacted by the war to take advantage of campus resources such as counseling centers. Harvard said it expects to create opportunities for the campus community to "deepen our knowledge of the unfolding events and their broader implications for the region and the world" in the near future.