You have /5 articles left.
Sign up for a free account or log in.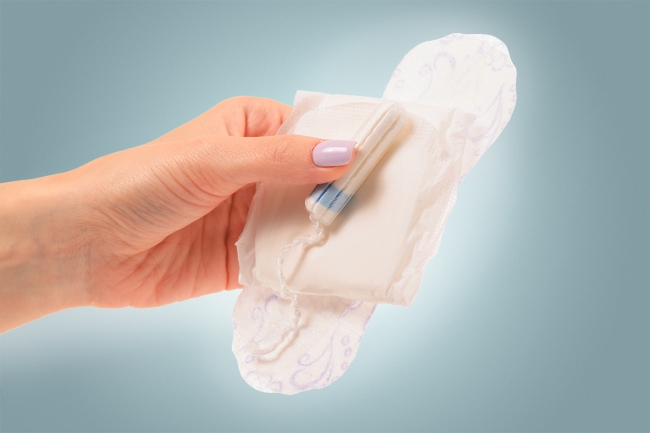 Less than a year after Clemson University first installed free period-product dispensers in all the restrooms—men's, women's and gender-neutral family facilities—in the R. M. Cooper Library, the institution has quietly removed them from the men's restrooms.
The dispensers disappeared soon after the Clemson College Republicans published a post on X mocking them.
"If you weren't aware already, Clemson University has tampon/pad dispensers in the MEN'S restrooms located in Cooper Library. We truly live in [clown] world," the post said, using the clown emoji in place of the word.
A few days later, the dispensers were gone; Trevor Tiedeman, the chairman of the College Republicans, told Inside Higher Ed that April Cromer, a Republican state legislator, had seen the post and met with the university's president to demand they be removed. Tiedeman said the holes left by the removal have since been refilled and painted over.
Menstrual Equity
Advocates for what's often known as menstrual equity believe that anyone who has periods deserves access to period products. Some argue that given the high cost of such products, colleges should provide them for free. Though such activism has historically been connected to feminism and pushback against the "pink tax"—the idea that products for women cost more than equivalent products for men—the movement has grown more gender-neutral in recent years, acknowledging that transgender men, intersex people and nonbinary people can also get periods.
Brown University, for one, began putting free menstrual products in men's restrooms back in 2016, earning notice in publications from Teen Vogue to The Daily Mail. Conservatives seized on the move as another example of the liberal agenda gone haywire; more than 21,000 people commented on a short article published by Breitbart News criticizing Brown's decision to provide free pads and tampons in men's bathrooms.
"If you're attending a university that says males have periods … you need to rethink your choice of higher education," one commenter wrote.
In recent years, colleges have become key battlegrounds over transgender rights, with some states passing bills to restrict trans students from playing on certain sports teams or using restrooms that don't align with their gender assigned at birth. Though South Carolina does not ban trans students from using their preferred bathroom, the conflict over making period products universally accessible in a single building on one campus highlights just how deeply such antagonism has permeated campuses.
Menstrual product dispensers have also sprung up in men's restrooms on campuses in other right-leaning states—including Vanderbilt University in Tennessee, Western Carolina University in North Carolina and the University of Utah—but it's unclear if any college other than Clemson has backtracked on its decision to provide period products in men's restrooms.
The removal of the dispensers at Clemson prompted mixed reactions. The College Republicans lauded the university for taking quick action on what they deemed a "ridiculous" concession to the institution's LGBTQ+ community, according to Tiedeman.
"This is the type of stuff that's pushing the narrative way further than it needs to go," he said.
LGBTQ+ students and allies, on the other hand, have lambasted the College Republicans for going after what they argue is an extremely inexpensive and easy way to improve quality of life for transgender students. A Change.org petition, published on Sept. 19, asked the university to reinstate the dispensers; so far about 400 people have signed it.
"There's no legitimate reason not to have menstrual products in the restroom," one commenter wrote in support of the petition. "The group that spoke so vehemently against the presence of the menstrual products is an incredibly loud small minority. Clemson University actively working to make campus less welcoming to its transgender population reflects poorly on all of us, and will be taken into consideration by prospective students that I'm sure will be happy to take their tuition money elsewhere."
Some students also criticized the university's handling of the matter. Clemson put out no statement explaining why the dispensers were removed, according to David Snoberger, a graduate student who serves as the social media manager for Clemson's Young Democratic Socialists of America group. Nor have officials responded to questions or requests to meet and discuss the dispensers' disappearance.
"We have attempted to contact … folks within administration, to no avail," he said. "There was no mass email. There was not a statement from the president. There wasn't a statement from the dean of students or anything like that."
In fact, Snoberger said, members of the YDSA who went to the library after hearing the dispensers had been taken down were initially told they were going to be cleaned and put back up; previously the machines had been vandalized with phrases like "Men can't get periods" and "Society is fucked."
One YDSA member even reported the situation to the Title IX office, but the director said nothing could be done because it wasn't a specific incident of discrimination against a particular person or body, Snoberger said.
Asked for comment, a Clemson spokesperson sent a vague statement stressing that the women's and family restrooms still contained dispensers: "The dispensers in the library restrooms were part of a pilot program with an external company which provides period products in restrooms. Those products are still available for free in all women's and family restrooms in Cooper Library."
'Unauthorized' Installations?
In a post on X about getting the dispensers removed, Cromer, the Republican legislator, called the devices "unauthorized" and said that Clemson president James P. Clements and Nicky McCarter, a member of the Board of Trustees, were "just as shocked as I was that these dispensers were in the men's restroom."
Some involved in getting the dispensers installed dispute the idea that they were not authorized. The library announced the initiative on its website last November in a now-removed post that said the dispensers were being made permanent after a pilot program that received "overwhelmingly positive" feedback.
According to Kaitlyn Samons, a former member of Clemson's Graduate Student Government, the GSG paid for the installations with its own organizational funds, which come from graduate student fees. A library staff member had approached GSG about potentially funding a single dispenser in one bathroom, she said, but the group offered to place one in each restroom to improve accessibility.
"Women and men who have periods should not be forced to suffer in silence and stuff their underwear with toilet paper," she said.
Samons said that the library's dean, Chris Cox, signed off on the project, and she did not believe it required any further institutional approval. Cox did not respond to a request for comment.
Cromer did not respond to a list of questions from Inside Higher Ed, including one about why she thought the dispensers were unauthorized. Neither Clements nor a university spokesperson responded to a question about whether the president knew about the existence of period product dispensers in the library's men's bathrooms before Cromer informed him.
Snoberger, of the YDSA, suspects Cromer may not be the only politician involved in the dispensers' disappearance. He believes their removal may have been encouraged by conservative members of the university's board, including Republican presidential candidate Nikki Haley, a Clemson alum. Haley has made anti-transgender comments in the past, implying that trans girls playing on girls' sports teams are to blame for high rates of suicide among young girls.
"It's not out of the realm of possibility that Nikki Haley … or another trustee may be playing a part in swaying the rest of the board to have done that," Snoberger said.
Haley did not respond to a request for comment, nor did multiple other members of Clemson's board whom Inside Higher Ed attempted to contact.