You have /5 articles left.
Sign up for a free account or log in.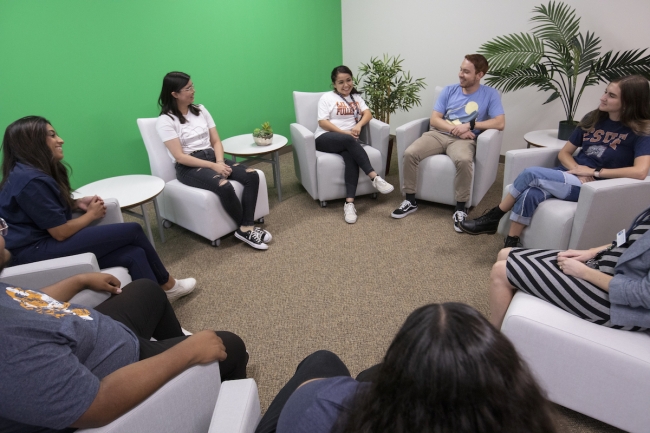 California State University, Fullerton
As colleges continue to struggle to meet students' psychological needs, some are beginning to outsource mental health education and support duties to an unlikely contingent: undergraduates.
Students interested in counseling have long provided informal peer support through clubs and organizations, including campus chapters of Active Minds or the National Alliance on Mental Illness. But now, some universities are backing such work in more formal ways, paying students to administer mental health education and programming and even peer counseling and coaching.
At California State University, Fullerton, eight undergraduate students, called mental health peer educators, are responsible for delivering workshops to fellow students on several mental health–related topics. That responsibility used to fall to clinical staff in Counseling and Psychological Services, but in 2021 officials decided instead to hire and train students to lead the hourlong workshops, which cover common mental health issues, such as stress, sleep and mood.
The workshops focus on teaching attendees strategies to work through those challenges. The sleep workshop, for example, includes guidance on breathing exercises aimed at helping students who complain that they have trouble "turning their brains off" before bed.
"It's really important to us that any intervention we offer is accessible—it's quick and it's free. When it comes to wellness, there's a negative belief that you have to have money in order to take care of yourself," said Jessica Leone-Aldrich, a professional counselor and prevention education coordinator at Cal State Fullerton.
Meeting Student Demand
The up-and-coming model has emerged at a time when colleges are facing growing demand for accessible mental health services on campus—a demand that is increasingly difficult to meet given the national shortage of mental health providers. Some institutions have attempted to mitigate the demand using triage-like systems that evaluate a student's mental health needs before allowing an intake appointment with a therapist, in some cases pointing them toward other resources they could utilize instead. Universities are also increasingly partnering with teletherapy companies to offer students the opportunity to attend one-on-one therapy sessions beyond what their counseling centers can provide.
Meanwhile, institutions like Cal State Fullerton are seeking to deploy more mental health resources that do not require a licensed counselor.
"We want to kind of get ahead of that curve, in that we want students to know there are things they can do for their mental health before reaching the point of crisis or need for individual counseling," Leone-Aldrich said. "Taking care of your own mental health can be approachable."
Leaders at other universities with similar models agreed that paid peer-support roles can be a valuable supplement to traditional counseling center offerings. Paige Bartels, director of counseling and psychological services at the University of New Haven, said in an email to Inside Higher Ed that while the university employs undergraduates as "community wellness advocates," the services they provide are not meant to replace therapy—a common refrain among universities experimenting with new ways to ease the burden of overstretched mental health professionals. But, Bartels wrote, "support groups, information tabling, and workshops … offer some ways that students can gain connection, information, and support."
Employing students to run workshops provides benefits beyond clearing space in the counselors' schedules. Leone-Aldrich said that participation in the workshops has skyrocketed 385 percent since peer educators took over the operation two years ago. Though she's not sure exactly what caused the attendance spike, she believes students are more inclined to take mental health advice from fellow students, who often have gone through similar struggles and tend not to talk down to them.
Erica Riba, director of strategic higher education initiatives at the Jed Foundation (JED), a suicide-prevention nonprofit, said only a "handful" of universities pay their peer-support providers, but the practice of using peer support in general has become increasingly popular, according to the foundation's research. She commended institutions that do pay student mental health workers for showing how much their efforts are valued and how deeply committed administrators are to providing mental health education and destigmatizing mental illness on campus.
At the University of Denver, paid student workers serve as peer educators, a role in which they help with a variety of programs, from conducting the bystander training that's required for all incoming students to offering educational programming at various events around campus. They make Denver's minimum wage, which is currently $17.29 an hour.
DU's student workers are often given fairly free rein to come up with specific projects or programs that interest them. For instance, at a Consent Fair held in April—sexual assault awareness month—peer educators wrote questions and factoids about consent on Jenga blocks; participants were then asked to pull blocks and have a conversation with the educators about whatever was written on them.
Kelsey Compton, who oversees the peer educator program at Denver, echoed the idea that students are more inclined to speak with peer educators than university staff members.
"Because we talk about some of these topics that have a lot of stigma attached to them … students don't always feel comfortable approaching us to talk," she said. "They don't necessarily know off the bat that they're allowed to talk to us about those things or that we're safe people to talk to about those things."
To prepare, the students receive paid training throughout the spring semester, including a 12-hour Certified Peer Educator training designed by the Student Affairs Administrators in Higher Education (NASPA).
Avoiding Burnout
One potential downside of programs like these, however, is the risk they pose to the student employees. Studies have shown that health-care workers, including those in the mental health field, are prone to burnout. That can include peer educators, who must balance work, classes and extracurriculars on top of caring for their peers' well-being.
According to a 2022 report commissioned by the Ruderman Family Foundation and the Mary Christie Institute, 98 percent of counseling center directors cited the personal risk to students providing peer support as an important concern in deciding whether to use them, while 96 percent expressed the same worry for the students receiving the peer support. Ninety-three percent named legal risk to the institution as an important concern. (This paragraph has been updated to correct the source of the report.)
Both Cal State Fullerton and Denver offer high flexibility for their student mental health workers. At Denver, students work about five hours a week, signing up for different events based on their interests. But sometimes a student might choose not to work at all in a given week if they need additional rest or study time.
Peer educators at Cal State Fullerton work more consistently, typically between 10 and 20 hours a week for $16.50 an hour, although they still have the power to choose the schedule that best suits them. According to Leone-Aldrich, supervisors offer students maximum flexibility and support, extending deadlines when possible, helping them with projects and pushing them to take breaks.
They also close each staff meeting with a self-care exercise, both to improve the student workers' mental health and to reinforce skills and strategies they can share with their peers.
"We are invested in not only what our students produce out on campus, but we're invested in them as individuals," she said.
Payment itself can also be considered a wellness-support tool; unpaid positions can cause additional stress by forcing students to sacrifice financial security in order to do work they are passionate about. Paid peer-support positions circumvent that.
Riba, of JED, noted that paid, highly supportive peer-educator roles also provide a solid and positive foundation for students interested in going into the mental health field after they graduate, which can help lessen the mental health provider shortage.
"We want young people, people who are leaving college and figuring out what they want to do with their life, to seek out these helping mental health professions: counseling, social work, public health. So, you know, paying your [peer] supporters … it's a great way to provide these pathways to understanding what's out there," she said.