You have /5 articles left.
Sign up for a free account or log in.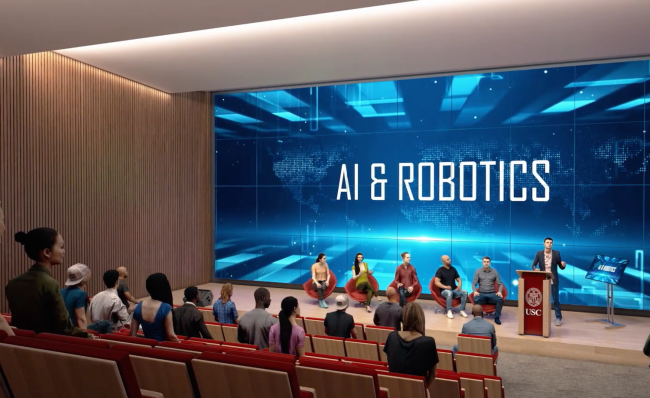 OpenAI's release of ChatGPT in late 2022 launched an artificial intelligence arms race among Google, Microsoft and countless other tech giants and start-ups. That development has since reverberated across higher ed, unleashing a surge of new faculty hires, buildings and institutes—all for AI.
The University at Albany, part of the State University of New York, will hire 27 new faculty members—all specializing in AI—in the largest cluster hire in the institution's history. Purdue University will recruit 50 new AI faculty. Emory University will hire between 60 and 75 new faculty members, including an endowed chair, for its AI Humanity Initiative.
When it comes to artificial intelligence, some universities are going big—very big. The University of Southern California has invested more than $1 billion in its AI initiative that will include 90 new faculty members, a new seven-story building and a new school. The institution seeks to bolster its economic impact in the tech industry, integrate computing across multiple disciplines and programs at the university, and influence AI applications, development, policy and research.
"It's a gold rush," Phil Hill, an educational technology market analyst at Phil Hill and Associates, said. "But it's a gold rush where you don't know where the gold mine is or how to get the gold."
Many, though not all, of the new faculty hires will be computer scientists, which presents challenges given recent shortages in this area. Also, once AI faculty are hired, colleges will need to identify creative ways to retain them, given their red-hot demand in both academe and industry.
Most academics agree that the current AI moment marks a profound societal shift that warrants a higher ed overhaul. But as college leaders cue bulldozers to build institutes that will house hordes of new AI professors, some offer reminders that hype, even when warranted, does not always follow a predictable trajectory. Further, significant change often includes pain points.
An AI Boon on Campus
The AI largess at colleges nationwide extends to new construction and institutes. The University of Florida will soon be home to a new Artificial Intelligence Academic Initiative Center that will serve as the focal point for all things AI on campus. Oregon State University will build a state-of-the-art artificial intelligence research center with a supercomputer and a cyberphysical playground.
The National Science Foundation has backed some of the initiatives with $140 million to start seven new national artificial intelligence research institutes at U.S. colleges and universities. The institutes have specific agendas, including trustworthy AI at the University of Maryland; intelligent agents for next-generation cybersecurity at the University of California, Santa Barbara; climate-smart agriculture and forestry at the University of Minnesota, Twin Cities; neural and cognitive foundations of artificial intelligence at Columbia University; AI for decision-making at Carnegie Mellon University; AI-augmented learning at the University of Illinois at Urbana-Champaign; and universal speech and language screening for children at the University at Buffalo.
"We've had a transformative moment with generative AI," said Victor Lee, associate professor in Stanford's Graduate School of Education who leads the Data Interactions and STEM Teaching and Learning Lab. "That Pandora's box is not going to be resealed." Universities' AI initiatives should extend far beyond computer science departments by including a focus on writing, the arts, philosophy and humanities, Lee said. "We desperately need the breadth, range of perspectives and critical thought from all fields."
Colleges are also developing new AI academic programs. For the first time in Houston Community College's history, the institution will offer four-year degree programs—both focused on AI—in applied technology in artificial intelligence and robotics, and in applied science in health care management. Rochester Institute of Technology will offer a new, interdisciplinary graduate degree that aims to prepare well-rounded AI professionals. The New Jersey Institute of Technology will launch two new AI graduate programs to address the increasing demand for qualified AI engineers and analysts. Georgia Tech will lead a statewide AI initiative, backed with $65 million and designed to "train the trainer where they live," that includes transforming one of its facilities into the Artificial Intelligence Manufacturing Pilot Facility. Palm Beach State College will launch a new AI program—and hopes to open a graduate school that includes AI courses.
Onward, Despite Challenges
Even before ChatGPT raised the public awareness of the power of AI, U.S. colleges were grappling with high student demand for computer science coursework coupled with significant computer science faculty shortages.
"In the short term, a lot of these places that are saying they're going to hire 90 faculty are going to struggle to fill those 90 with people who really have the ability to teach those classes," said Kentaro Toyama, professor of community information at the University of Michigan School of Information and a fellow of the Dalai Lama Center for Ethics and Transformative Values at the Massachusetts Institute of Technology. Even now, "we can't hire faculty fast enough."
Nonetheless, college leaders charged with following through on ambitious AI hiring plans project optimism, including at Southern California, where approximately 60 of the anticipated 90 new faculty members are expected to be computer scientists, according to Ishwar K. Puri, senior vice president of research and innovation. This academic year, the university extended nine offers to computer scientists, of which eight were accepted. Puri credits that to the institution's strong tradition and reputation in technology. But Puri worries about retaining computer scientists once they are hired.
"Once our [computing] faculty members cut their teeth and make names for themselves, then they become prime targets for the private sector," Puri said, adding that the new initiative includes endowed chairs with enhanced resources to help retention. "We've found that, for retention, impact trumps remuneration. We can't offer the salaries that the FAANG [Facebook (now Meta), Amazon, Apple, Netflix and Google (now Alphabet)] group of companies offer or that the tech sector offers. But we can offer the chance to do the upstream work that will have a deep impact by 2030, when we expect that the influence of AI will be a hundredfold at least."
At Albany, the 26 new faculty members (for a total of 27 new hires, including the AI institute director) are expected to span 20 departments in eight schools and colleges. Twelve will hail from computer science, data science and related areas, according to Carol Kim, the university's provost. The remainder will draw from fields not traditionally associated with AI, such as psychology, philosophy, public health, political science, learning and teaching, and social welfare, which may ameliorate the challenge. But the university aspires to hire all by this fall, which may present challenges.
"We expect probably 10 to 15 percent will have to be readvertised," Kim said. "We'll have some failed searches, but so far, we've been very lucky," adding that the university already has received signed offer letters. Despite the nationwide shortage of computer science faculty, Kim remains optimistic.
"Lots of companies are not hiring or even laying off [computer scientists], and so the hiring prospects for the universities have improved a bit," Kim said.
Purdue has neither specified the percentage of its cluster hire that will be computer scientists nor set a deadline for achieving its cluster-hiring goal. That's by design, according to Patrick Wolfe, the university's provost.
"We're giving ourselves a long fuse and plenty of options to let our growth in this area be guided by the talent pool," Wolfe said, adding that the institution has had a strong hiring track record in recent years. Wolfe described the cluster hire as a "big calling card to go to market" that broadcasts the university's investment in "all things computing." To faculty search committee chairs, he expects to project the message "Show us the talent that we can attract, and that will trigger the investment to get dispersed."
At Emory University, "no more than 20 percent" of the anticipated 60 to 75 new faculty members focusing on AI will be computer scientists, according to Ravi Bellamkonda, provost and executive vice president for academic affairs. That's because the institution plans to embed artificial intelligence in areas such as health, social justice, business and law, and the arts and sciences. Still, hiring a dozen (20 percent of 60) computer scientists is noteworthy. Further, that number includes only those that will be part of the institution's AI Humanity Initiative. The computer science department is likely to hire more, Bellamkonda said. Nonetheless, he is committed to finding solutions for known challenges.
"My [computer science] starting salaries are higher than in other departments," Bellamkonda said. "Does that lead to problems [within the university]? Yes."
But higher salaries, along with unconventional deal sweeteners, are apparently necessary.
"We've told people, 'You can consult one day of the week if you want,'" Bellamkonda said. "We want to blur the line. [Working as a professor] doesn't mean you can't collaborate with Google or Amazon. Many of our faculty do that, or they spend a sabbatical at a company instead of another university."
Demystifying Hype
Higher education has lived through hype cycles in the past. The "year of the MOOC," or massive open online courses, was 2012, according to The New York Times. Back then, many in higher ed and beyond anticipated a future in which a small number of colleges served huge numbers of students by way of the MOOC format. In response, many colleges sought MOOC market share, including institutions affiliated with Coursera, Udacity and edX.
But by 2013, many deemed MOOCs overhyped. Nonetheless, the innovation did herald change.
"MOOCs were significant because they convinced elite schools to pay attention to online education, and that has huge ramifications," Hill said. "I view AI [today] that way but bigger … Many things will come out of this, but let's not pretend like we know what it's going to be."
Well before that, many colleges jumped on the M.B.A. bandwagon. (M.B.A. degree conferrals jumped 74 percent between 2001 and 2013, even as young M.B.A.s' salaries dipped nearly 5 percent.) As a result, some accused colleges of responding to the hype by producing too many M.B.A.s.
"You don't want to be the 300th school to offer an M.B.A.," Glenda Morgan, a market analyst at Phil Hill and Associates, advised colleges during the M.B.A. boom.
Now, higher ed has a role to play in helping society "wrap our heads around" AI, but institutions need to "think carefully about the competitive space and what makes their offerings unique," Morgan said. She has identified five pathologies of ed-tech discourse concerning generative AI: a preoccupation with trendiness, exaggerated results, technology solutionism, learning as the only approach to change, and moral panic.
Morgan recommends considering the Gartner hype cycle when making decisions about innovations. In this cycle (see video at right), new technology progresses through a pattern of overenthusiasm and disillusionment, followed by productivity. Leaders are encouraged neither to invest in an innovation based on hype nor to ignore it when it fails to meet early expectations. Rather, leaders are encouraged to be selectively aggressive with innovations they deem beneficial to their unique business models and wait to adopt innovations that may have a lower impact in meeting the needs of their community members.
Some college leaders appear to have adopted that approach.
"What do we do in Indiana?" Wolfe asked. "We make things. We grow things. We move things." For that reason, Purdue is focused on building and supporting AI capacity in, for example, agricultural tech, advanced manufacturing and supply chain and logistics. "We're playing to our current strengths and make those strengths even stronger."
"We're getting close to the top of that type of hype cycle curve right now" with AI, Morgan said. "In a while, people will ease up on the moral panic and the worry or the me too–ism, and people will start to figure out ways that AI really is useful and how they can use it."
Regardless of where recent artificial intelligence news falls—or doesn't fall—in a hype cycle, many colleges are now committed to their new AI initiatives. Toyama is encouraged that colleges are stepping up to provide leadership not only on the technical aspects of AI but on regulation and its impact on society.
"This is an instance where the hype both for the potential negative and the potential positive is merited," Toyama said. "It's a real turning point, arguably for human civilization."
Lynne Parker, associate vice chancellor at the University of Tennessee at Knoxville and director of the AI Tennessee Initiative, replied in an email to Inside Higher Ed moments after testifying at a Senate committee hearing on AI in government this week.
"AI is impacting every discipline and nearly every career path," Parker wrote, adding that the workforce must be prepared for jobs in which AI is commonplace. Tennessee's multidisciplinary initiative extends beyond academe to include industry partners, community organizations and other stakeholders.
The AI sector is expected to become a trillion-dollar market within the next five years, according to Finbold. Some, for example, are encouraging students to prepare for jobs in prompt engineering—the art of crafting questions for natural language processing tools to get better results—given the potential for high incomes. But predicting what the market will need is somewhat like reading tea leaves, according to Patrick Luiz Sullivan De Oliveira, assistant professor of history at IE University in Spain.
"Those tempted to offer certificates in 'prompt engineering' based on consulting firms speculating that this is a future area of growth, might want to consider that these same people were saying similar things about metaverse jobs less than a year ago—and [nonfungible tokens] before that," De Oliveira wrote in an email. "If the kind of automation some people are predicting does come to pass, then arguably the kind of skills that will be most in need are precisely those cultivated in those [humanities] buildings that hadn't been renovated since the 1960s."