You have /5 articles left.
Sign up for a free account or log in.
Almost two years ago, Harvard University and the Massachusetts Institute of Technology sold edX, their pioneering massive open online course provider, to 2U, an online program management company. At the time, many in higher ed argued that edX's sale to a for-profit company undermined its nonprofit mission to expand access to learning. Also, some of edX's original investors and dues-paying university partners were concerned about not getting a cut of the $800 million that 2U paid Harvard and MIT.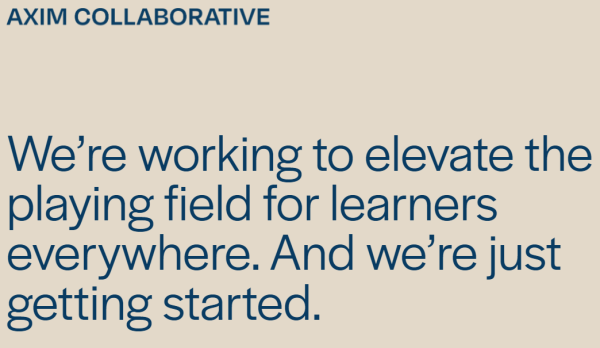 But Harvard and MIT celebrated the windfall at the time as a way to fund a nonprofit "reimagining the future of learning for people at all stages of life, addressing educational inequalities, and continuing to advance next generation learning experiences and platforms." (EdX's sale garnered the two institutions a tenfold return on their combined $80 million investment.) Now, the universities have followed through on that promise with their recent announcement of the Axim Collaborative. The new nonprofit was funded from edX's sale and aims to improve educational outcomes and employment pathways for underserved students.
"Axim Collaborative aims to be a catalyst in the education ecosystem," Stephanie Khurana, Axim CEO, wrote in an email to Inside Higher Ed. "Millions of students today seek postsecondary education and a job with a pathway to economic mobility but face barriers and need new approaches to realize their aspirations."
Some in higher education welcome news of the new venture with optimism, particularly in light of its expressed goal of increasing college access.
But as in 2021, some are concerned. Harvard and MIT have offered few details about Axim's specific plans. The CEO answered some, though not all, of Inside Higher Ed's questions. As of now, some wonder whether the new nonprofit is, indeed, new or whether it is simply a rebranding of the entity that held the earnings from edX's sale.
"This is two years after edX was sold," Steve Mintz, a professor of history at the University of Texas at Austin and a blogger for Inside Higher Ed, said. "That's a long time. You better have a plan and real objectives from day one."
Big Vision, Few Specifics
When Harvard and MIT sold edX to 2U, Open edX, the open-source platform that had powered edX, was not part of the sale. Also, because edX was nonprofit, neither institution could absorb the influx of cash as part of its ordinary assets, according to Harvard Magazine. For that reason, the two institutions directed the money to a new nonprofit, the Center for Reimagining Learning, to maintain ownership of Open edX and to embark on a successor aimed at fulfilling edX's original mission.
Axim—a hybrid of "access" and "impact"—takes the place of the Center for Reimagining Learning. The first phase of the new venture plans to focus on "learners who have been historically and systemically underserved by current education and workforce systems," with an emphasis on degree and credential completion and postgraduation employment, according to the news release. The statement does not mention a second or subsequent phase, nor does it offer any detail about how it aims to carry out the first.
But not everyone views Axim as a new nonprofit.
"The old nonprofit that owned edX sold the edX brand name and assets to 2U and kept the money," said Dhawal Shah, founder of the online course portal Class Central, who tracks the online learning space and earlier assessed the 2U-edX deal. "Then they rebranded [what remained] as [the Center for Reimagining Learning], which is now Axim Collaborative. It's not a new nonprofit … It's just a press release."
Shah has many questions for Axim's leadership, including: What specific projects will Axim undertake? What's next for Open edX? How much money remains from edX's sale?
Axim declined to offer a spokesperson for a short interview, and Harvard and MIT did not respond to requests to discuss the new venture. But Khurana, who earlier served as managing partner and COO of Draper Richards Kaplan Foundation, a venture philanthropy firm, answered questions over email.
"We are a collaborative working with partners," Khurana wrote. "We bring together funding, technology, research and convening capabilities in ways that will further strong outcomes for students and the institutions that serve them and share learnings and insights in ways that expand the field." Axim expects to engage with "low-resource institutions, where the next level of digital and practice innovations could help students overcome barriers to success," she added.
Khurana said Axim is soliciting ideas for the work from its university partners and plans to build relationships with institutions, organizations and sector leaders from communities Axim aims to support. "We will begin focusing on U.S.-based projects and expect to build in learnings from global efforts."
Khurana did not respond to questions concerning when the public may expect specific details beyond the vision, including when learners might engage with or benefit from Axim's work. She also declined to offer specific examples of whether, and if so how, Axim would benefit from possible takeaways learned at edX.
The Axim Collaborative website offers 510 words about the new venture. Most of those words (400) are devoted to the names, titles and bios of Khurana and the eight members of the organization's Board of Trustees. Four of the board members hail from Harvard, three from MIT and one is a former edX board member from the business sector who is a member of the MIT Corporation. (Note: An earlier version of this article swapped the numbers in this sentence.)
That balance of board members who are affiliated and unaffiliated with the funding institutions also represents a choice. In contrast, for example, the Ford Foundation, where only one board member has a professional title at the Ford Motor Company, requires that a majority of its trustees be independent. Likewise, the Gates Foundation states that its Board of Trustees is well served by "the addition of independent voices to help shape its work in the future."
A Harvard Magazine article states that the new venture will emphasize—at least initially—two-year and four-year degree programs and nondegree credentials and certificates. The endeavor will also prioritize learners based in the U.S. who are "low-income, first-generation, and underserved-minority learners who have not been adequately accommodated in traditional colleges, universities, and workforce systems."
Unanswered Questions
Mintz was an administrator when UT Austin became a founding partner of the edX consortium. In that role, he invested $5 million in edX on behalf of Texas. But he was disappointed when Harvard and MIT did not share the proceeds with its partners.
"Their return on investment—put in $80 million and get $800 million—that is a really good return," Mintz said. "Putting in $5 million and getting no return, that's not a good return." Now, Mintz is again concerned.
"If you have $800 million, there's a lot of good you can do," Mintz said. "That's more money than edX ever had. But what's the strategy, and what are the goals? I don't have a clue … [edX] was central to my life for five years, so what comes of it matters to me … I'm just so nervous that the money will be squandered."
But some look to Axim with optimism, especially given the potential for higher education to address inequities.
"It's early," said Nelson Baker, dean of professional education at the Georgia Institute of Technology, another institution that partnered with edX during MIT and Harvard's ownership. "They said they were going to create edX, and they did. It's served some 40-odd million people so far. That's a pretty big testament … They're just starting to form [Axim]. Give them a chance."
Still others point to the time that has elapsed since Harvard and MIT sold edX.
"Two years ago, they said something vague," Shah said. "Now, two years later, they're also saying something vague."
When MIT and Harvard announced their intention to direct edX's proceeds to a nonprofit addressing educational inequities, they highlighted that they would do so "in part through exploring how to apply artificial intelligence to enable personalized learning that responds and adapts to the style and needs of the individual learner."
But in announcing Axim, they made no mention of leveraging artificial intelligence to make progress toward their goal. Shah found that omission unusual, given the recent rise of ChatGPT and other artificial intelligence applications.
"If you're starting a technology research center with a lot of money, you would expect AI," Shah said. "But they stayed away from [mentioning] any concrete technology. In a way, they were even more vague than last time."