You have /5 articles left.
Sign up for a free account or log in.
Universities on Fire: Higher Education in the Climate Crisis by Bryan Alexander
Published in March 2023
Here is one forecast of a possible higher ed future.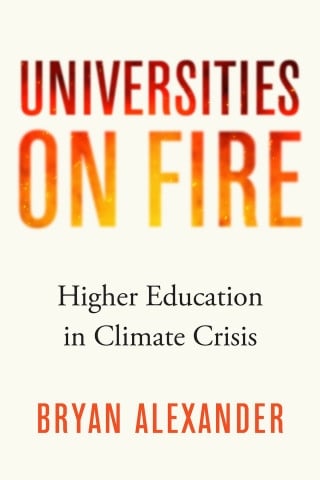 In 2023, a newly installed president of a well-known liberal arts–focused research-intensive college decided that the climate crisis would be the global challenge to unite the institution.
To unite stakeholders across the university to develop a strategy for the institution's response to the climate emergency, plans were made for a campuswide teach-in of Bryan Alexander's new book, Universities on Fire.
Everyone on campus receives a copy of the book—every student, professor and staff member. Alexander was invited to campus to speak and engage various student, faculty and administrative groups in facilitated conversations.
Through the reading of Universities on Fire and conversations in the various teach-ins and facilitated discussions on the book, several things happened in late 2023 and early 2024:
It became clear to the entire community that addressing the climate crisis is an overriding passion for a large (and previously unrecognized) population of students. The students were energized to connect their studies to work that will contribute to reversing the causes of climate change. Universities on Fire provided the students with a common language to understand and discuss climate issues and a way to relate this global phenomenon directly to the physical campus where they live and learn.
Faculty across schools, departments and disciplines brought similar shared energy around climate to their teaching and research. The climate emergency bridged the social sciences, humanities and the sciences. Business, engineering, medical, graduate and undergraduate faculty collaborated on co-taught courses and co-authored research. Universities on Fire provides a starting place for critical faculty climate-related engagement around curricular, pedagogical and research issues.
An effort was made to include alums in the campus climate emergency conversation. Online courses on the university and the climate crisis were launched. Participating alums receive a copy of Universities on Fire. While philanthropy was not the goal of these initiatives, the institution received additional gifts from alums covering the one-time drawdown of endowment funds to pay for the campus conversion to renewable energy sources.
As a community, aided by shared reading and discussion and teaching around Universities on Fire, the university decided to make long-term investments in energy savings and clean power. Building on ideas from the book, the university committed to transitioning all gas-powered vehicles to battery-powered electrics. Everyone was grateful when quiet battery-powered versions replaced loud lawn mowers. Plans were made to phase out the campus co-generation heating/electrical plant in favor of a combination of deep-well geothermal systems and solar panels on every roof.
The institution wide uniting around addressing the climate crisis in teaching, research and action did not go unnoticed by prospective students. Campus tours became differentiated from every other campus tour, as the common theme of how the university is playing an active role in building climate resiliency proves compelling. Not only did applications increase, but so did yield. Students interested in careers around energy justice and climate gravitated to the university. All admitted students receive a copy of Universities on Fire along with their acceptance notifications.
What higher ed future might you imagine from reading Universities on Fire?
What are you reading?