You have /5 articles left.
Sign up for a free account or log in.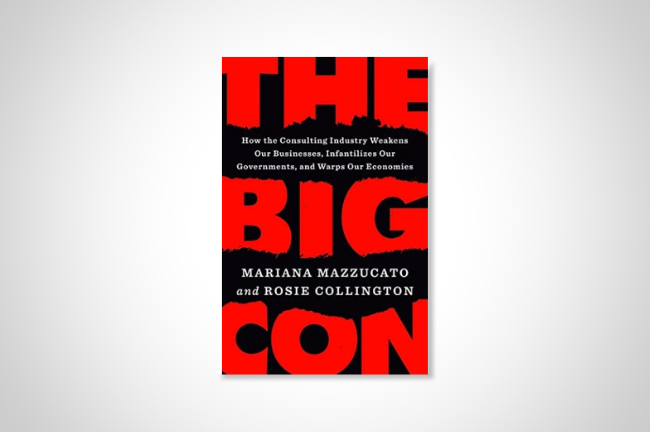 The Big Con: How the Consulting Industry Weakens Our Businesses, Infantilizes Our Governments, and Warps Our Economies by Mariana Mazzucato and Rosie Collington
Published in March 2023
The argument that Mazzucato and Collington make in The Big Con is that by outsourcing strategy, innovation and core competencies to consultants, organizations of all types end up damaging their ability to compete and thrive over the long term.
The authors' examples of the pernicious effects of an overreliance on consultants are mostly from governments and companies. Still, I suspect they could have focused their analysis equally well on universities.
The authors of The Big Con are not philosophically opposed to organizations working with consultants. They point out that when consultants work alongside internal stakeholders, providing expertise, advice and an outside perspective, organizations can derive significant value from engaging with consultants.
The problems emerge when governments or companies (or universities) hire consultants to perform tasks critical to the organization's long-term success. In the short term, consultants may be able to create strategies and solve operational challenges.
The cost for organizations is that they will forgo the learning that enables the work in the future. When employees don't build innovative and strategic muscles, you can't expect them to bring innovation and develop strategies in the future.
Why do companies, governments and universities hire consultants if they know that outsourcing thinking and planning about the organization's future directions will diminish future internal capabilities? One reason that organizations bring in consultants is that the voices of outside experts often hold more sway with stakeholders than the opinions and ideas of insiders.
Another reason to engage consultants is to validate strategies and plans that the client wants to promote.
Finally, consultants can provide cover for internal leaders should the actions that these leaders want to take—and that the consultants duly recommend—should that strategy go off the rails.
Over my career, I've watched my share of highly productive university consulting relationships. And I've witnessed a few disasters. (Full disclosure, along with my closest colleagues, I've engaged in [and continue to do so] several strategic consulting engagements with colleagues at peer colleges and universities).
What seems to make a good consulting relationship tracks closely with the arguments in The Big Con. The key word is "relationship."
A good consultant has deep expertise in their subject matter. But what motivates and guides the consulting work is a commitment to building long-term relationships. Ideally, these relationships continue long after the consulting project ends.
An effective consultant understands that the people working in that organization must carry out the real work of organizational change. The goal of the consulting project can be to provide a map forward and a set of tools to reach a goal. But consulting, at least consulting for universities, should never be about replacing or substituting for the work of those who've dedicated so much to the institution.
The measure of a successful academic consulting engagement leaves the people better equipped and more supported to follow the strategy that was co-developed between those who work at the university and their university partners.
In evaluating any consulting contract, decision-makers should ask about what internal competencies and capabilities the engagement will create, not only what deliverables the consultants will leave behind.
Universities engage consultants and large consulting companies all the time. Before signing off on the next consulting contract, I recommend investing time and energy to read (and discuss) The Big Con.
What are you reading?